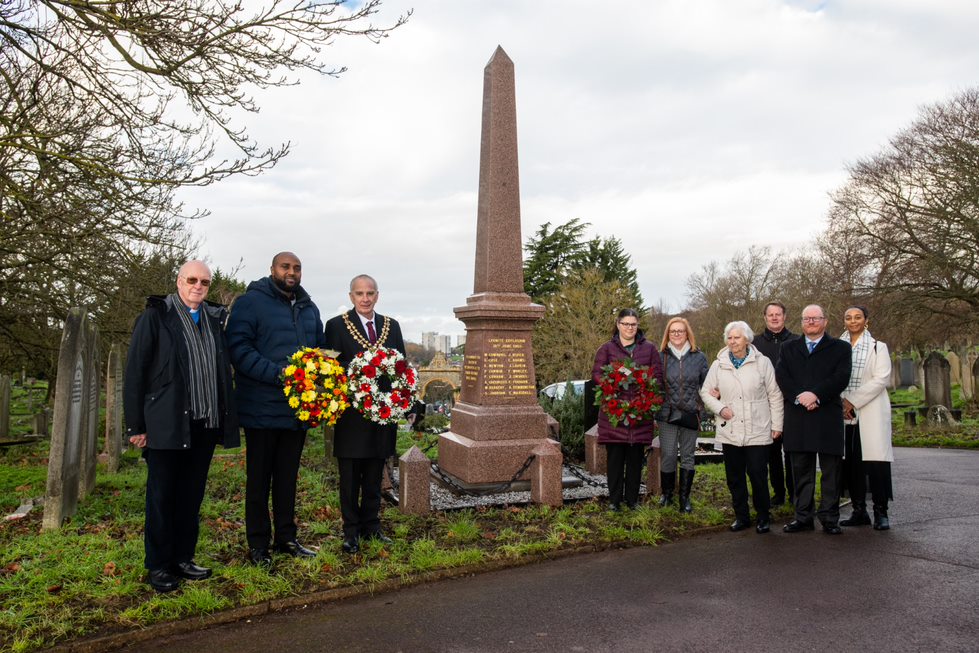 Published: Thursday, 5th January 2023
A memorial to 19 men killed by explosions in Woolwich Arsenal in the early 1900s has been restored with the help of Councillor Leo Fletcher, Mayor of Royal Greenwich.
Originally built in 1904, the monument in Plumstead Cemetery had fallen into disrepair in recent years.
The obelisk is a tribute to three men who died in February 1903 in a gun cotton explosion in Woolwich Arsenal, and 16 more who lost their lives the following June when Lyddite exploded there.
After being contacted by Darren Beck, whose great-great grandfather was one of the 19 victims the statue commemorates, Cllr Fletcher joined forces with the council officers and Berkeley Homes to secure funding to restore it.
Councillor Adel Khaireh, Cabinet Member for Equality, Culture and Communities, said, "This monument is dedicated to the 19 people who were killed in two separate explosions at the Royal Arsenal.
"I would like to pass on my thanks to the mayor, council officers and Berkeley Homes for raising the funds to restore it."
Cllr Fletcher, said, "When this monument was built back in 1904, the mayor at the time Lewis Jenkins Jones promised to take every care and attention in looking after it. As Mayor of the Royal Borough of Greenwich today, 118 years later, I commit to that pledge.
"Thank you to Darren, whose great-great grandfather is commemorated here, for bringing the state of the memorial to our attention."
For more information and visiting times, visit royalgreenwich.gov.uk/plumstead-cemetery.