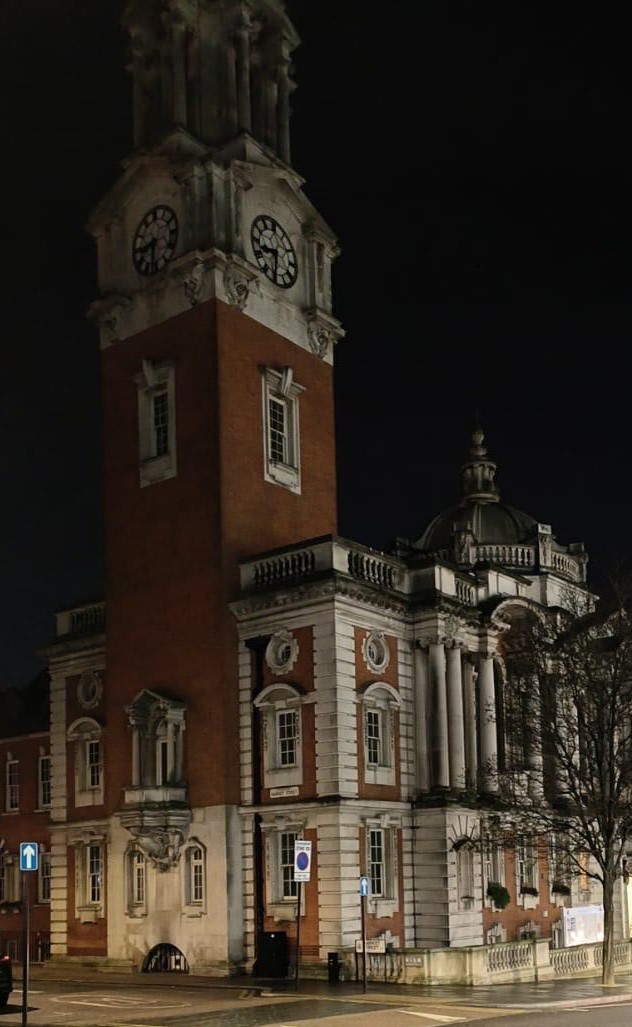 Published: Wednesday, 21st December 2022
We're turning off the lights at the Woolwich Town Hall in solidarity with Ukraine.
Royal Greenwich's Woolwich Town Hall will join London's famous Wembley Stadium arch, the Colosseum in Rome, and the Sydney Opera House, in answering the call to turn the lights out tonight at 8pm (local time) in solidarity with Ukraine, 10 months after the Russian war began.
Last week, Russia delivered one of its most severe blows to Ukraine's power grid, leaving around 10 million people without electricity. This led to emergency power outages in every region, leaving homes, businesses, hospitals, and other public infrastructure without light, heat, internet connection, or tap water.
In response, the #LightUpUkraine campaign calls upon institutions and people across the globe to 'turn off the lights' in solidarity with Ukrainian people, who are facing blackouts this winter due to Russia's full-scale invasion, and to help raise funds for generators for hospitals across Ukraine.
Royal Greenwich residents are also encouraged to get involved by turning their own lights off and lighting a candle at 8pm, tagging the Council on social media and using the #LightUpUkraine hashtag.
The Royal Borough of Greenwich has welcomed 570 Ukrainians to our borough this year, with more people expected to arrive over the coming weeks and months as the conflict continues. The Council also continues to work closely with local charities and community groups supporting people from Ukraine who have made the borough their home.
Councillor Anthony Okereke, Leader of the Royal Borough of Greenwich, said: "Ten months on and Royal Greenwich's support for Ukraine and its people remains absolute. We continue to stand in solidarity against the Russian invasion.
"Our community has risen to the humanitarian emergency with volunteers giving donations of money, clothes and other essential items for Ukrainians in need. Local residents have even opened their homes – and hearts – to welcome those fleeing this awful war and we couldn't be prouder."
The Royal Borough of Greenwich has a proud history of supporting those fleeing war and persecution who want to make our borough their home. In 2020, we passed a motion to become a Borough of Sanctuary, because we believe that everyone deserves a safe place to live. In August last year, we supported hundreds of refugees fleeing the war in Afghanistan, and earlier those fleeing the crisis in Syria.
#LightUpUkraine Campaign
The #LightUpUkraine campaign aims to raise $10 million via the UNITED24, Ukraine's national fundraising platform, launched by the President of Ukraine, for 1,000 generators to power Ukrainian hospitals this winter, after Russia's missiles and drones damaged Ukraine's energy infrastructure.
Due to the constant attacks on Ukraine's energy infrastructure, Ukrainian doctors have to save lives and perform complex surgeries by flashlight, posing an additional threat to people's lives.
The cost of generators ranges between $2,000 to $35,000, depending on their capacity and purpose. There are generators that can power surgeries and entire departments, and other, less powerful ones, that can support the operation of separate pieces of medical equipment.