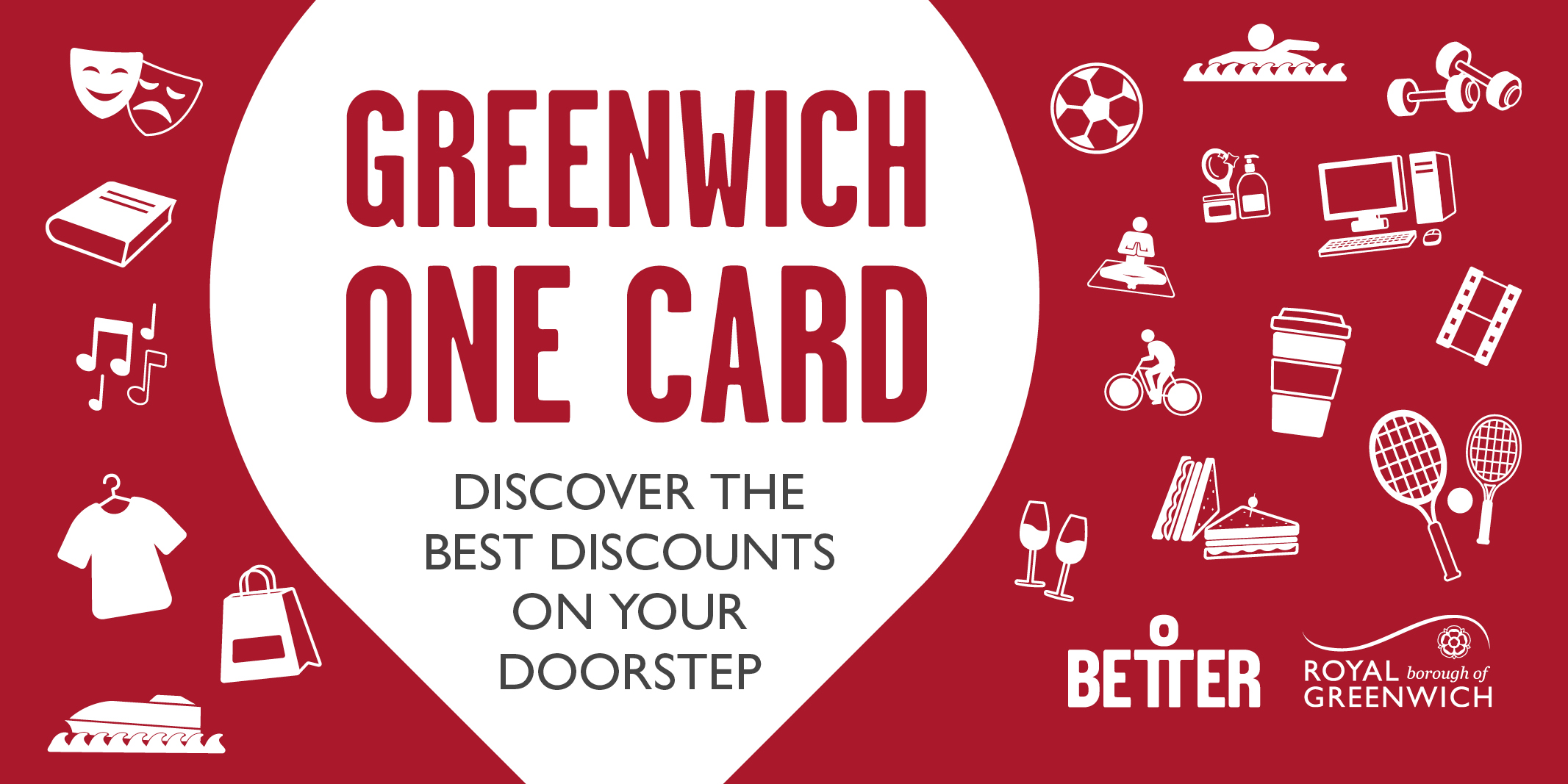 Published: Thursday, 1st December 2022
Ahead of Small Business Saturday, and with the festive season in full swing, we have rounded up some fantastic offers and discounts you can tap into right now with your Greenwich One Card.
Everyone who lives, works and studies in Royal Greenwich can pick up a Greenwich One Card at a local library or leisure centre as well as online.
Councillor Denise Hyland, Interim Cabinet Member for Inclusive Economy, Business and Skills, said:
"There's no place quite like Royal Greenwich, with its huge variety of businesses, independent traders, artists and with so many places to eat and drink, we really are spoiled for choice. And best of all – with your Greenwich One Card you can experience what many of these brilliant businesses have to offer with an exclusive discount.

"We're pleased to be working with GLL-Better to bring you this all-in-one leisure, library and business discounts card, encouraging people to shop local and support our business community and local economy."
Festive days out
Create fun festive memories with family and friends with a special discount with your Greenwich One Card. Glide into Christmas via the 'most scenic ice-rink in London' at the Queen's House, Royal Museums Greenwich, with a 10% off for off-peak sessions from Monday to Friday before 6pm.
The Greenwich One Card gives you the opportunity to book a festive dinner or afternoon tea throughout December at the InterContinental – The O2 with a 15% discount as well as spa treatments and retail products all-year round. 
And you can enjoy Greenwich Theatre's hugely popular pantomime this year – Robin Hood – with concession-priced tickets or immerse yourself in two escape rooms, Eltham Escape Rooms and Houdini's Escape Room with a discount with your Greenwich One Card.
Unique gifts
Pick up something for your arty friend or family member at the Ben Oakley Gallery, a bespoke piece of jewellery from Autumn and May, a bike accessory for the cyclist in your life from Harry & Perry Cycles or a music-inspired gift at Normans Music - the oldest music shop in London!
Made in Greenwich, a community gift shop which stocks products by over 100 local makers, is a treasure trove in which you can find the perfect present for everyone on your list.
You can also check out Terrasu's handmade, eco-conscious terrazzo décor or someday designs' thoughtfully designed furniture or fashion gifts at Exposed Fashion or Fashion World.
Foodie offers
The One Card offers the chance to enjoy getting cosy inside as the days get cooler, with discounts at cafes and restaurants all over Royal Greenwich. 
Head out for a meal with a discount on food from all over the world, from Indian at Ambala Karahi and Hullabaloo, Vietnamese at Pho Street and Ben Tre and fish and chips at Wavefresh Fish & Chips. Warm up before or after your festive trips at cafes including Bob's Your Uncle Café, Blueberry's and Zehra's Café.
For a bite to eat on the go, check out Peter's Panas' Venezuelan delights, pizza at Caloroso Pizza or Fusion for Nepalese take-away.
If you prefer to cook a meal at home, you can find the very best ingredients at Charlton community favourite, The Village Greengrocers, S.M Fishmongers & Meats in Eltham or Arapina for fresh bread and other baked goods.
Clean and repair
It's not just about fun days out and gift-buying. The Greenwich One Card also offers savings on dry cleaning T and T Cleaners, shoe repairs at Woolwich Shoe Repairs, key cutting at Greenwich Lock & Key, jewellery fixing at Essemge Designer Jeweller and property maintenance services ARC Facilities.
New year, new skill
From crocheting to playing an instrument, decluttering to ceramic painting, as we head into the new year you might be thinking about trying something new out. The Greenwich One Card offers you the chance to learn new skills, with a discount.
Check out all the offers here.
Are you a business with an offer to share? Sign up here or get in touch with the Business team.
Enjoy Local  
Discover a new website which encourages residents and visitors to enjoy all the businesses that Royal Greenwich has to offer, developed in partnership with Visit Greenwich.