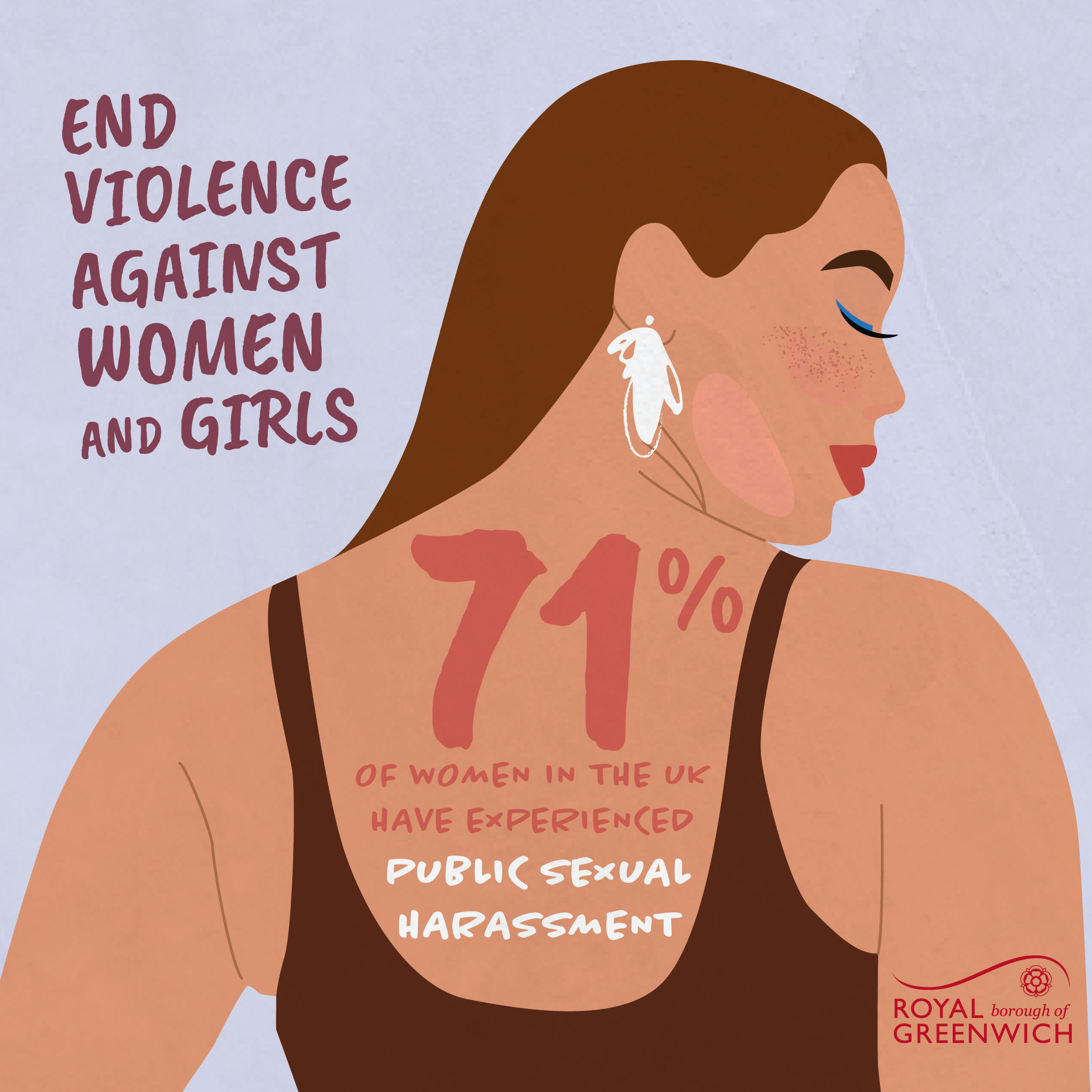 Published: Thursday, 24th November 2022
End violence against women and girls. 71% of women in the UK have experienced public sexual harrassment.
The Royal Borough of Greenwich has today launched its new Women's Safety Plan in time for White Ribbon Day 2022.
The plan has been created following intensive consultation with over 1,500 local women, including 22 in-person workshops with over 700 people from a diverse range of backgrounds including groups that are often unheard.
It covers everything from education programmes in schools, colleges, universities and the workplace to on-the-ground enforcement, access to services and improvements to CCTV and street lighting.
Many of the programmes in the new Women's Safety Plan are already underway and fully funded, and the Council has allocated a further £350,000 to support new initiatives in the plan, as well as £1.3m over the next four years to improve community and public safety across the borough.
The plan has been poignantly released to coincide with White Ribbon Day 2022 (on Friday 25 November), the internationally recognised day to raise awareness about violence against women and girls.
Cllr Denise Scott McDonald, leader of the Women & Girls Safety Taskforce, said: "This plan has been a real labour of love for the Council and our taskforce. We are really proud to have created it in partnership with our local communities, with their voices at the very centre of what we plan to deliver.
"For too long women have been expected to change their behaviour to reduce personal risk, shifting responsibility away from the decisions and actions of men. Enough is enough."
The Royal Borough of Greenwich has also been granted White Ribbon accreditation ahead of the campaign day, having been recognised for our commitment to engaging with men and boys to help end violence against women.
Commitments made by the Council include establishing a network of male ambassadors to promote the message and raise awareness with other men across the borough; updating its workplace domestic and sexual abuse policies, guidance and training; ensuring that there are housing and support services for women and children who need to flee violence and abuse; and co-ordinating a range of measures to improve the safety of the city's night-time economy.
A new women's reference group has also been established by the Sunflower Circle, to work with the Council to tackle violence against women and girls, and act as an ongoing critical friend for the wider Safer Greenwich Partnership which includes the police. The Sunflower Circle has helped feed into the new Women's Safety Plan, and contains a moving pen portrait of Sabina Nessa, written by her sister, Jebina Islam.
Cllr Ann-Marie Cousins, Cabinet Member for Community Safety and Enforcement said: "Our priority is to ensure Royal Greenwich is a place where women and girls feel safe to go about their daily lives without feeling intimidated, frightened, or threatened. That's why the Sunflower Circle will be so important to ensure that the voices of local women are reflected in the work we do to tackle gender-based violence."
Read our new Women's Safety Plan
Women4women campaign
A new campaign, women4women, has also been launched by the Council to mark White Ribbon Day 2022 and the 16 days of activism which follow, from 25 November to 10 December.
The campaign consists of photographs of women doing incredible work locally to keep Royal Greenwich women and girls safe, one for every day of the 16 days of activism.
From campaigning to end gender-based violence and supporting homeless women into refuges, to helping women escape abusive relationships and providing much needed support and counselling, 16 local women have taken part in the project. Their pictures can be seen and voices heard in the next edition of the Council's Greenwich Info magazine, as well as online at royalgreenwich.gov.uk/16-days.
What is White Ribbon Day and the 16 days of activism?
White Ribbon is a campaign led by men to end male violence against women and girls. The White Ribbon movement began in Canada in 1991 following a massacre of female students at a university in Montreal. A small group of men got together and looked for a way for men to oppose violence against women. They decided to encourage men to actively show their opposition by wearing a white ribbon. Since then, the White Ribbon movement has developed internationally and is active in over 60 countries.
White Ribbon day is on 25 November each year, which is also the start of 16 Days of Action against domestic violence and sexual violence. 16 Days of Action ends on 10 December (Human Rights Day).
The Royal Borough of Greenwich is asking residents to make the White Ribbon promise to never commit or remain silent about violence against women and girls.