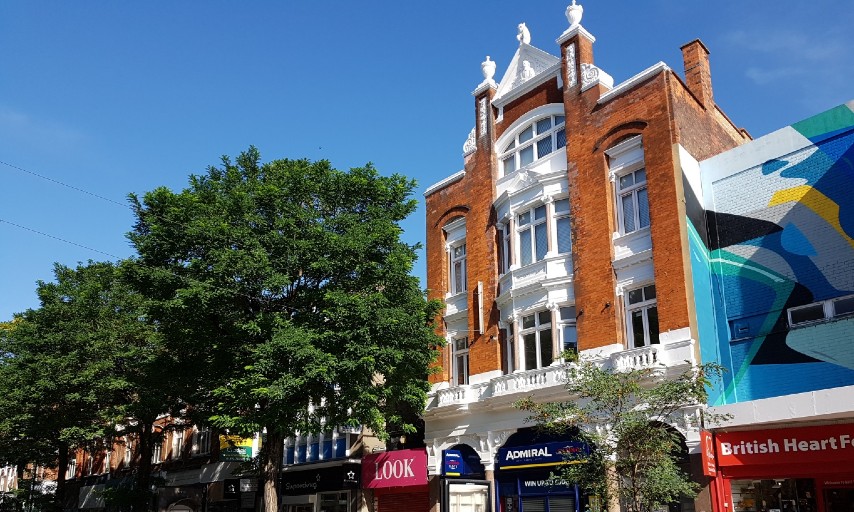 Published: Friday, 18th November 2022
Paige Denham, Ellen Strachan, Haffeera Cader Saul, Marc Drostle; and Lison Sabrina Musset and Joseph Ijoyemi The Collective Makers have been selected by the Council to create five unique murals.
The murals around Powis Street will bring the area to life and tell a story of Woolwich's history and future.
The local artists are working with the community and local groups to develop their ideas and designs for the new murals which will be unveiled in spring 2023.
The new artworks are being delivered through the Council's partnership with Historic England, as part of the Government's High Streets Heritage Action Zone (HAZ) scheme to revitalise Woolwich town centre.
The Council is also working with local businesses to redesign shop fronts to enhance the character and quality of Powis and Hare Streets in keeping with Woolwich's heritage and conservation area. Planning applications have been submitted this month for seven shops to be transformed next year.
Residents can have their say on the Council's regeneration plans for the area – which includes a series of new plaques highlighting key heritage buildings in Woolwich Town Centre - at two drop-in events taking place at the Woolwich Front Room (105 Powis Street) on Friday 25 November, 11am to 3pm, and Saturday 26 November, 11am to 3pm. 
Cllr Adel Khaireh, Cabinet Member for Culture, Communities and Equalities, said  
"Come and meet the local artists selected to deliver artwork around Woolwich at the drop-in events we're holding at Woolwich Front Room. Their work will highlight Woolwich's historic high street, add colour and creativity to the area."
"We want everyone to get involved. Each artist will be holding workshops in late November with the community, to help design their site-specific murals. We also want to know your favourite proposed Woolwich Walk plaque locations, and your suggestions for future ones." 
Cllr Aidan Smith, Cabinet Member for Regeneration, said:     
"The Council has big plans for Woolwich and it's great to see so much happening right now – a brand new leisure centre in the works, the refurbishment of Tramshed Theatre, and improving the look and feel of Beresford Square and Powis Street – to bring people back to the town centre to spend their time and money." 
Currently on at the Woolwich Front Room, a creative community space on Powis Street, funded by the Council and the Government's High Streets Heritage Action Zone and run by Greenwich Cooperative Development Agency (GCDA), is 'The Wonders Of Woolwich' an exhibition by local photographer Sonia Maloney which runs until 30 November.
Community workshop dates
Ellen Strachan
Fri 25 Nov, 10.30am to 2pm, Woolwich Front Room, 105 Powis Street, SE18 6JB
The Collective Makers - Lison Sabrina Musset and Joseph Ijoyemi
Fri 18 Nov, 10.30am to 1pm, Woolwich Front Room, 105 Powis Street, SE18 6JB

Fri 25 Nov, 10.30am to 1pm, Woolwich Front Room, 105 Powis Street, SE18 6JB