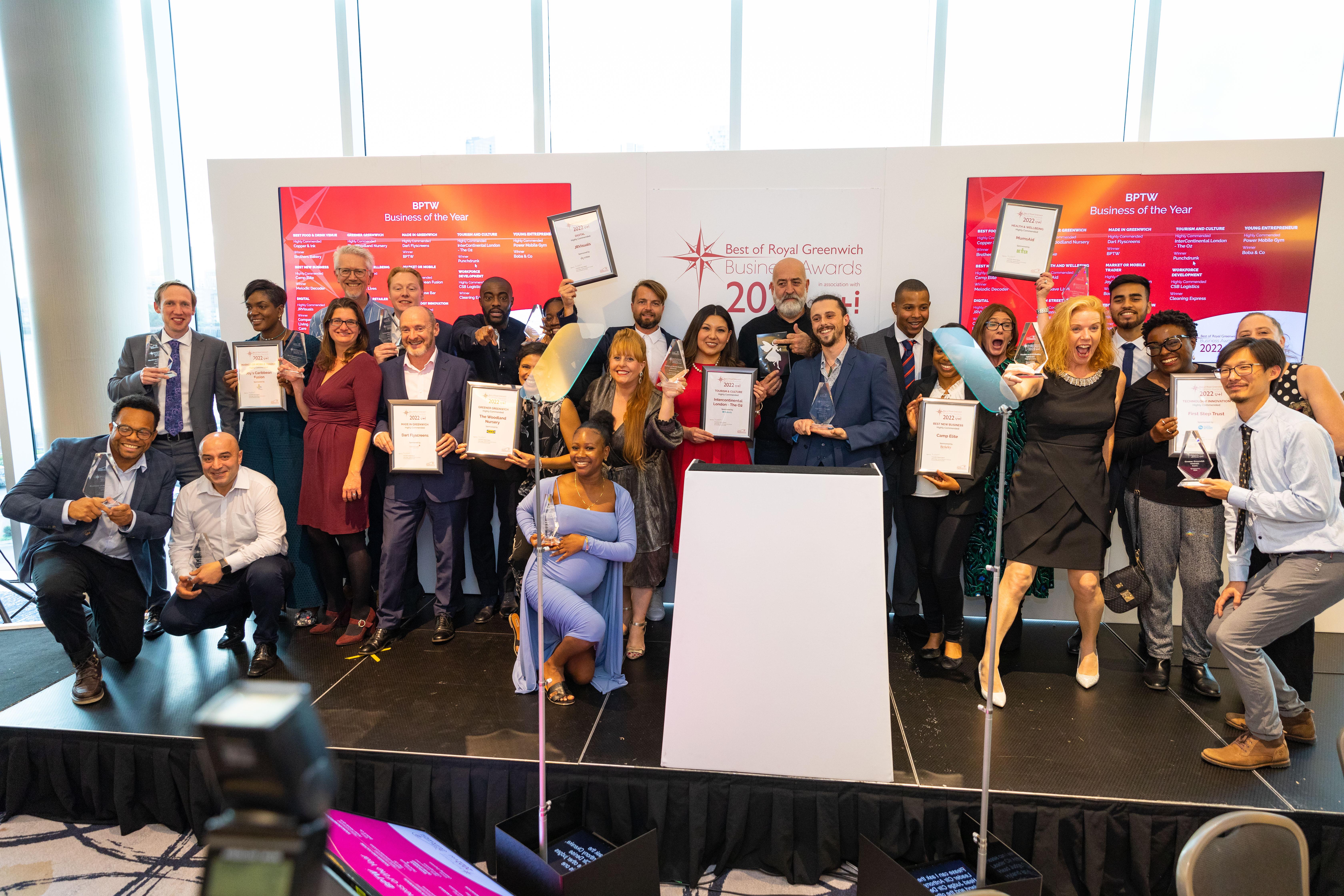 Published: Tuesday, 11th October 2022
The time is finally here. Following months of anticipation, the winners of the Best of Royal Greenwich Business Awards have been announced.
The exciting moment for many of our local businesses took place at a glittering Awards ceremony on Friday 7 October where, among the winners, architecture and planning practice BPTW snapped up the Business of the Year award for 2022.
The Awards, held in association with headline sponsor U+I and with the South East London Chamber of Commerce, presented an opportunity to highlight and celebrate business excellence in Royal Greenwich. The borough is home to 11,600 businesses providing over 100,000 jobs. The 12 categories and overall winners represent a range of different industries from across the borough's business community.
The Awards received over 230 applications this year, with hundreds of organisations competing to showcase their work and skills and be in with a chance of winning the £3,000 top prize, sponsored by Wilmott Dixon.
On Friday, finalists were treated to a champagne reception, courtesy of Riney, and lunch with views over the River Thames at the InterContinental London – The O2. The event was hosted by Tim Campbell MBE, TV star on The Apprentice, renowned ambassador for young people's employment and social enterprise champion. £5 from each ticket sold was donated to the Mayor's Charity, the Greenwich and Bexley Community Hospice. Businesses showed their generosity with over £900 raised for the hospice on the day through the Mayor's Charity Raffle, sponsored by Lovell, bringing the total to £1,560.
The Council was supported by the South East London Chamber of Commerce to celebrate the diversity, passion and contribution of businesses in the borough, and to highlight the vital role they play in providing sustainable growth.
The winners were selected by judges including Royal Greenwich Interim Cabinet Member for Inclusive Economy, Business and Skills and Head Judge Cllr Denise Hyland, Sunita Bhuwanee, Business Support Manager, Incubation, Ravensbourne, Carolina Correia, Head of Social Value, Berkeley Homes, Barrie Kelly, CEO, Visit Greenwich and Bradley Hemmings MBE, Founder Director, FESTIVAL.ORG. Three categories – the Best Food and Drinks Venue, High Street Retailer and Market or Mobile Trader - were determined by the public, who submitted a record-breaking 9,900 votes.
Councillor Anthony Okereke, Leader of the Royal Borough of Greenwich, said: "Our local businesses are the lifeblood of our communities. The Business Awards shine a light on their hard work and achievements.
"It was a pleasure to come together in-person and celebrate the work of so many of our leading businesses who are providing jobs and growth, and investing in the borough. They are a huge asset to the borough, playing a crucial role in helping us to build a sustainable, inclusive economy. The Awards are also a timely reminder of how important it is to show our support for our businesses, shopping locally wherever possible".
Councillor Denise Hyland, Interim Cabinet Member for Inclusive Economy, Business and Skills said: "Congratulations to our worthy winners and finalists. They should all be so proud as it was no easy task to choose the winners – every category was extremely competitive.
"Our borough is home to a wide variety of diverse businesses, and this was reflected in the room on Friday – finalists ranged from small, family-run food businesses to art, music and design companies, or from healthcare to training providers. Our impressive line-up of sponsors also has their roots and a long history in the borough. We are so proud of our business community. The Business Awards are a chance for us to celebrate and thank all the businesses who have achieved incredible things over the last year. The Awards will return for their sixth year in 2023 – keep your eyes peeled for more details in the new year."
Here are all this year's winners:
Business of the Year
Sponsored by Wilmott Dixon
Winner: BPTW
Royal Greenwich-based architectural and planning practice BPTW has been operating in the borough for over 30 years. In this time, they have grown the practice from 10 to 120 employees, successfully designing thousands of new homes and mixed-use spaces across Greenwich, including a string of sustainable developments along Creek Road and Norman Road. BPTW has long-standing partnerships with local charities, such as The Ahoy Centre and Greenwich Food Bank, and is an accredited London Living Wage-accredited Employer.
The practice plans to use the £3,000 prize money to provide training and work placements for eight local young people as part of Careers in the Built Environment Programme.
Best Food & Drink Venue
Sponsored by Drury Tea and Coffee   
Winner: Brothers Bakery
Highly Commended: Copper & Ink
Best New Business
Sponsored by Berkeley Homes   
Winner: Melodic Decoder
Highly Commended: Camp Elite
Digital
Sponsored by DG Cities   
Winner: Compass Supported Living and Domiciliary Care
Highly Commended: JRVisuals
Greener Greenwich
sponsored by IKEA  
Winner: Besbike
Highly Commended: The Woodland Nursery
Health & Wellbeing
sponsored by GLL - Better   
Winner: Help Save Lives
Highly Commended: MumsAid
High Street Retailer Award
Sponsored by Hindwoods
Winner: The Fudge Patch
Highly Commended: Ben Oakley Art Gallery
Made in Greenwich
Sponsored by Grant Saw Solicitors
Winner: BPTW
Highly Commended: Dart Flyscreens
Market or Mobile Trader Award
Sponsored by London City Airport 
Winner: Bonnie & Rose Bar
Highly Commended: Joy's Caribbean Fusion
Technology Innovation Award
Sponsored by Alcatel Submarine Networks  (ASN)
Winner: Champion 3D
Highly Commended: First Step Trust
Tourism & Culture Award
Sponsored by Peabody  
Winner: Punchdrunk
Highly Commended: Intercontinental London - The O2
Workforce Development
Sponsored by London South East Colleges (LSEC) 
Winner: Cleaning Express
Highly Commended: CSB Logistics 
Young Entrepreneur
sponsored by University of Greenwich 
Winner: Boba & Co
Highly Commended: Power Mobile Gym