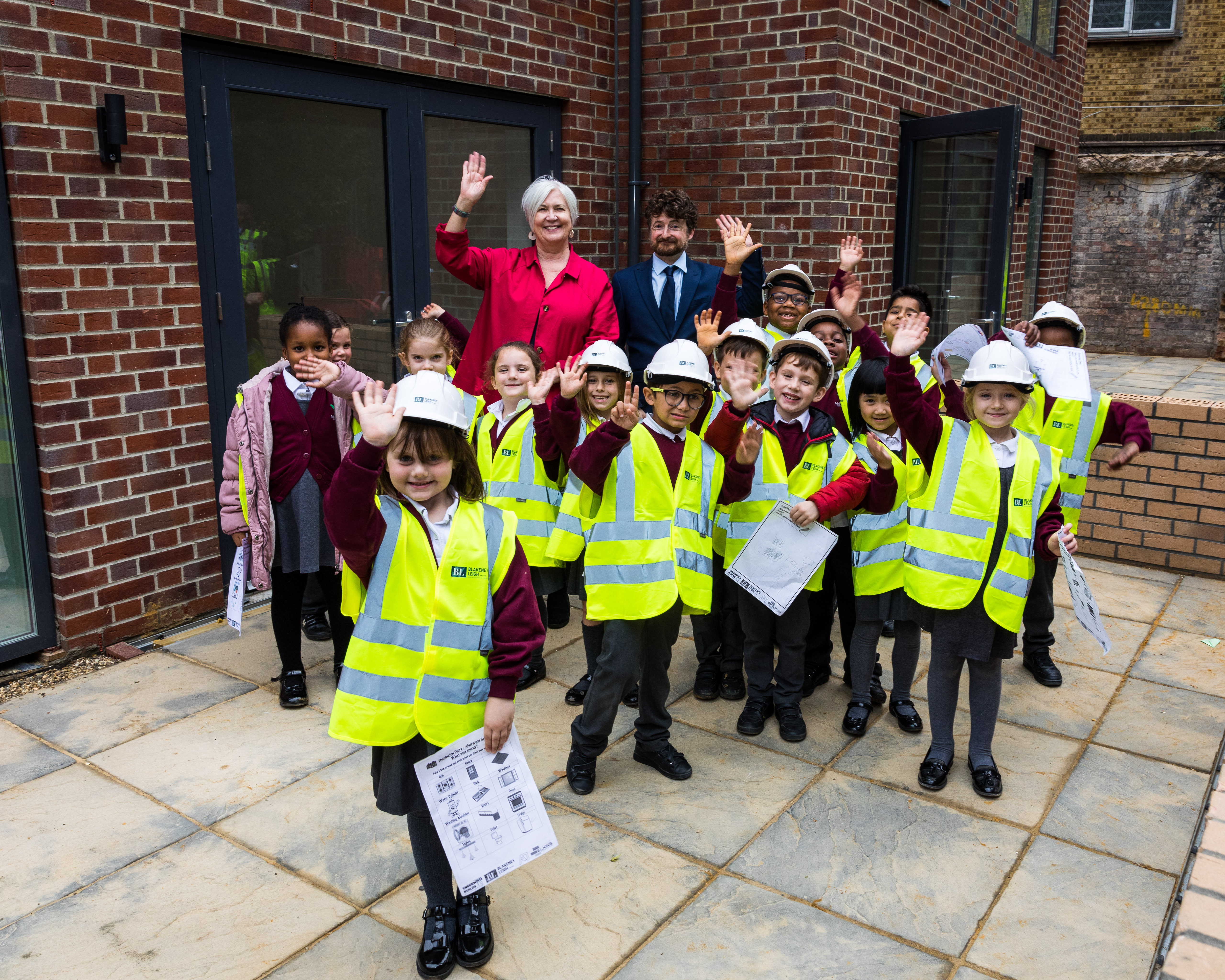 Published: Tuesday, 4th October 2022
With 1,750 Greenwich Builds council homes being created across the borough, there's a lot of construction going on, providing a great opportunity for young people to learn how homes are built.
We require all Greenwich Builds contractors to provide value to the community, and this can take many forms, from apprenticeships and jobs for local people to engagement with nearby schools.
Pupils from Alderwood Primary School benefited from this when our contractor Blakeney Leigh invited them to see two new zero-carbon family houses being built in Avery Hill.
The schoolchildren visited twice, seeing the homes during and after construction, while learning about sustainability features like solar panels and heat pumps, and helping to fly a drone as part of a site survey.
On their second visit to see the now complete homes, the pupils were joined by Royal Borough of Greenwich Cabinet Member for Regeneration, Councillor Aidan Smith, and Cabinet Member for Housing, Neighbourhoods and Homelessness, Councillor Pat Slattery.
All the pupils gave a big thumbs up to the completed homes, with many asking when they could move in!
Cllr Aidan Smith said: "As well as creating 1,750 new council homes, which are so much needed by those on our housing waiting list, Greenwich Builds is providing all kinds of extra value to our community, from environmental improvements to training and employment opportunities for local people. It's been great to watch pupils from Alderwood School learning all about how homes are constructed - I think we may have a few future builders among the kids who've visited today!"
Cllr Pat Slattery said: "After years of underinvestment from central government, the need for new council homes, and family homes in particular, is overwhelming. These new zero carbon houses are a great example of how we're meeting that need with Greenwich Builds, and the fact that we're able to inspire the next generation of home-builders by inviting children from local schools to watch them being built is fantastic."
The three-bedroom semi-detached houses will be made available to local people on Council housing waiting lists, and are an example of larger family homes with up to five bedrooms that are being created by Greenwich Builds, responding to the requirements of those in housing need.