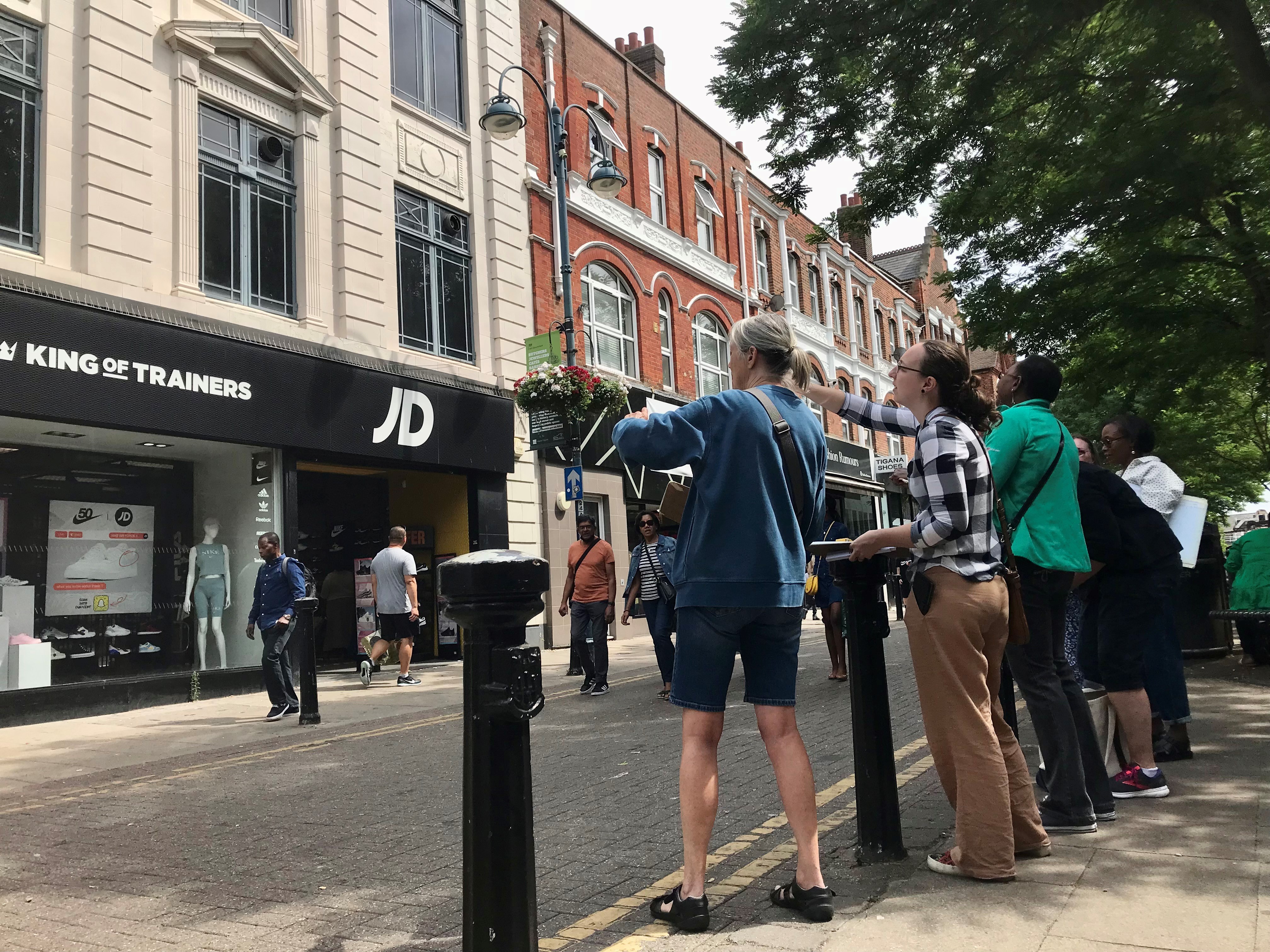 Published: Friday, 23rd September 2022
An exciting programme of free events and activities including a drawing workshop, exhibitions and an architecture course has been announced as part of the Woolwich Heritage Action Zone (HAZ).
An exhibition of mixed media artwork, inspired by the wealth of interesting architecture in Woolwich town centre, will run from Thursday 29 September to Thursday 13 October. The diverse collection of work by local artists from SET Woolwich explores the stories that buildings on Powis Street, Hare Street and Beresford Square tell about the history of the area. It will be on display Tuesday to Saturday at the Woolwich Front Room (105 Powis Street), open from 10.30am to 4.30pm.
There's a chance for the whole family to get creative as part of the Big Draw Festival, an international celebration of drawing. On Saturday 1 October, the Front Room will host the Big Draw Family Workshop, one of thousands of fun events and activities taking place all around the world as part of the Festival. Budding young artists and their families will take inspiration from the work on display to create their own colourful drawings and learn about Woolwich's fascinating past. The workshop is free and takes place from 10.30am to 1pm; places need to be booked in advance at royalgreenwich.gov.uk/big-draw-woolwich
Alongside the workshop, local people can also see the premiere of a short film produced specially for the Heritage Action Zone project. Award-winning filmmakers Foreign Body Productions have worked with young people from Woolwich to create an innovative film looking at the impacts of the built environment on the community.
These events are part of a two-year programme of community and heritage events being coordinated by the Museum of London Archaeology (MOLA) and architectural educational charity, Our Hut. They're part of the HAZ project, which is designed to celebrate Woolwich's diverse communities, history and aspirations, and funded by Historic England and the Council.
Cllr Aidan Smith, Cabinet Member for Regeneration at the Royal Borough of Greenwich, said: "Woolwich is going through a period of great change, with plans for new housing, a leisure centre and open spaces. It's important that we protect the special buildings and remember the sense of community spirit which is at the heart of the town. These events are the perfect way for local people to see Woolwich's unique heritage come to life. It's fantastic to see such a variety of creative events on the programme; there's something for everyone and even more to come!"
Judy Ovens from Our Hut commented: "These events will give us the chance to see the commercial centre of Woolwich with fresh eyes. They will bring communities together to discover things they may have never noticed, and to create a vision of the architecture that surrounds them – as it is, or as they would like it to be."
Richard Parish, Historic Places Adviser, Historic England, said: "Alongside investing in Woolwich town centre's historic buildings and streets, the Woolwich High Street Heritage Action Zone connects local communities to the area's history through art and cultural events. The exhibition by local artists launches in the new Woolwich Front Room and will herald an exciting programme that celebrates and reflects Woolwich's rich history."
In November, archaeologists from MOLA will give people the chance to learn more about the history of Woolwich's distinctive buildings for free. The Woolwich Communities Buildings Archaeology course is an introduction to the skills needed to investigate and record historic buildings.
Ruth Taylor, MOLA Engagement Project Manager commented: "We are truly excited about this heritage programme. It is giving us the chance to work closely with Woolwich communities, to listen to their voices and share stories and perspectives, as we explore Woolwich together. There's something for everyone in the programme so please join us in discovering and honouring Woolwich's unique heritage!"
Anyone interesting in signing up for the Archaeology course, or hearing about future Woolwich heritage events including walking tours, can register for updates at royalgreenwich.gov.uk/haz-events. Further activities and courses will run throughout 2023.