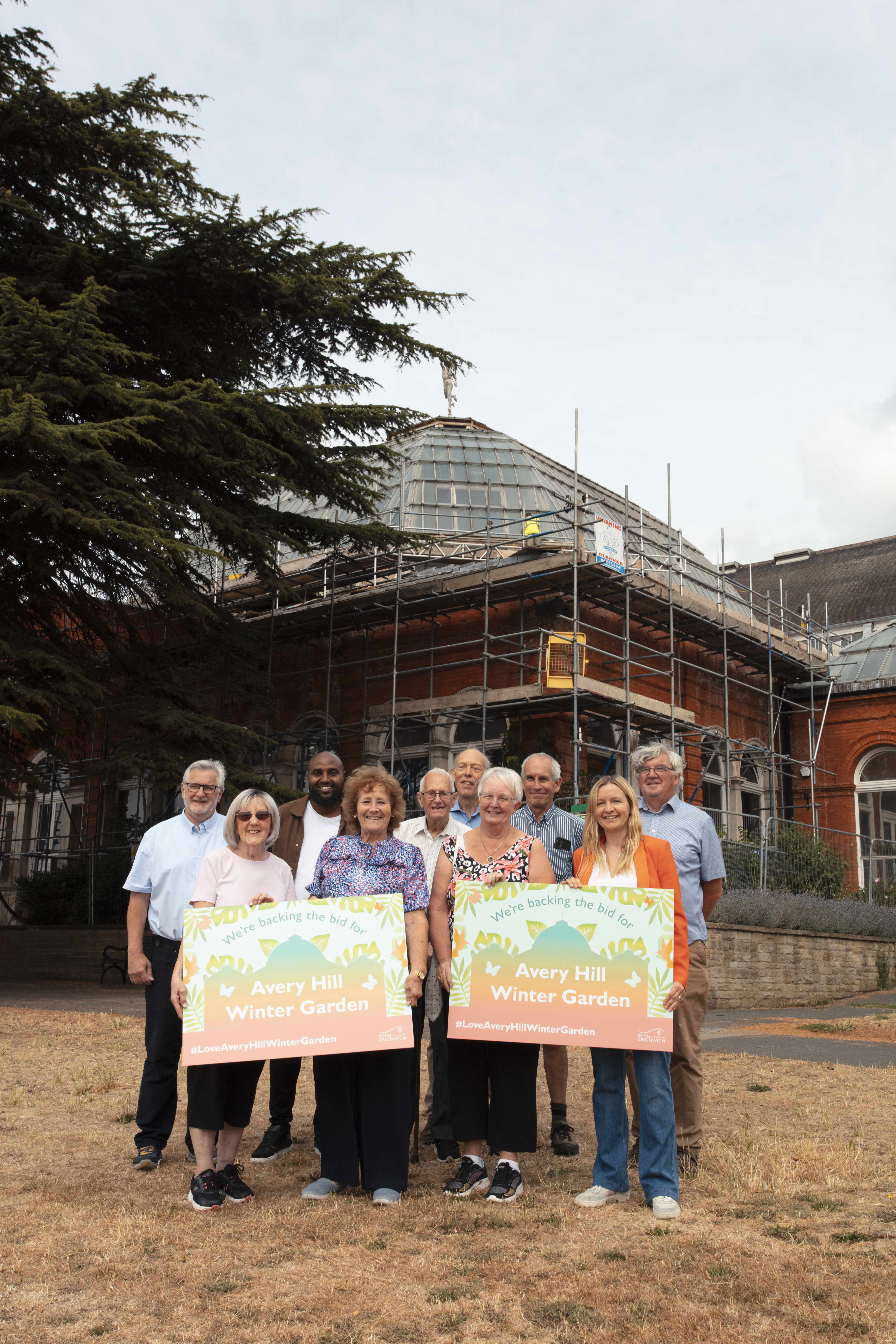 Published: Monday, 1st August 2022
The Royal Borough of Greenwich and local community members are backing a £6.9 million funding bid to restore the Avery Hill Winter Garden to its former glory.
The council has submitted its bid to the Department for Levelling Up, Housing and Communities' 'Levelling Up' fund, committing to provide £4.7 million match funding to restore and protect the much-loved community asset.
The application has received support from a wealth of local people and community groups including Eltham Town and Avery Hill ward Councillors, Cllr Sammy Backon, Cllr Lauren Dingsdale and Cllr Pat Greenwell, local MP Clive Efford, the Mayor of London, the Friends of Avery Hill, the University of Greenwich, the Eltham Society, Greenwich Parks Forum and the Royal Greenwich Heritage Trust. It comes after a community campaign to save the iconic building, the second largest winter garden in the UK after Kew Gardens, collected 3800 petition signatures.
The £11.7 million restoration project would allow the structural repairs needed to return it to its original grandeur, as well as retrofit work to improve the environmental performance of the building, ensuring its sustainability for years to come. The work will provide dedicated spaces for visitors, educational activities and hospitality events, upgrades to footpaths and signage to improve accessibility, and the installation of cycle parking and four electric vehicle chargers to encourage greener travel.
Cllr Adel Khaireh, Cabinet Member for Equality, Culture and Communities, said: "The Avery Hill Winter Garden is a hidden gem within our borough, but we want to bring it into full view for residents and visitors alike to enjoy.
"This investment would allow us to preserve and enhance the history and heritage of this beautiful building, providing a sustainable multi-use community venue and spectacular backdrop for cultural events. We're determined to make this historic landmark serve the whole community and support the economic and cultural growth of the area."
Cllr Matt Hartley, Leader of the Opposition, said: "The Avery Hill Winter Garden is a precious community asset – and its restoration is long overdue. The community has campaigned extremely hard to restore the Winter Garden to its former glory, and if successful, this new bid for funding will unlock an exciting future for what could become a major visitor attraction. The bid has wide public support – including cross-party support in our borough – and we are all rooting for its success."
Clive Efford, MP for Eltham, said: "This is a historic and truly unique local landmark, part of the heritage of Avery Hill and the wider Eltham area. Levelling up is supposed to be about lifting poorer communities and this scheme delivers on that. It's a sustainable project that will bring much needed jobs to an area where there are few opportunities for new businesses to start up and create a real asset for the local community."
John Webb, Chair of the Friends of Avery Hill Park, said: "We're delighted to endorse the Levelling Up Fund application which would enable the potential of this landmark site to be unlocked. With proper design, creative thinking and investment, the Winter Garden can provide a focal point for our diverse community. It can be a place of public pride, local identification, a symbol of inclusion and accessibility for all, a centre of learning and leisure, volunteering, celebration and quiet reflexion - truly something for everybody."
Both the restoration work and operation of the venue will create job opportunities and apprenticeships. The venue will work with the council's work support service (GLLaB) to support apprenticeships in conservation, construction and horticulture. Volunteering opportunities will also be created in partnership with Volunteer Centre Greenwich, and the projected increase in footfall will help support businesses in the nearby Eltham High Street.
Visit averyhillpark.org.uk for more information about the Friends of Avery Hill Park and to join the group.