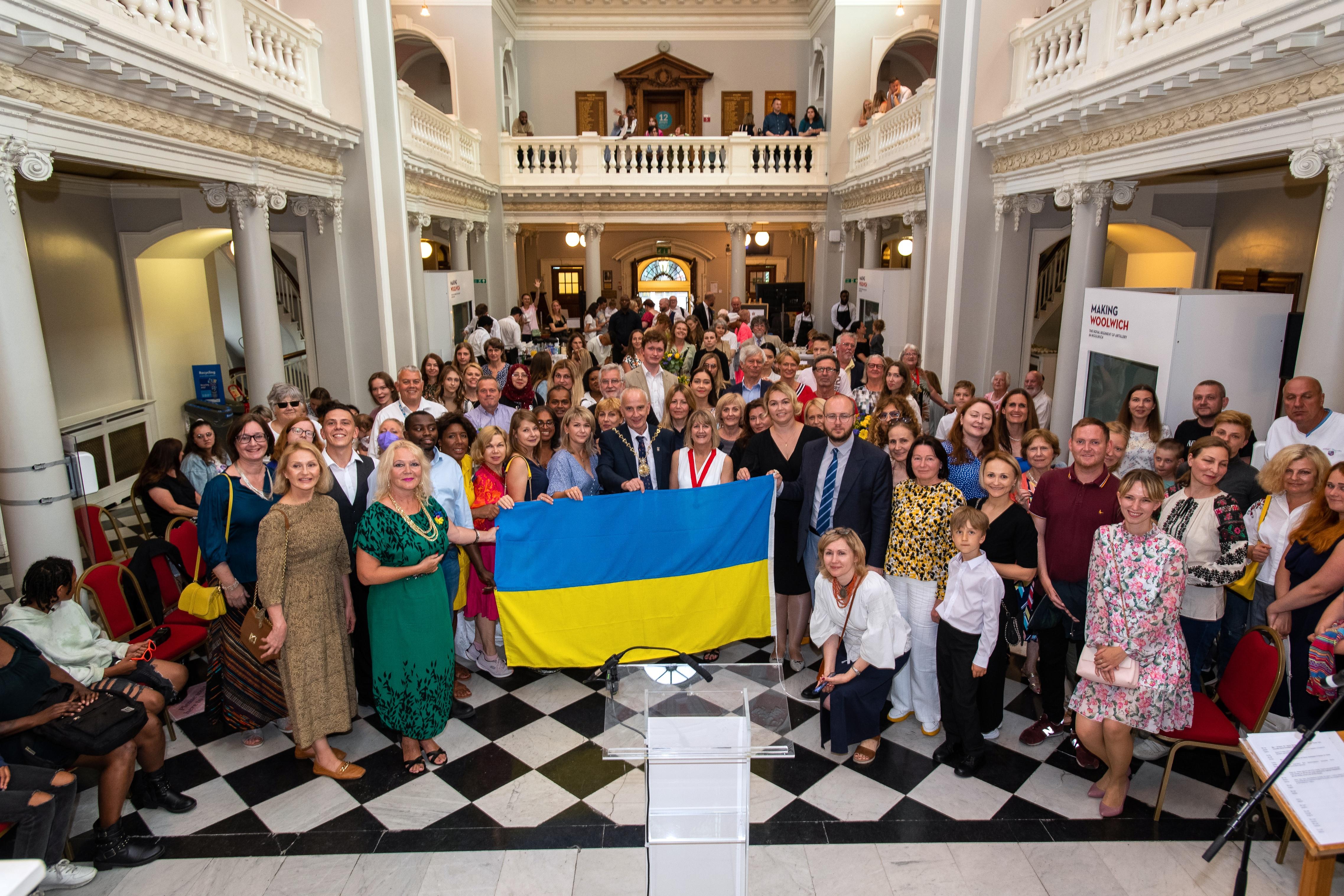 Published: Monday, 1st August 2022
Friday 22 July saw Woolwich Town hall decked out in blue and yellow to honour the Ukrainian Refugees who have made it to our borough over the last six months.
Speeches from the Mayor and senior councillors, cultural performances and food and drink were all laid on to welcome our new guests and recognise the hard work of the organisations supporting them.
The Royal Borough of Greenwich has a long history of supporting those fleeing war and persecution who want to make our borough their home.
As a council we've supported 19 Syrian families through our Greenwich Sanctuary Project, and last year we hosted 700 people from Afghanistan, who quarantined here.
Now with the support of some fantastic organisations and the Homes for Ukraine Sponsors we have been able to welcome 270 people from Ukraine.
Councillor Denise Scott-McDonald, Cabinet Member for Health and Adult Services, said: "It's a sad reality that we live in a world where not everyone can feel safe in their home country. Being forced to run from war and persecution should never have to happen.
"Last week's event was testament to the bravery and resilience of those who have overcome unimaginable hardship and managed to get themselves and their families to a place of safety and I would like to extend to them the warmest welcome."
Councillor Anthony Okereke, Leader of the Royal Borough of Greenwich, said: "We firmly believe that everyone deserves a safe place to live and this is the sentiment that underpins all the work we do to support refugees arriving here.
"In the Royal Borough of Greenwich, we know better than most, that a rich cultural diversity is a wonderful thing to be a part of and that the introduction of new people from new places is only ever enriching for a community.
"I'd like to thank our guests from Ukraine for finding their way to us, we are honoured to have you."