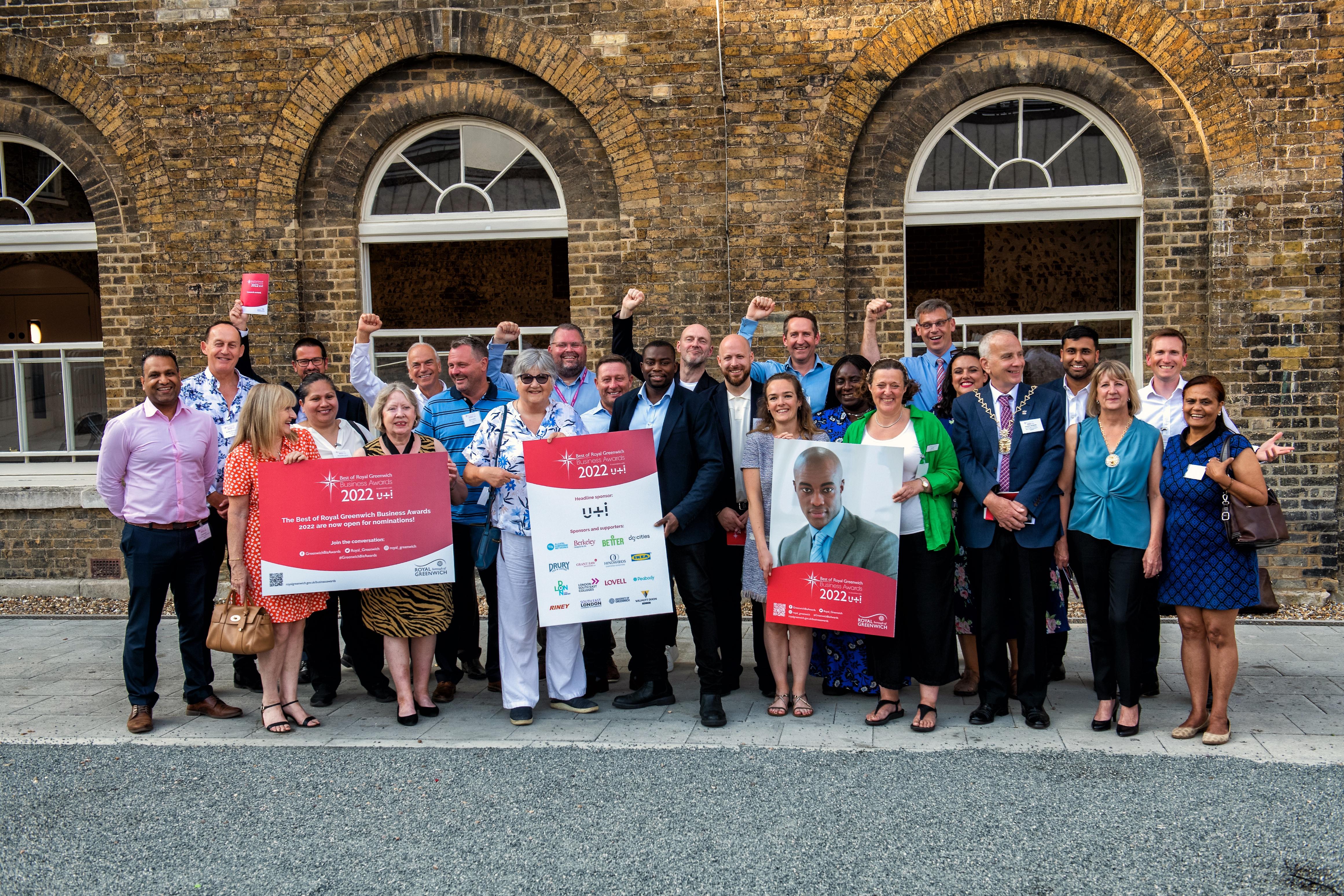 Published: Friday, 15th July 2022
Now in its fifth year, this annual celebration is an opportunity to recognise and showcase local businesses and their outstanding contributions to Royal Greenwich.
Entries are now open for south-east London's most prestigious business awards, organised by the Royal Borough of Greenwich, in association with U+I and supported by the South East London Chamber of Commerce. The Council is encouraging all businesses in the borough to nominate themselves by the closing date, Sunday 14 August. The awards are free to enter, and open to anyone who owns or manages a business in Royal Greenwich.
Across 12 exciting categories, and the overall winner's prize, we reward all types of businesses, from high street retailers to social enterprises, offering outstanding products and services to residents and visitors. New categories this year include the Market and Mobile Trader Award, Best Food and Drink Venue and Digital Award, to recognise the diversity of businesses in Royal Greenwich.
Nominees will be shortlisted by a judging panel which includes Councillor Denise Hyland, Interim Cabinet Member for Inclusive Economy, Business and Skills and Councillor Mariam Lolavar, Cabinet Member for Inclusive Economy, Business and Skills as joint head judges. Guest judges this year include Carolina Correia from Berkeley Homes, Bradley Hemmings MBE from FESTIVAL.ORG, Sunita Bhuwanee from Ravensbourne University and Barrie Kelly from Visit Greenwich; all local industry leaders were chosen for their wealth of experience and expertise across different fields and for their contributions to the borough. The shortlist is due to be announced in September, with nine of the category winners, and the overall winner, chosen by the judging panel. Best Food and Beverage, High Street Retailer, Market & Mobile Trader will be selected by public vote, which is due to open on 16 September. The winners will be revealed in a sparkling ceremony this October.
Businesses will be able to nominate themselves for up to two of the following categories:
1. Greener Greenwich sponsored by IKEA
2. Made in Greenwich sponsored by Grant Saw Solicitors 3. Workforce Development sponsored by London South East Colleges (LSEC) 4. Young Award (under 30) sponsored by University of Greenwich
5. High Street Retailer Award sponsored by Hindwoods
6. Tourism and Culture Award sponsored by Peabody 7. Health and Wellbeing Award sponsored by GLL - Better 8. Best New Business Award (in the past two years) sponsored by Berkeley Homes 9. Technology Innovation Award sponsored by Alcatel Submarine Networks (ASN) 10. Best Food and Drink Venue sponsored by Drury Tea and Coffee 11. Market or Mobile Trader Award sponsored by London City Airport 12. Digital Award sponsored by DG Cities Limited
Councillor Denise Hyland, Interim Cabinet Member for Inclusive Economy, Business and Skills at the Royal Borough of Greenwich, said:
"The search is on for Royal Greenwich's best businesses. Don't miss your chance to gain the recognition your business deserves – for free!
We want to hear from businesses, old and new, that go above and beyond, whether that's by providing outstanding customer service, enriching the local community or offering exceptional training and development for their staff.
"I encourage all company owners and managers to nominate themselves to raise their profiles, boost staff morale, build their networks and be in with the chance of winning. It's free to enter so there's absolutely nothing to lose – Good luck to everyone nominating themselves!"
Councillor Anthony Okereke, Leader of the Royal Borough of Greenwich, said: "We are accepting nominations from all businesses within Royal Greenwich. The borough is home to over 11,000 businesses and the Best of Royal Greenwich Business Awards have become an icon in our calendar, celebrating how diverse our businesses are. They offer us an opportunity to highlight the crucial role businesses play in providing sustainable growth. By nominating their business, we encourage business owners and managers to take a step back and reflect on their successes and celebrate their achievements".
"If you know a business which deserves to win an award, encourage them to enter before nominations close on 14 August so that they're in with a chance winning".
Celebrity businessman, social entrepreneur and The Apprentice star Tim Campbell will be hosting the awards held at the InterContinental O2 Hotel on 7 October 2022.
By taking part in the awards businesses will have the chance to win a £3,000 marketing budget, courtesy of Wilmott Dixon. JB Rineys is sponsoring the champagne reception, Lovell is sponsoring the Mayor's Charity Raffle.
For more information about the Best of Royal Greenwich Business Awards or to make a nomination visit royalgreenwich.gov.uk/businessawards