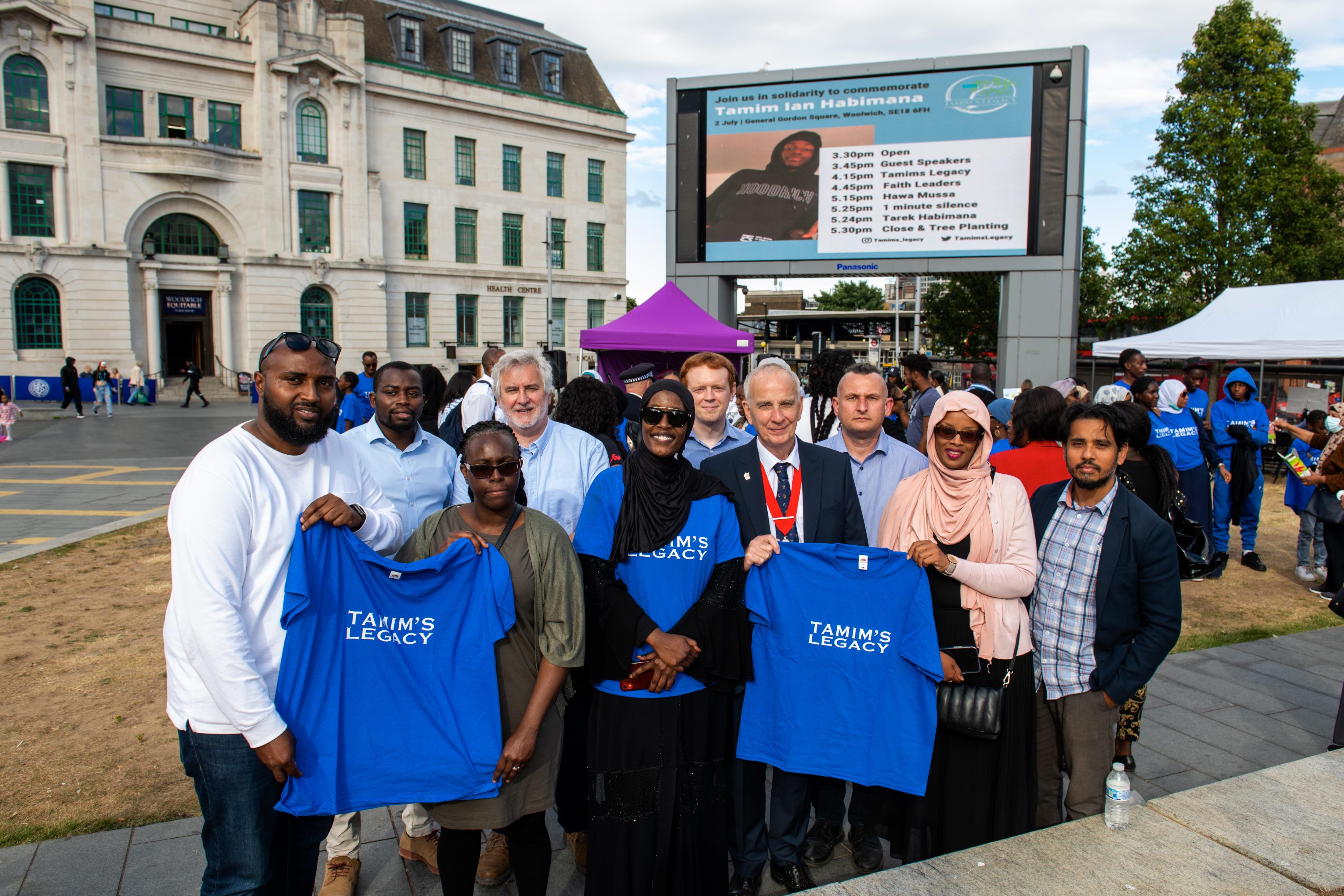 Published: Wednesday, 6th July 2022
Family, friends and community leaders gathered in Woolwich, in solidarity with mothers who have lost their sons to knife crime, and to remember Tamim Ian Habimana, who was killed last year.
The Royal Borough of Greenwich has pledged further support to crack down on knife crime across the borough, after a moving event on Saturday to commemorate Tamim Ian Habimana, who was stabbed to death in Woolwich on 5 July last year.

Launching a new grassroots charity in her son's memory, Hawa Haragakiza gave an incredibly moving tribute to Tamim, who would have turned 16 this year.
Tamim's Legacy will work across all corners of the community to tackle youth knife crime, putting teenagers at the heart of the conversation.
Hawa said: "It's been a year since my son Tamim was murdered in Woolwich Town Centre. The pain is unbearable. But the support that I have received from all backgrounds; communities, Leaders, and faith leaders, has been massive. I can't thank you enough. Now my focus is to make a change with Tamim's Legacy."
Joining Hawa were three other mothers who had recently lost their sons to knife crime, and who all spoke movingly about their pain and grief.
Leader of the Royal Borough of Greenwich, Anthony Okereke, Sophie Linden, Deputy Mayor of London for Policing and Crime, and Clive Efford, MP for Eltham, all pledged to use their platform to support work against serious youth violence.
Cllr Okereke said: "From this heart-breaking ordeal, Hawa has shown incredible courage and determination to stop knife crime by founding Tamim's Legacy. We share this determination with Hawa and will do whatever we can to support the campaign."
As part of the Council's commitment to end youth violence, the Royal Borough of Greenwich has recently taken part in a trailblazing anti-knife crime programme.
SHiFT, a youth justice organisation, has worked with some of the most vulnerable children, targeting deep-rooted and complex issues such as county line drug running, knife crime and repeat exclusions from school.
The Royal Borough of Greenwich is one of four local authorities to have hosted the pilot.
Councillor Matt Morrow, Cabinet Member for Children and Young People, said: "I want to thank Hawa for her incredible bravery and dedication to her son. Far too many young lives like Tamim's are lost to serious youth violence and schemes like SHiFT and Tamim's Legacy will be important if we are serious about tackling the causes of these devastating crimes.
Councillor Ann-Marie Cousins, Cabinet Member for Community Safety and Enforcement, added: "Tamim's murder remains a stark reminder of the impact knife crime has ​on families and the wider community. Tamim's Legacy will work with the people who are most affected by these atrocities, and I look forward to supporting this cause as we ​strive to positively engage young people and unite as a community against knife ​and other crime​s."
If you are concerned about the wellbeing of a young person in your life who you think is 'at risk' of offending or causing anti-social behaviour, you can reach out to the Council for support. We work with young people aged from eight -17. This ranges from helping if you or your child are experiencing difficulties with behaviour, education, peer groups or the wider community. For more information, visit www.royalgreenwich.gov.uk/YouthCrime