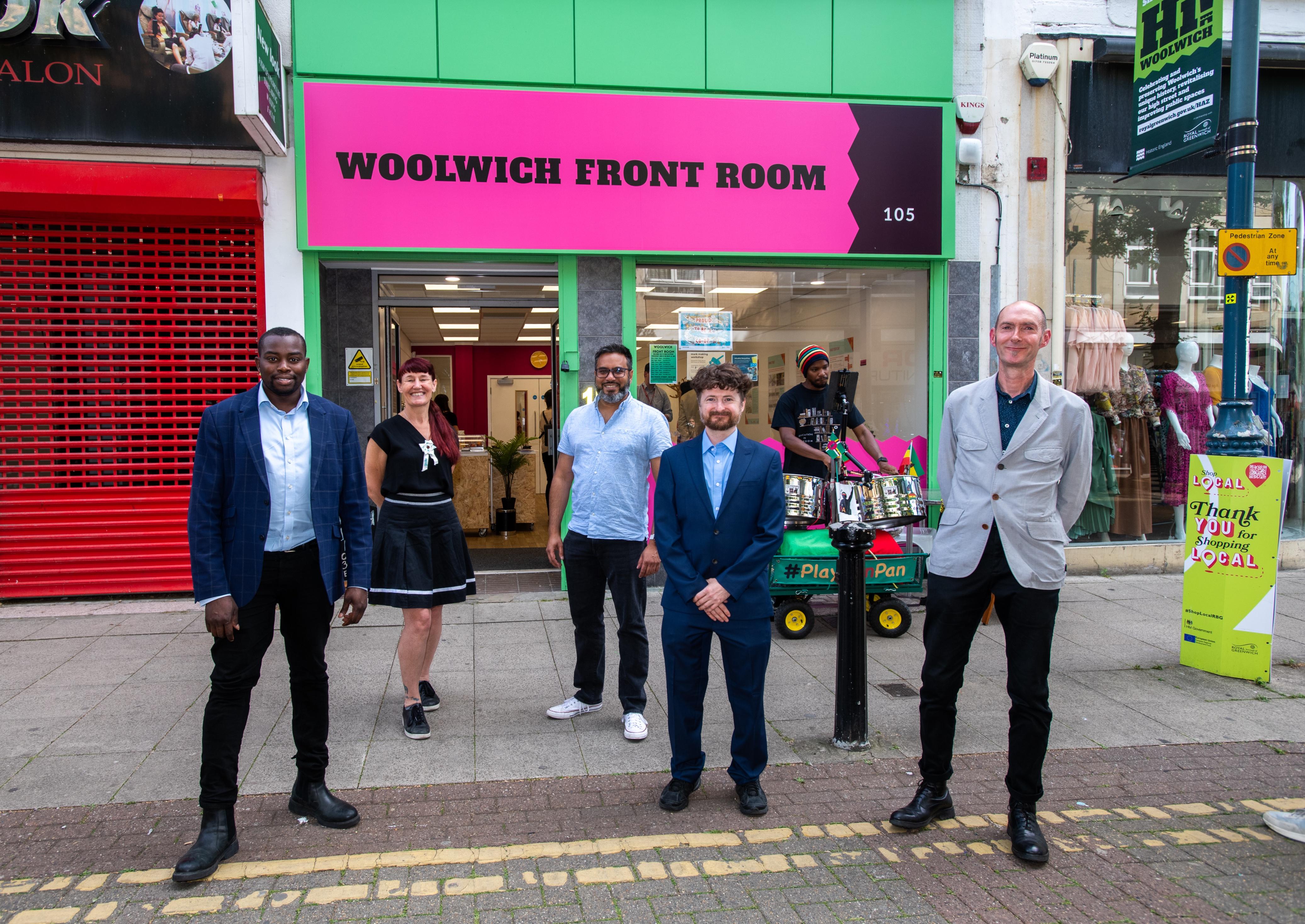 Published: Wednesday, 22nd June 2022
Royal Greenwich Councillors have officially unveiled the Woolwich Front Room, a new creative community space in the heart of the town centre.
The council has transformed a vacant shop unit on Powis Street into affordable flexible community, work and exhibition space with a café, as part of the Council's regeneration of Woolwich town centre.
The Woolwich Front Room will be operated by Greenwich Cooperative Development Agency (GCDA) on behalf of the Council.
Located near the junction with Hare Street, the Woolwich Front Room has been funded by Historic England and matched by the Council, through the Government's High Streets Heritage Action Zone (HAZ) scheme to revitalise and improve high streets.
Cllr Anthony Okereke, Leader of the Royal Borough of Greenwich, said:
"Not only has the Elizabeth line, Woolwich Works and Punchdrunk's 5-star show opened here, the Council is also investing in a brand-new leisure centre, the refurbishment of the Tramshed Theatre, and leading the makeover of the town centre's civic spaces and heritage buildings.
"With the decline of chain stores and online shopping, we have to give people a reason to visit and spend time in our town centres again – whether that's renting a hot desk, going for a swim or visiting an exhibition. Council-backed initiatives like Woolwich Front Room will be a catalyst for reinvigorating Powis Street."
Cllr Aidan Smith, Cabinet Member for Regeneration, said:
"Funding from the Heritage Action Zone isn't just about buildings; it is also about people. Woolwich Front Room is a welcoming, friendly place where anyone can come and spend time, creating a real buzz on the high street. GCDA have 40 years of experience running culturally inclusive events and activities that help to bring the community together. I'm looking forward to seeing a wealth of exciting events and exhibitions here, which will foster local pride and promote Woolwich's diversity, its communities, local history and aspirations."
Claire Pritchard, Chief Executive of GCDA, said:
"We're so pleased to be running the Woolwich Front Room and we have a jam-packed programme of events and activities for residents to get involved in. From parents' cookery clubs to screen painting – all for free! But residents and community groups can also use it to put on their own events. We want the Front Room to be a genuinely inclusive community space, which supports both new and established groups to grow and provide opportunities for the local community. We offer hireable workshop and event space, as well as support for start-ups, affordable hotdesking, a small café and retail space for Greenwich-based artists and designers. So please come in and meet us."
Richard Parish, Historic Places Adviser at Historic England, said:
"We're delighted to welcome people to the new Woolwich Front Room - a key step in putting community and heritage at the heart of town centre regeneration in Woolwich. The Front Room will be open to all as a hub for community engagement and events as part of the High Street Heritage Action Zone. The HSHAZ scheme will deliver a creative programme of arts and activities to celebrate Woolwich's rich history, alongside lasting physical changes to historic buildings along Powis Street and beyond."
Woolwich Front Room offers hireable space from £20 per hour, with a reduced rate for charities and not-for-profit groups. It is available between 10.30am and 4.30pm, from Tuesday to Saturday (private hire is available outside of these hours). To find out more, email woolwichfrontroom@gcda.org.uk or visit woolwichfrontroom.org.uk.
The Council has secured nearly £21 million in funding from the Government and Historic England, through the Heritage Action Zone scheme and Future High Streets Fund as well as investing its own funds to help transform Woolwich town centre into a vibrant place to live, work and shop.
We are currently undertaking consultation on the proposals to revitalise Woolwich town centre, which is open until Sunday 17 July 2022. There are a variety of ways people can share their feedback, including a series of events which offer the opportunity to discuss the proposals with officers and ask questions. More information can be found at woolwichtowncentre.commonplace.is