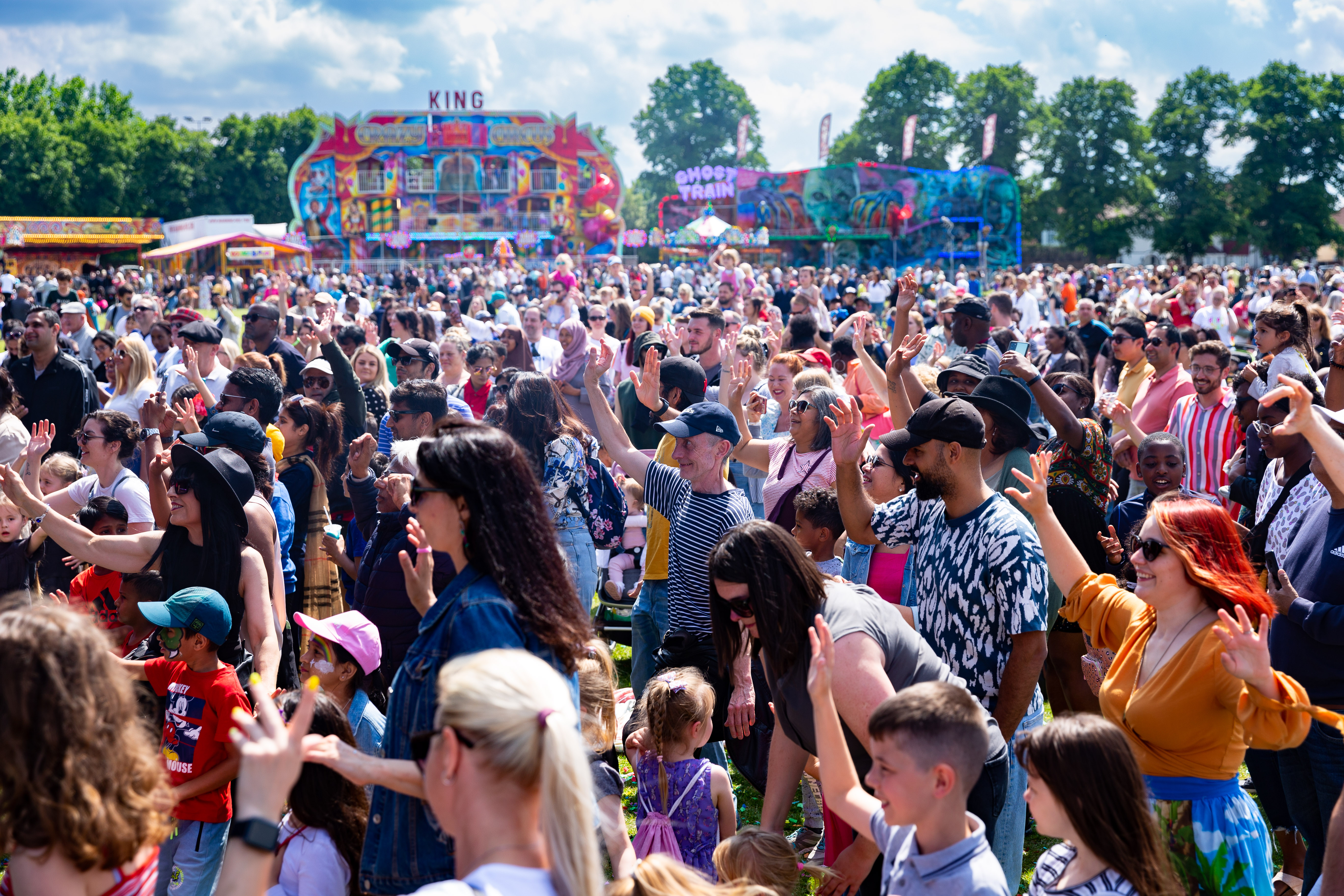 Published: Wednesday, 8th June 2022
More than 28,000 people celebrated at free Royal Borough of Greenwich events over the weekend in honour of the Queen's Platinum Jubilee.
On Thursday 2 June, the council hosted the first of two free summer events Royal Greenwich Together 22.
Acts including the House & Garage Orchestra and YolanDa's Band Jam from Cbeebies took to the main stage as crowds made the most of the weather to enjoy picnics, market stalls, give-it-a go crafts, sports sessions and meet community organisations and councillors. The Pride 50 tent also celebrated 50 years of Pride in London with fabulous performances and activities.
Leader of the Council, Cllr Anthony Okereke said:
"It was fantastic to see almost 30,000 people enjoying a free day out in Charlton Park. To come together not only as a borough, but as a country to celebrate Her Majesty the Queen's Platinum Jubilee was something I hope residents will remember for years to come. I certainly will!"
"From street parties to celebrating 50 years of UK Pride at Royal Greenwich Together 22, it was a pleasure to witness our communities unite to mark this historic moment."
The day's finale took place in Woolwich's General Gordon Square where crowds gathered to watch the ceremonial lighting of the Platinum Jubilee beacon.
Performances from the Sikh Temple and Royal Air Cadets provided a fanfare for the flame which was lit by Mayor of Royal Greenwich Cllr Leo Fletcher and Deputy Lieutenant of Royal Greenwich Pieter van der Merwe. More than 1,500 beacons around the United Kingdom, Channel Islands, Isle of Man, UK overseas territories, and capital cities of Commonwealth countries were lit in sync to pay tribute to Her Majesty as part of the official Platinum Jubilee Weekend.
Cabinet Member for Equality, Culture, and Communities, Cllr Adel Khaireh said:
"In the year we celebrated a decade since gaining our royal status as a borough, it's only right that we honour this royal milestone for Her Majesty, the Queen.
The weekend has allowed our communities to share the histories of monarchies all over the globe in a variety of different ways".
Just a day later, Platinum Picnic in the Park took over Charlton Park. Residents enjoyed performances from local cultural performers who shared stories of monarchies all around the world.
To finish off the weekend's festivities, neighbours gathered in their hundreds to host more than 60 street parties on Saturday and Sunday with food, music, and more...
Tell us about your experience at our Platinum Jubilee events