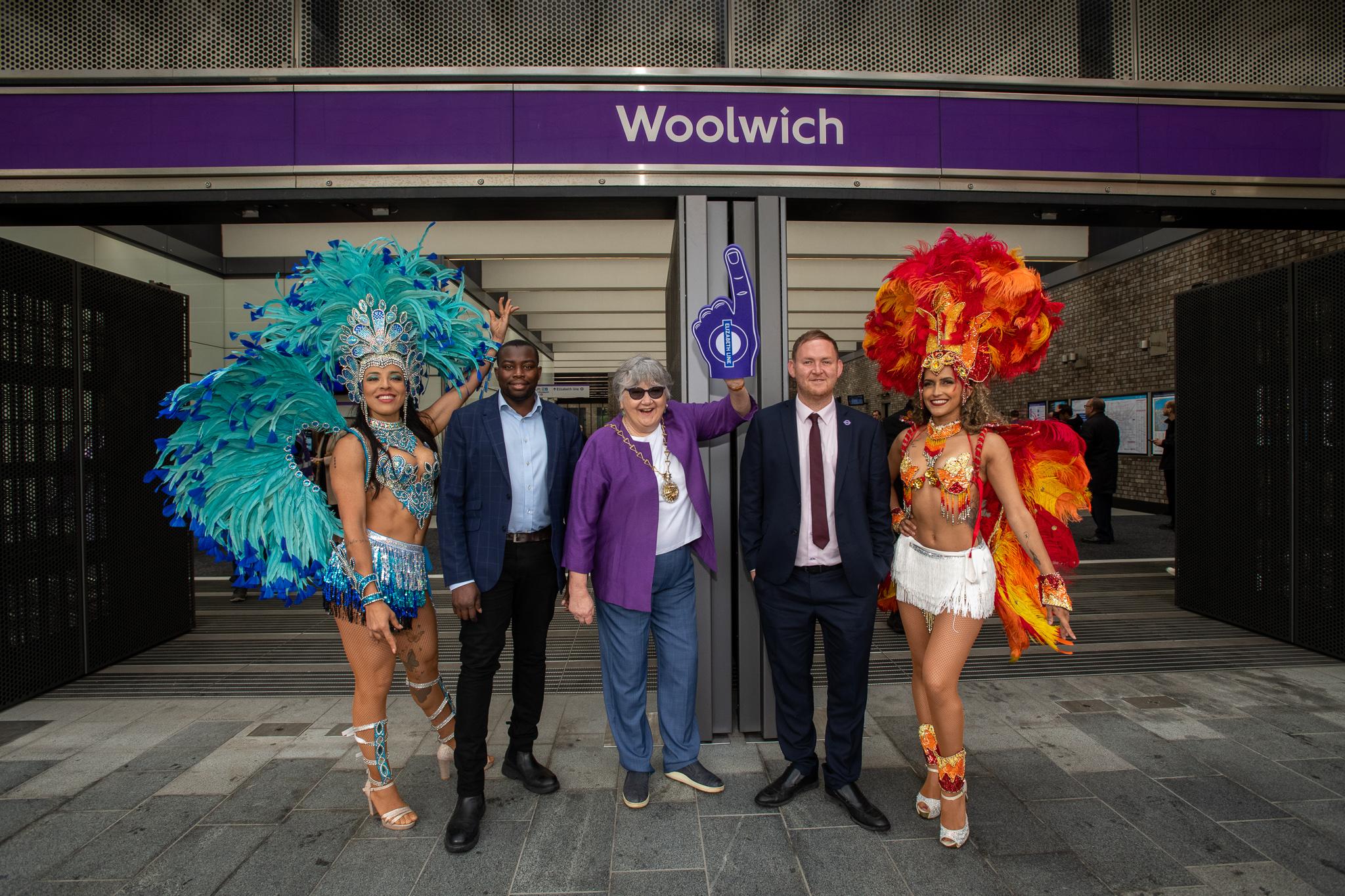 Published: Tuesday, 24th May 2022
Royal Greenwich Councillors are celebrating the long-awaited arrival of the Elizabeth line today.
Elizabeth line services started from Abbey Wood and Woolwich at 6.30am this morning, marked with a visit by special guests including Sadiq Khan, the Mayor of London and TfL Commissioner Andy Byford.
Royal Greenwich Councillors and the guests enjoyed lively entertainment coordinated by Woolwich's own arts and culture venue Woolwich Works including the National Youth Jazz Orchestra and carnival dancers from Taru Arts in honour of the special occasion.
Cllr Danny Thorpe, Leader of the Royal Borough of Greenwich, said: "It is fantastic to see Elizabeth line services starting today, bringing more efficient, accessible, high quality public transport options to Abbey Wood and Woolwich. We lobbied for the line to come to Woolwich because we knew it would provide our residents and businesses with a wealth of valuable opportunities. This is a game-changer for Royal Greenwich, offering access to a potential 1.2 million jobs within a 45-minute commute and helping to encourage further investment in Woolwich town centre."
Cllr Anthony Okereke, Leader Elect for the Royal Borough of Greenwich said: "The Elizabeth line is a crucial step in the transformation of Woolwich and it is amazing to see this ambitious project become a reality. I've lived in Woolwich my whole life; this is a genuinely exciting time to become Leader and see the next chapter in Woolwich's history beginning. We're committed to delivering high quality new homes and leisure facilities which will make a real difference to the lives of our residents. Woolwich Works, our cultural hub, is already attracting new audiences to the town and we're working on the development of a new leisure centre. There is a real sense of momentum growing and the Elizabeth line is going to help promote Woolwich even more."
Cllrs Thorpe and Okereke joined the Mayor of Royal Greenwich, Cllr Denise Hyland, Cllr Averil Lekau, Cllr Elizabeth Ige, Cllr Sam Littlewood, Cllr Joshua Ayodele, Cllr Jit Ranabhat and Nick Raynsford at celebrations outside the new Woolwich station.
The Elizabeth line is expected to see around 200 million passengers each year. It operates 12 trains per hour, Monday to Saturday, from 6.30am to 11pm and all stations will be staffed from first to the last train. All Elizabeth line stations are step free from street to platform, apart from Ilford, which is expected to be step free in the summer. Construction started in 2011 and full services across the entire 60-mile route will be introduced by May 2023.