Cycle parking
We successfully bid for funding from Transport for London to provide more cycle parking this year. The funding will be spent on installing more cycle racks in town centres and at other locations where they're needed, as well as secure cycle hangars for residents on streets and housing estates.
Access to cycle parking has been identified as one of the main barriers to getting more people cycling regularly. Increasing cycle parking is supported by our Cycling and Greener Greenwich Strategies, and is just one of the things we are doing in response to the climate emergency.
New cycle parking locations
Take a look at the map to see where we are planning to build new cycle parking.
Request cycle parking
Anyone who lives, works or studies in the borough can request publicly available cycle parking.
If you live in the borough you can also request secure on-street cycle parking.
Public cycle racks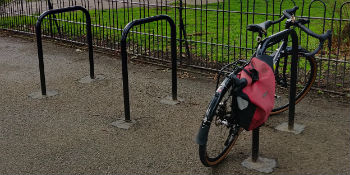 There are hundreds of public cycle racks on streets across the borough.
Secure cycle parking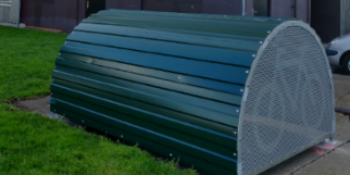 We install cycle hangars on streets and housing estates for secure cycle parking. They are half the length of a parking bay and can store up to six bicycles.
Suggest a location for a new cycle hangar
Cycle hangars on housing estates
If you are a council tenant or leaseholder find out about bike storage on council estates.
Cycle hangars on streets
Cycle hangars can be rented for a small annual fee, which is subsidised for residents by the Council.
Request to use a hangar
We accept requests for new hangars and registrations for existing units. Demand is very high, so registering your interest does not guarantee that you will eventually be allocated a place.
We select installation sites depending upon:
demand from local residents
community support from local residents
distribution of existing hangars across the borough
locations with no access to gardens or barriers to storage such as stairs
availability of funding.