Safety regulations guide for Houses in Multiple Occupation
Landlords and managing agents operating a HMO will need to ensure that each property complies with the relevant safety standards. The following guide explains what you need to do.
Gas safety
If the property has gas, you must have a 'Gas Safe' registered engineer check the gas supply and appliances and produce a Gas Safety Certificate every year. This is a licence condition and a requirement under the Gas Safety (Installation and Use) Regulations 1998.
More about gas safety (Gas Safe Register website)
Electrical safety
You must prove that all electrical appliances are safe - this is a condition of your HMO licence.
Electrical Installation Condition Report (EICR, also known as Periodic Inspection Report)
You'll need a competent electrician (electrical competent person scheme website) to inspect the electrical installation and provide a report. This report will cover the wiring, lights and sockets and the consumer unit (the box containing the fuses and circuit breakers).
It can also cover the fire detection and emergency lighting system, if required.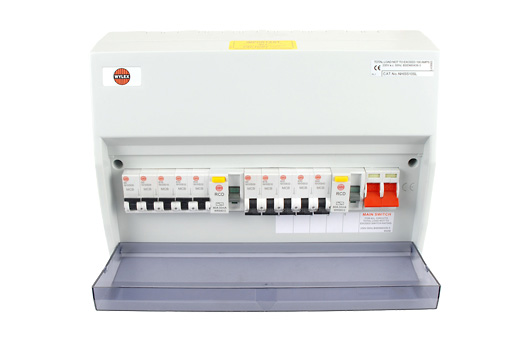 Portable Appliance Test
If you supply portable electrical appliances, you'll need a competent electrician to test these appliances to make sure they're safe. As a guide, any appliance with its own plug will need a Portable Appliance Test - for example, kettles, microwaves and irons.
Fire safety
All HMO properties must comply with fire safety requirements.
You can find a collection of fire safety law and guidance documents for business on Gov.UK.
Here, we explain some common fire safety devices and installations:
Detectors and alarms
Automatic fire detection system
You must install smoke alarms under the conditions of your licence. The property must have a system of smoke and heat detectors that sound an alarm when it detects the presence of fire. How complex a system you need will depend on the nature of the HMO.
Carbon monoxide alarm
In some cases you must install an alarm that detects carbon monoxide, under the Smoke and Carbon Monoxide Alarm (England) Regulations 2015. The gas is a deadly by-product of burning, for example in wood fuel fireplaces or gas or oil fired boilers.
Break glass call points
These are switches, to activate the fire alarm, which can be accessed by breaking a glass cover. Some properties may need to have strategically placed call point throughout the HMO.
Fire control panel
Depending on the nature of the HMO, it may require a central control panel for the fire detection system.
Doors and seals
Fire doors
Larger properties and shared kitchens will require fire doors that provide a minimum of 30 minutes' resistance to fire.
Cold smoke seal and intumescent strip
These are embedded in fire doors or frames to reduce the spread of smoke. A cold smoke seal is a brush or rubber like strip. An intumescent strip is a putty-like substance, which expands when exposed to heat. Most fire doors require both to be fitted. They can be separate or integrated.





Self-closing devices
Fire doors should also be installed with devices that closes the door automatically.
Emergency lighting
Depending on the nature of the HMO, you may need to install a system that lights up the escape route in the event of a fire.
Furniture
If you provide furniture, mattresses, or soft furnishings, they'll need to be compliant with the Furniture and Furnishings (Fire Safety) Regulations 1988. You must be prove that they're safe - this is a condition of your HMO licence.
Further fire safety guidance
Fire safety advice for HMOS (Fire Safety Advice website)
Fire safety risk assessment for sleeping accommodation (Gov.UK)