Pay for parking by mobile phone
You can now pay for parking using your mobile phone, in addition to other existing methods of payment.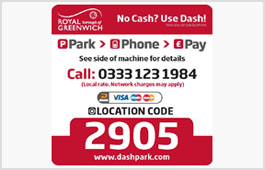 The service is now available in all street parking locations where parking payments are permissible in the Controlled Parking Zones of Royal Greenwich and council-run car parks
Where cashless parking is enabled, you will see the signs with the location code on it. An example is shown on this page.
You may still pay by cash if you want to but now you can also pay by credit or debit card via your mobile phone.
How to pay for parking by mobile phone
The service is managed by Dash, an external provider, on behalf of Royal Borough of Greenwich. To use the service, you need an account with Dash.
Once registration is complete, you will receive a password.
You can then start using the account to pay for parking in Royal Greenwich.
For further information about how to use your account and what you can do, visit the Dash website.
For answers to frequently asked questions about the cashless parking service, please refer to the next page.