Celebrating inspiring women in Royal Greenwich
International Women's Day is celebrated across the world on 8 March each year, recognising women from all backgrounds and professions that have shaped and impacted our lives.
The past year has been really challenging for many of us and so this year, we're focusing our International Women's Day celebrations on the local women who have been a pillar in our communities, showing strength, ingenuity and resilience through the COVID-19 pandemic and beyond.   
We asked residents to nominate women who have been an inspiration to them, or who have gone above and beyond the call of duty in their place of work, within their community or even with their family. Here are some of the inspiring women who were nominated alongside some of the comments that were written about them in their nomination. Nominees are listed in alphabetical order by surname.
Comments have been edited for clarity.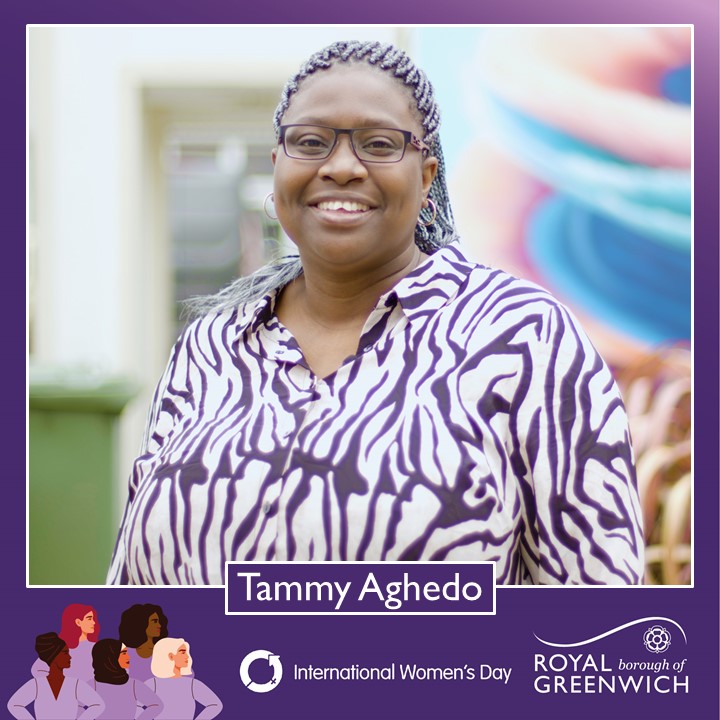 Tammy Aghedo
"Tammy is a single mother of two and has been volunteering for Second Tots since 2019 supporting and co-ordinator the young people's music workshop which has made a great impact on so many families and young people who have participated following lockdown. A lot young people have suffered anxiety, isolation and depression but Second Tots guitar and piano virtual workshops have given over 40 young people a platform to meet, interact, be friends and learn new skills. Tammy believes every child deserves a platform to learn and be inspired and is an amazing team leader for young people and women. Tammy should be celebrated for all the great achievements she has built into the guitar and piano lessons."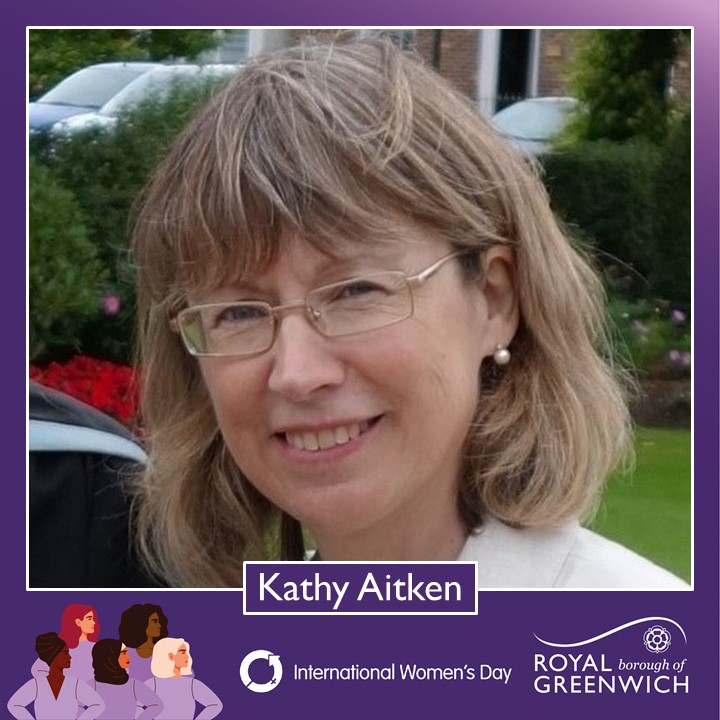 Kathy Aitken
"Kathy is one of the committee members for the Charlton and Blackheath Amateur Horticultural Society, which usually meets at Charlton House and has a lovely group of members, many of whom are seniors and some of whom live alone. During the pandemic, Kathy has done an absolutely fantastic job of helping members to have opportunities to socialise online, making a great effort to teach people how to use Zoom, setting up online coffee mornings and organising safe ways for people to meet to do community gardening at the Charlton House Old Pond Garden."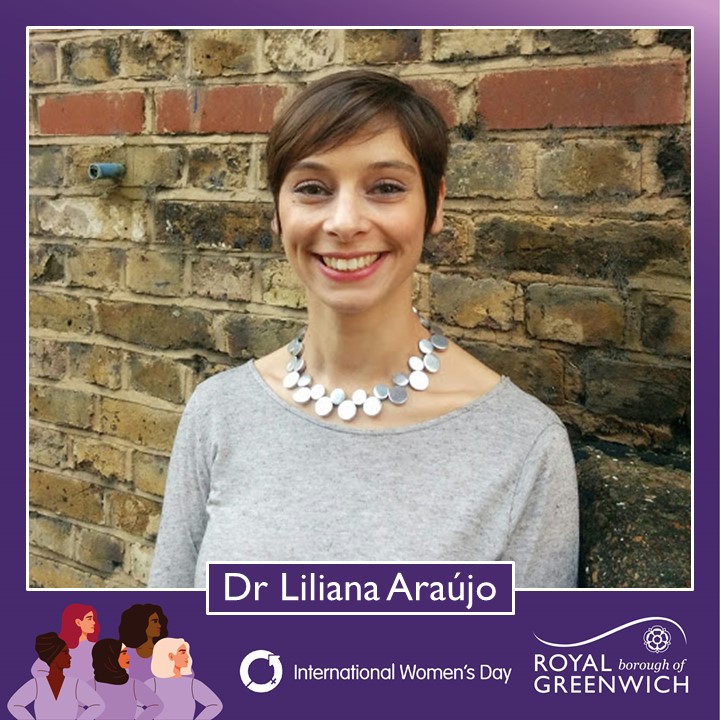 Dr Liliana Araújo
"When the UK went into lockdown in 2020, Liliana led a collaborative research project investigating the psychological impact of virtual learning and teaching within the performing arts in higher education. The project seeks to understand the motivational and emotional impact that Covid-19 has on performing arts students and teachers. It showed that performers, students and teachers, faced several challenges associated with online learning, including high levels of stress, low sense of accomplishment and risk of burnout, highlighting the impact of the pandemic on the psychological wellbeing of performing artists and the urgent need of psychological support for performing artists in higher education."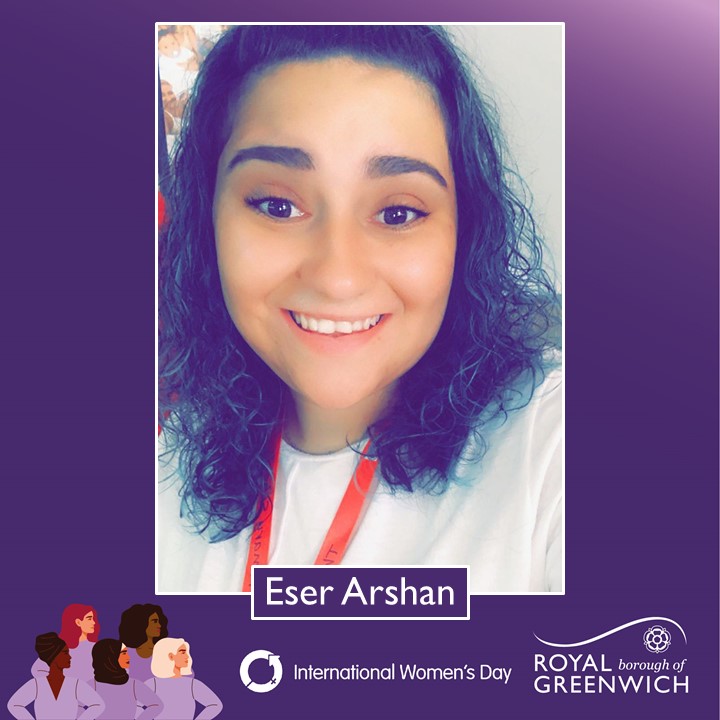 Eser Arshan
"Eser is a Learning Support Assistant who has done remarkably well at supporting our girl. Our girl has complex developmental trauma and struggled in mainstream school, however, with Eser's wonderful support she has done very well and remains in school. Eser deserves recognition."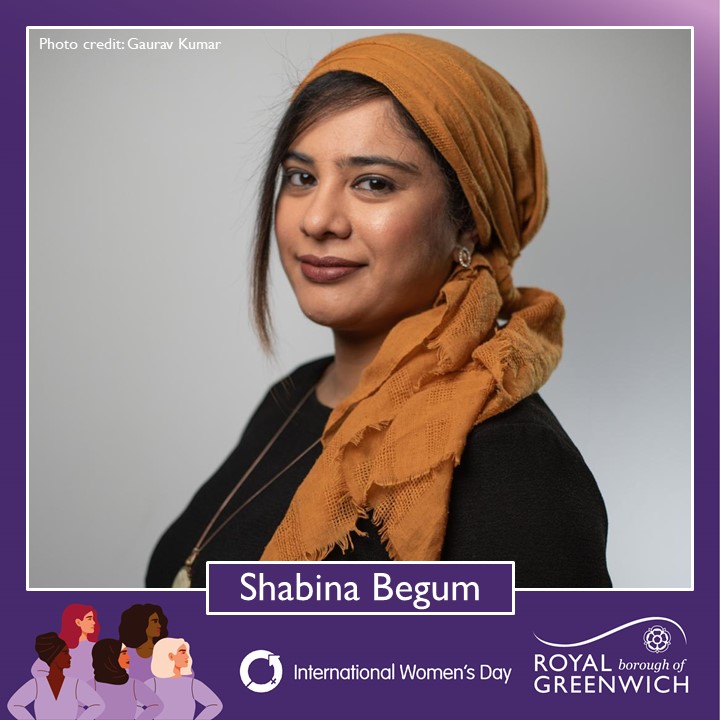 Shabina Begum
"Shabina champions women and girls' rights locally and globally. She is a solicitor at Dawson Cornwell, a leading specialist international family law firm. She's a Greenwich University graduate and a UN recognised authority on child, early and forced marriage and was invited to Geneva as an expert in 2016. In 2012, she was awarded the Winston Churchill fellow medallion for her research on acid violence. She has also been awarded the Fulbright scholarship for research on child and forced marriage in the USA, as part of her post graduate studies at Cornell Law School. She was included in Management today's '35 under 35, 2020' list of Britain's Brightest and young business leaders and she recently won the 'Women of the Future Awards 2020' in the business category."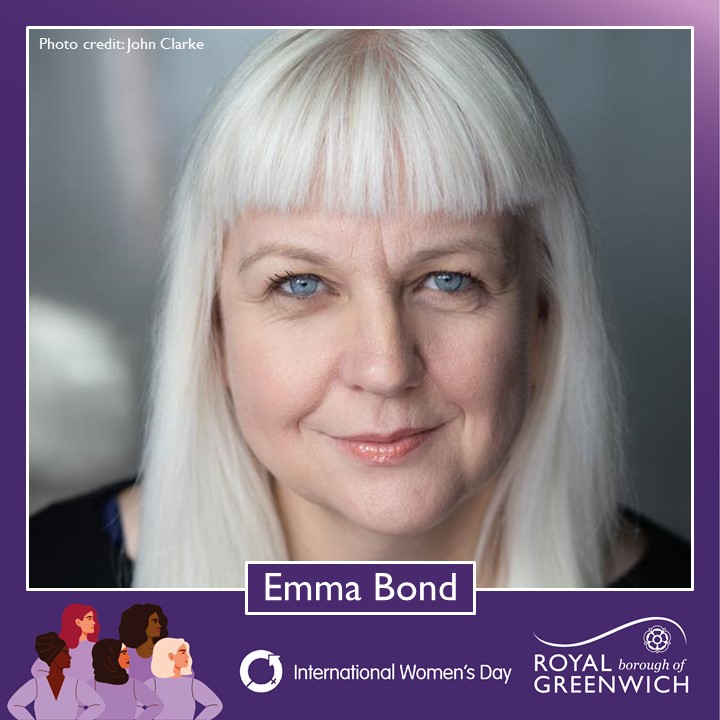 Emma Bond
"Emma has proven to be a support for the community during the COVID times. She started The Singing Hour which grouped together people from all over the community every morning in group singing classes. The Singing Hour was an inclusive, celebratory space where people could escape the loneliness of lockdown, install routine into their lives and partake in fun, musical sessions. It ran over 100 times, each morning spreading joy and happy spirit. People of all ages, ethnicities and backgrounds were able to join. For many, it was the sole purpose of their day! Her business has struggled massively, but despite everything, she has been a cornerstone in the community for many people!"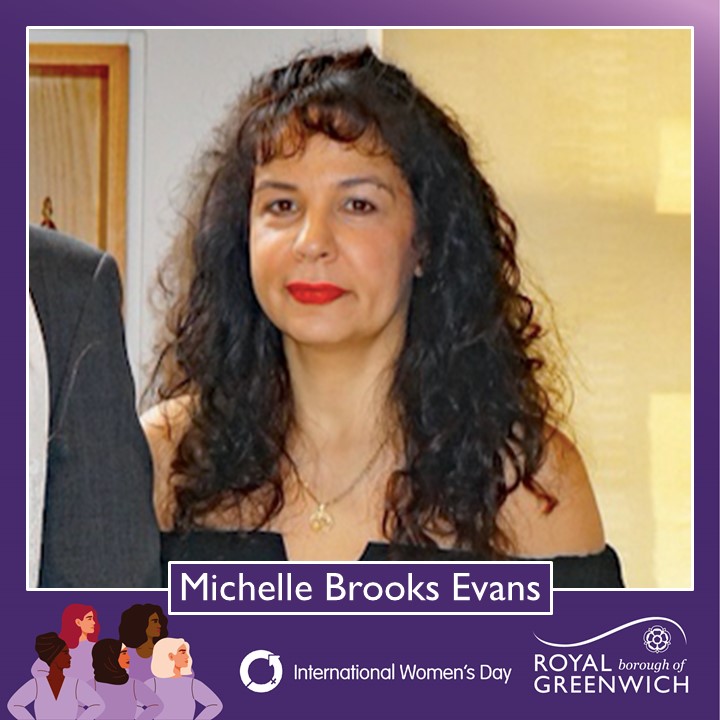 Michelle Brooks Evans
"As well as being a mother of four and bringing up her children as strong, involved and kind individuals, Michelle helps look after her mum with severe dementia. She volunteers at her children's primary school and volunteers at the 999 homeless charity as well as being on the Royal Borough of Greenwich Faith Leaders Group. A lot of her time is spent in her voluntary position of Chair of Bromley Reform Synagogue. During the pandemic this has meant helping to provide care, food, and someone to talk to the elderly and vulnerable of the community, helping set up online services, study sessions, a social centre for the elderly, musical concerts and a children's Sunday school. She has worked tirelessly to make sure no individual is forgotten, and bring grace and kindness to those around her. She never puts herself first or asks to put herself in the limelight."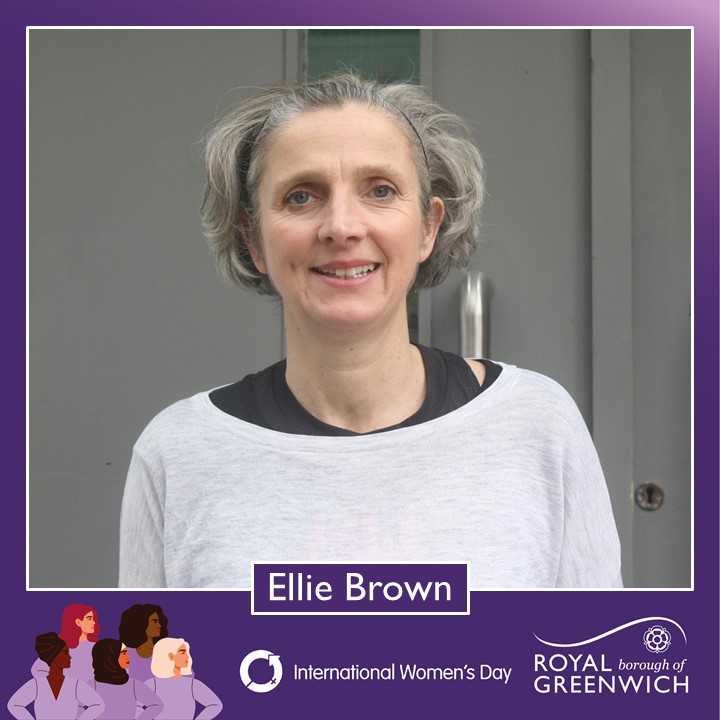 Ellie Brown
"Simply put, Ellie Brown has done a phenomenal job keeping Greenwich healthy and her business afloat in these unprecedented times. In March 2020, she quickly pivoted to online classes and loaned out equipment to clients so they could continue to work out. As time went on and the government regulations changed on a regular basis, she adapted her business as needed to provide both in person and online classes while keeping everyone safe. Ellie continues to have a smile on her face and an encouraging word for everyone as we all navigate life in a pandemic. Ellie and team continue to offer over 40 online classes each week and motivating challenges, including distance running events, scavenger hunts and inspirational podcasts. She is an inspiration."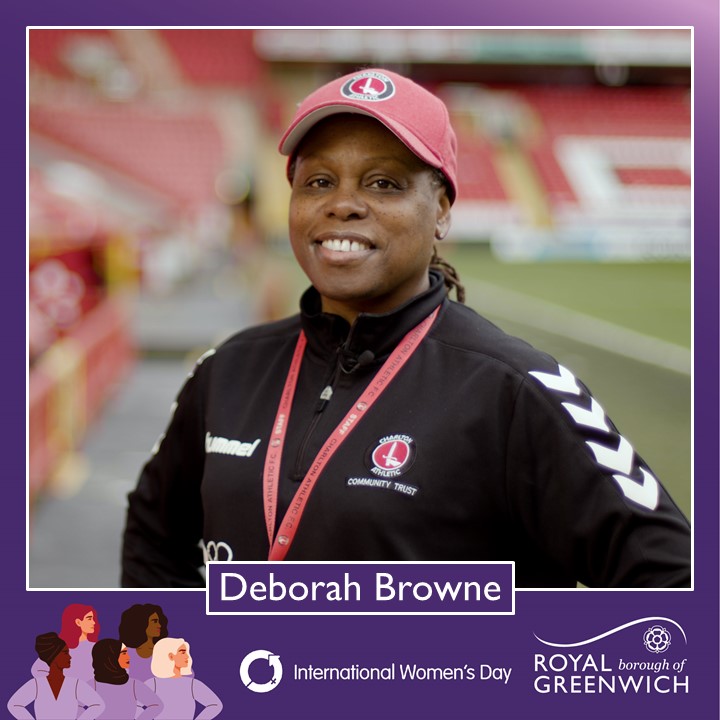 Deborah Browne
"Deborah has a relentless drive that ensures residents are put at the heart of everything she does. She finds solutions to help people in the most complex of situations way beyond her role and in circumstances where most would have accepted defeat. Her leadership has supported the Community Hub, Lateral Flow Testing, Project Hope, and the Vaccination Programme. I will be forever thankful of her support."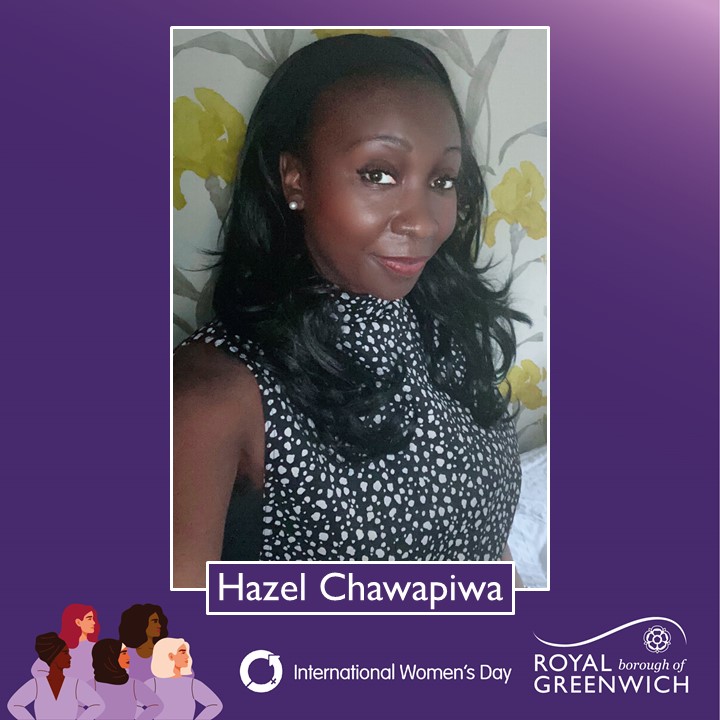 Hazel Chawapiwa
"Hazel is a single parent of three who hasn't had an easy journey, but she always pushes through and is always trying to help others. She leads a team at Homestart who have worked non-stop through the pandemic to fundraise and support those who need food and fuel support, clothing and has put on activities in Greenwich to help parents with isolation. She's always coming up with ideas of how to help someone or to address a community need and at the same time she is always trying her best to support and engage her children in one way or the other - she really is inspirational!"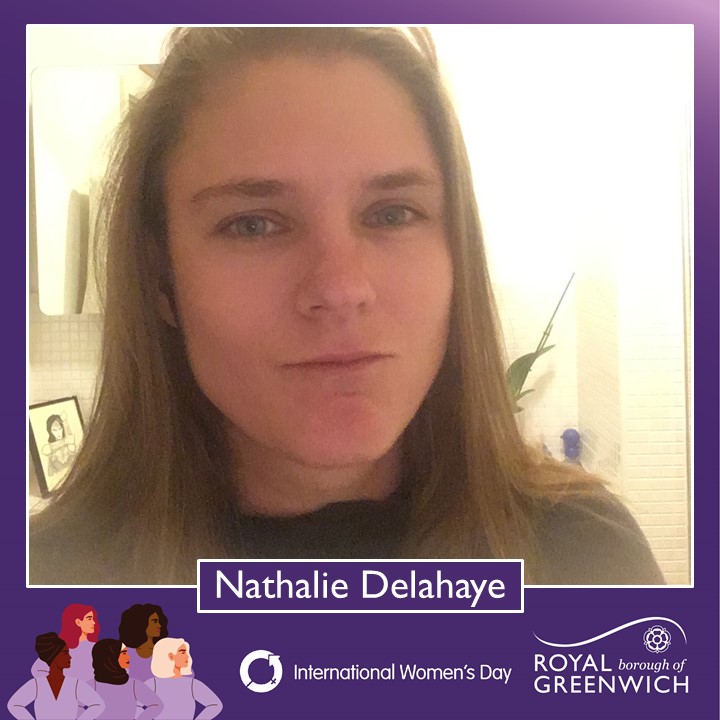 Nathalie Delahaye
"Nathalie is the founder of Roar Pursuits CIC, a not-for-profit organisation supporting care leavers. Nathalie pours her heart and soul into helping her clients. During this last year, which for everyone has presented monumental challenges, such as funding issues and furlough constraints, Nathalie has continued to come through for her clients and never stops trying to help improve their situations, often out of her own pocket. A great example and role model for International Women's Day."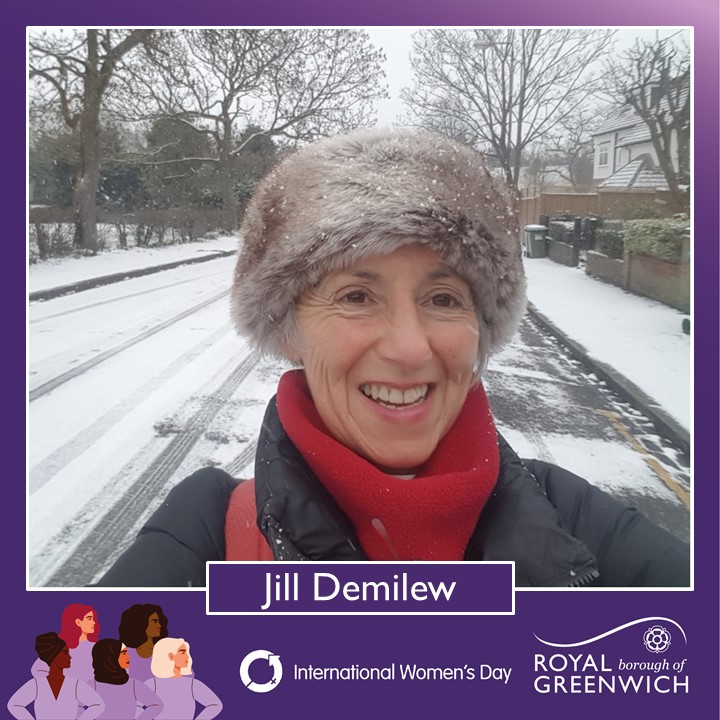 Jill Demilew
"Jill has just been awarded an OBE for services to midwifery. She is an extraordinary lady who has worked tirelessly in the NHS helping women to have a successful and calm birth, particularly encouraging home births."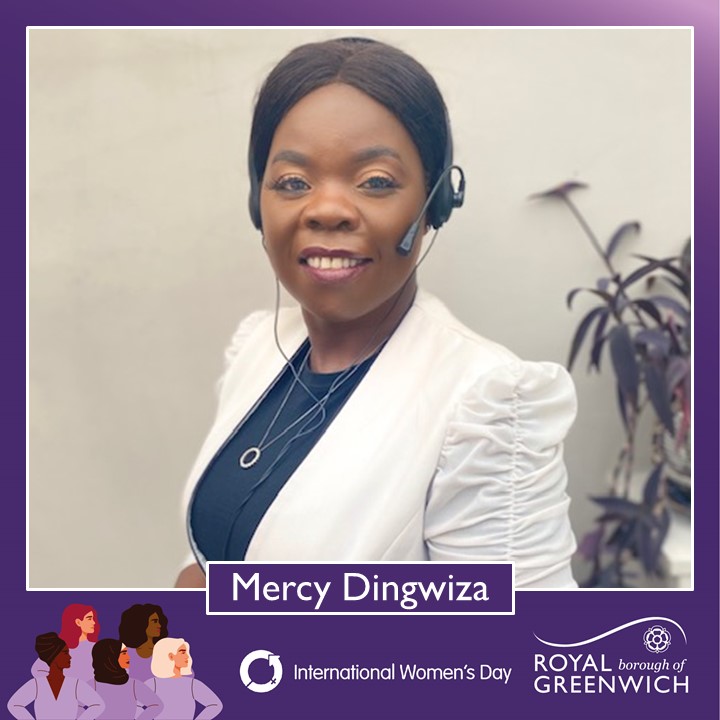 Mercy Dingwiza
"Mercy is very passionate about helping and educating others and is very talented in working with people and motivating. She connects people and signposts them to where they can get help. She guided me to know more opportunities around me and connected me with other like-minded people within the borough."
"At the moment l am running my own business from what l gained from Mercy."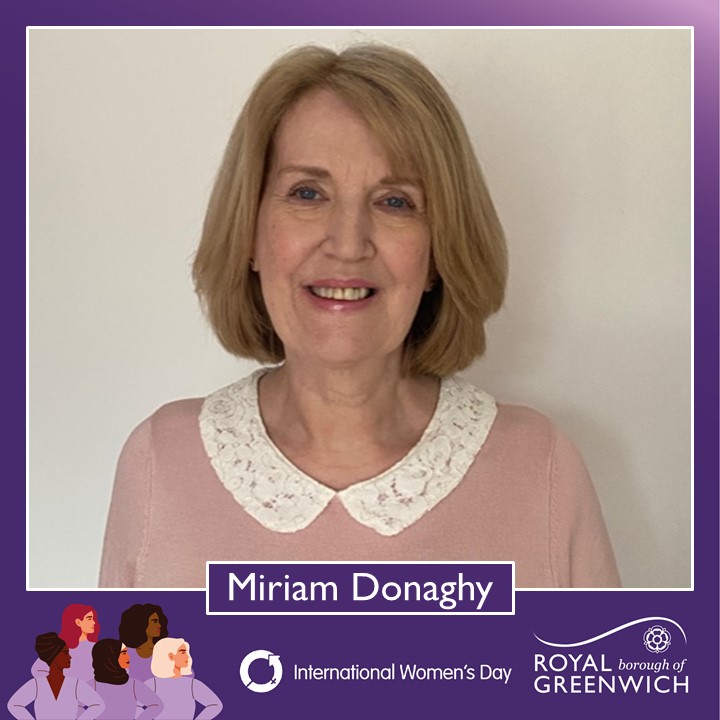 Miriam Donaghy
"Miriam is the founder and director of local charity MumsAid. I have witnessed first-hand the tireless work and passion Miriam gives over to her organisation. MumsAid provides an incredible system of support through its free counselling service and specialist service for young mums. During the pandemic, MumsAid has opened out their reach online to women nationwide. Having a baby is a difficult time for many women at the best of times, but this has been exacerbated tenfold by the isolation and challenges brought on by the pandemic. Miriam's MumsAid is not only a support system but a lifeline."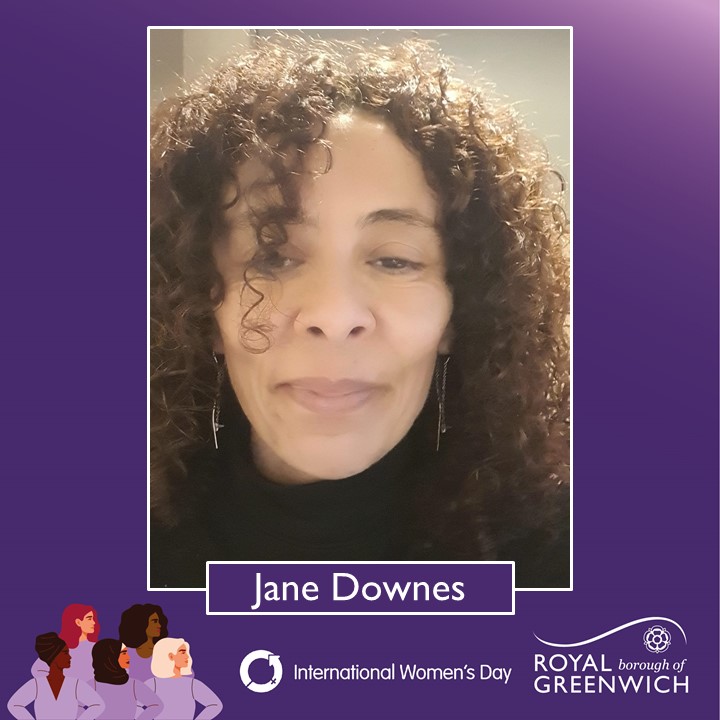 Jane Downes
"Jane has been a pillar of strength for GCDA and the community during the last year. She has kept Woolwich Common Community Centre open and COVID safe for the whole year, including Christmas Day to feed people in need. She managed hundreds of volunteers during the first lockdown emergency food response, delivering thousands of food boxes. I believe there is no greater woman in my world than Jane Downes and it is a pleasure to know her."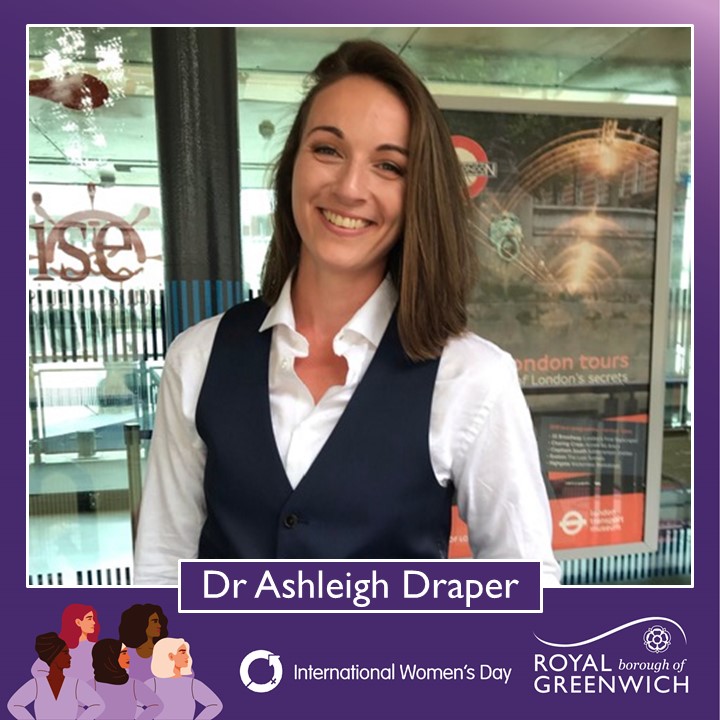 Dr Ashleigh Draper
"Ashleigh works in the geriatrics department at Queen Elizabeth Hospital (QEH). She works long hours and often stays late to not only care for her patients, but also to speak to her their families. These conversations can be very difficult, but she always remains professional and compassionate. Many families have been reassured that their loved one is in the best of hands by her calm, kind manner. She inspires me every day. I am so proud of her and all the staff at QEH who work so hard to keep us safe."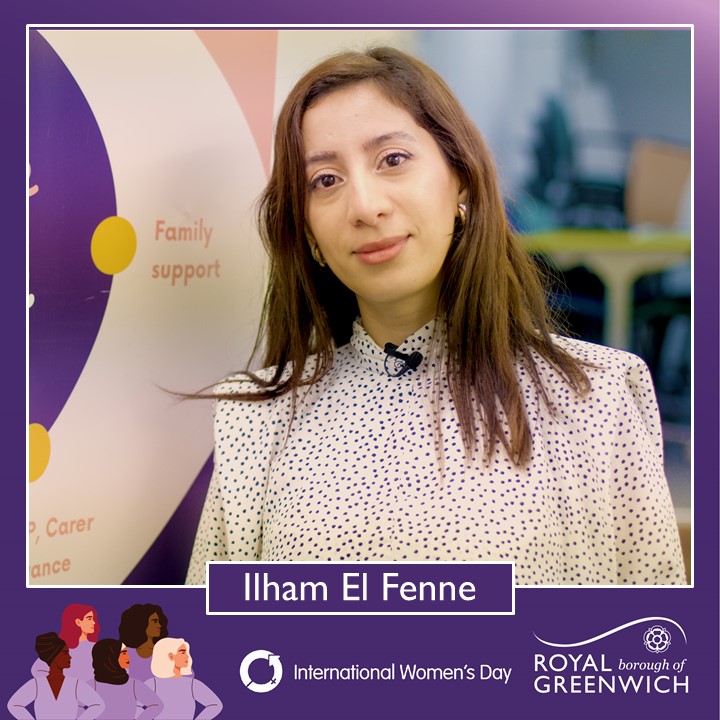 Ilham El Fenne
"Ilham is a single mum and a carer to a young 12-year-old girl with Autism spectrum disorder. She also supports many families through Ana Huna. She helps families with filling in forms, linking families with professionals to reduce energy costs and bills, attending meetings with carers and families who have English as an additional language, translating for families at meetings, providing free resources and activities for bereaved families as well as those impacted with COVID. Prior to the first lockdown Ilham set up a weekly coffee morning for carers and holiday activities for children with special educational needs and disabilities. All these activities have been free. Despite having a child who is severely adversely affected by the impact of the pandemic, Ilham is open to referrals from friends and supports others with a smile and cheer."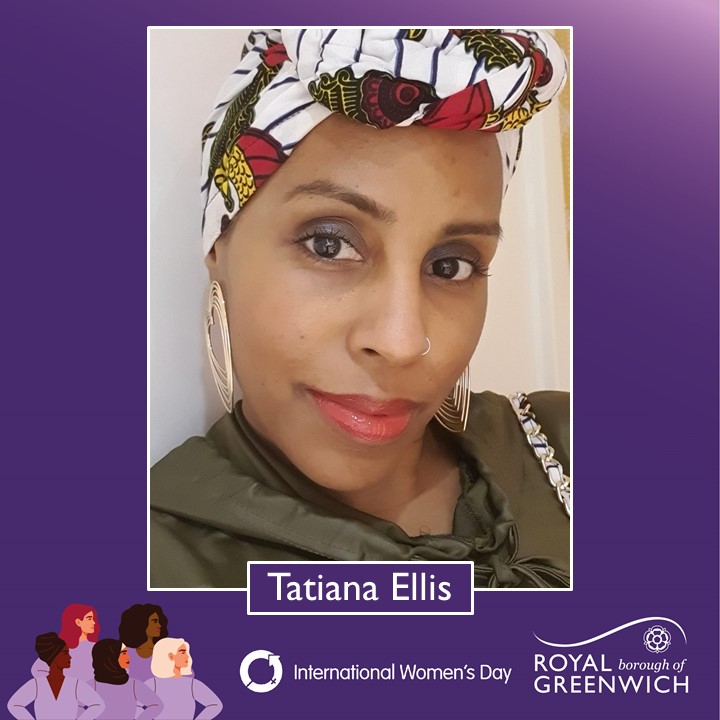 Tatiana Ellis
"During lockdown, Tatiana has organised extra free online fitness classes for new mums so we can get together and get fit. As new mums, we need support for our wellbeing and Tatiana has always offered help. She cares about your physical and mental help. She is also showing us being a mum can still create differences and have work-life balance."
Dorothy Ghanekar
"Dorothy works at the Her Centre working with women from different communities, including Nepalese, Somali, Vietnamese and Bangladeshi women, to help them access training, activities and events and have their voices heard. Throughout the pandemic, Dorothy organised food donations for families facing poverty and helped source furniture for women moving into new homes. Her warmth, generosity and can-do spirit is an inspiration to us all."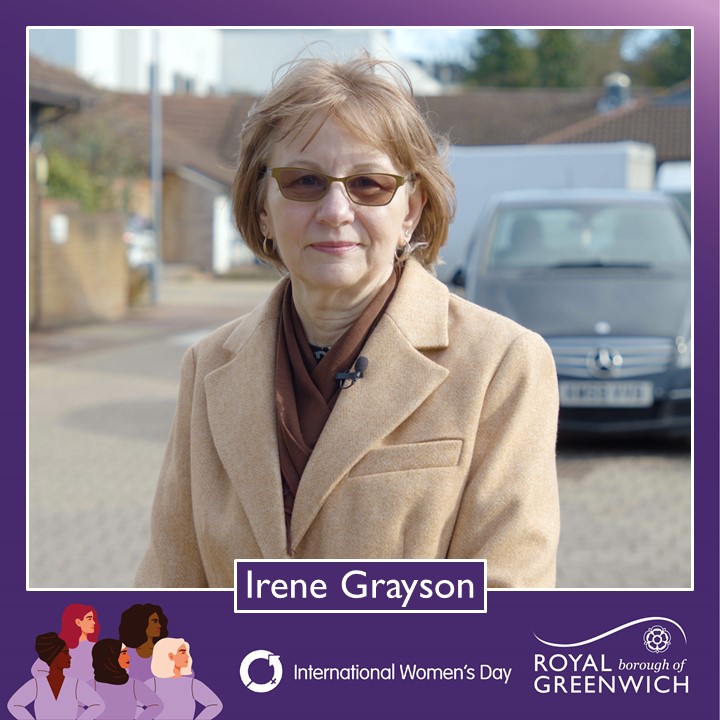 Irene Grayson
"Irene has dedicated over 30 years of service to the NHS whilst living in the Royal borough of Greenwich. She has worked her way from receptionist to assistant director through hard work, passion, commitment and love of serving the National Health Service. 2021 should have been her retirement year, her wind down year- her year of adventure. COVID, however, had other plans! Irene has spent the past 11 months tirelessly working up to 12 hours a day from her makeshift desk, orchestrating the preparation of vaccine and test sites, resolving logistical obstacles and supporting GPs to keep calm and carry on. I cannot put into works the magnificent impact her service has had across the borough. She is well recognised and much appreciated across the Clinical Commissioning Group and primary care. She has even decided to return after retirement to continue to support the NHS on a part time basis."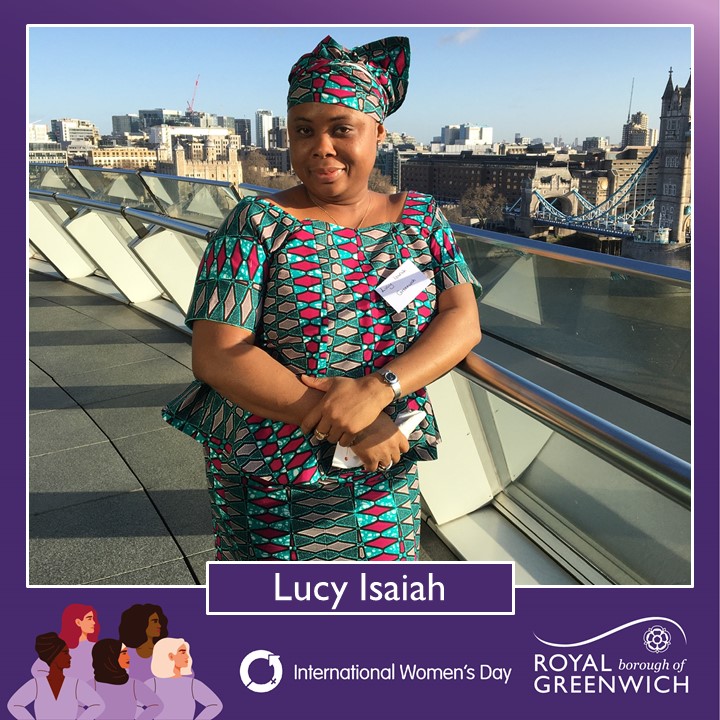 Lucy Isaiah
"Lucy is a mother of three and a local businesswoman in the fashion industry. She has been taking pride in her community for the past 16 years, volunteering with multiple organisations to support the most vulnerable and deprived in our community. Lucy developed Project Social Selling to support over 40 local start-ups and existing Black female entrepreneurs to take their businesses online. She also ran mentoring and training to introduce e-commerce to their businesses. She goes above and beyond to support other small businesses and help Black female entrepreneurs within the borough to develop their skills and links."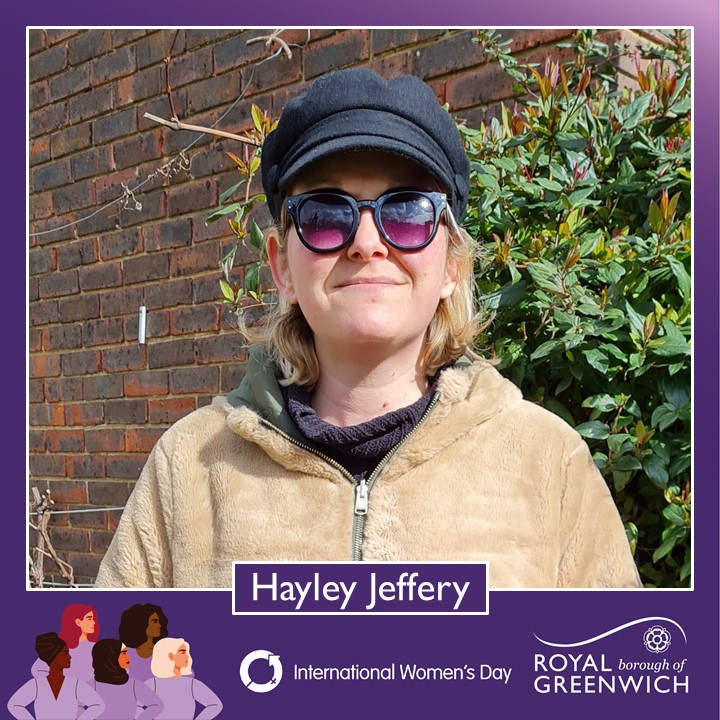 Hayley Jeffery
'"Hayley is the cornerstone of our little community. Over this last year whilst everyone has been in lockdown due to COVID-19, she's taken it upon herself to help create a mini community garden opposite her house, provide seeds and plants for people's gardens, helped introduce the West Greenwich traffic planters on our road and organised Christmas decorations for the street. Haley can often be found talking to passing local residents from her doorstep. She's welcoming, inclusive, she's always there for anyone who needs to chat, and she's an absolute joy of a neighbour."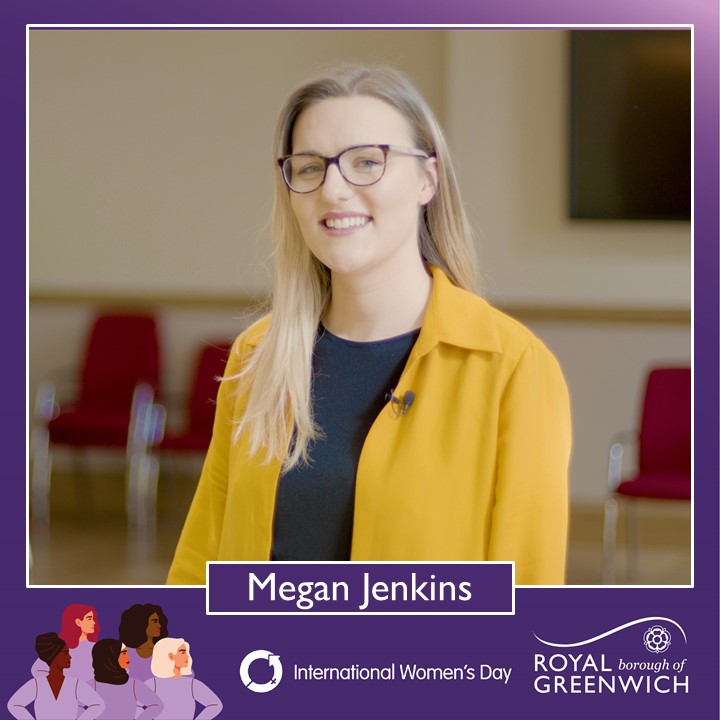 Megan Jenkins
"Megan is an incredible women who deserves to be celebrated. Megan has worked throughout the whole pandemic whilst also juggling being a mum and life itself. Megan has been such an amazing friend and has kept a smile on all of our faces. There are a number of reasons why this woman deserves to be celebrated but one reason is that during the pandemic Megan has collected shopping and medication supplies for people who were isolating due to Covid and has shown how selfless she really is. Megan is honestly a ray of sunshine."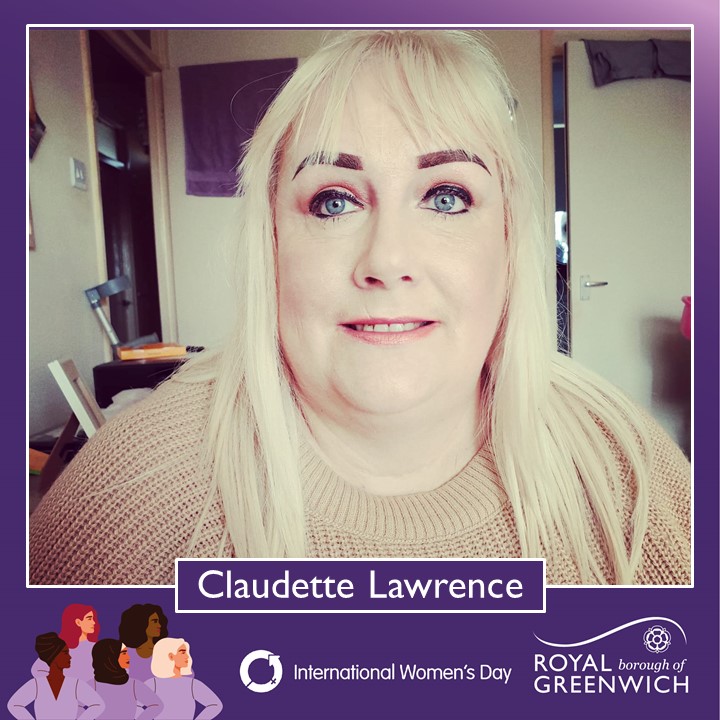 Claudette Lawrence
"Claudette is a community champion for Royal Greenwich sending information to residents and others. She champions many causes despite her own disabilities. Claudette has managed this whilst shielding from COVID. I think Claudette deserves recognition for her involvement with assisting others through difficult times."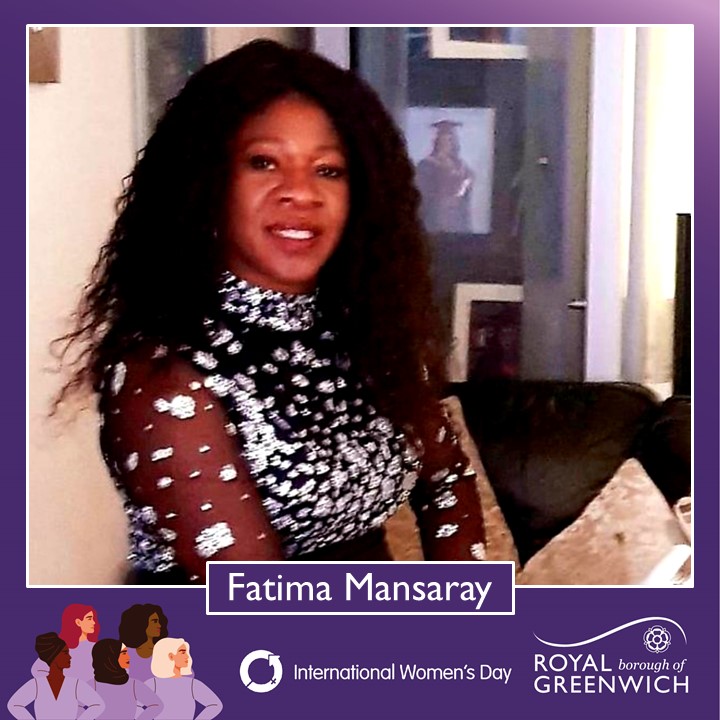 Fatima Mansaray
"Since the beginning of COVID-19 Pandemic, Fatima, through her charity, has dedicated her free time to deliver food parcels from Greenwich Community Hub, toiletries, prescriptions and shopping. She has made a huge difference to the lives of those who are shielding and in isolation. She has also conducted keep fit sessions online and organised social distance walking."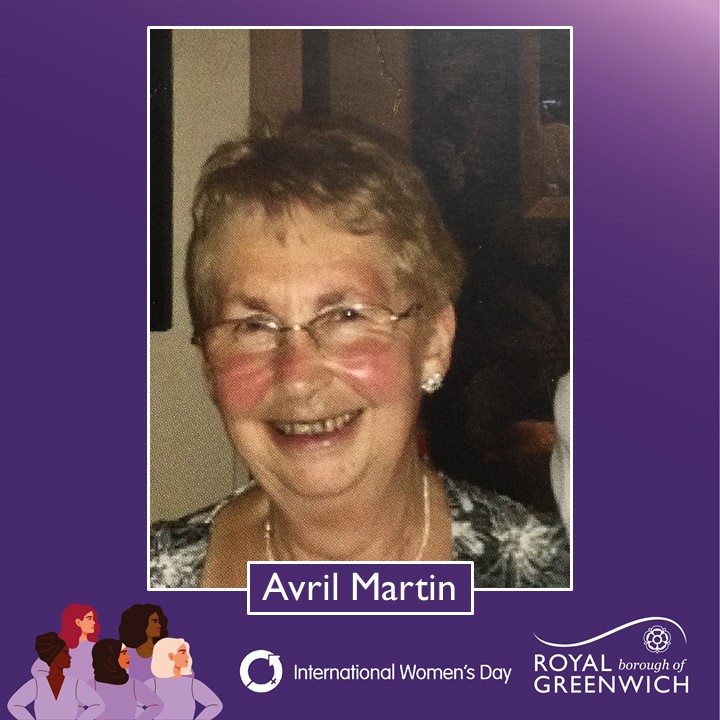 Avril Martin
"Avril is a single full-time unpaid carer for her daughter who has a learning disability and complex health needs. She is over 70 years of age, yet volunteers as a Learning Disability carers representative. During COVID-19 she is caring for her daughter 24 hours day, seven days a week, and despite also having her own health issues, is still finding time to reach out to support other carers. She is one amazing woman! An inspiration to us all."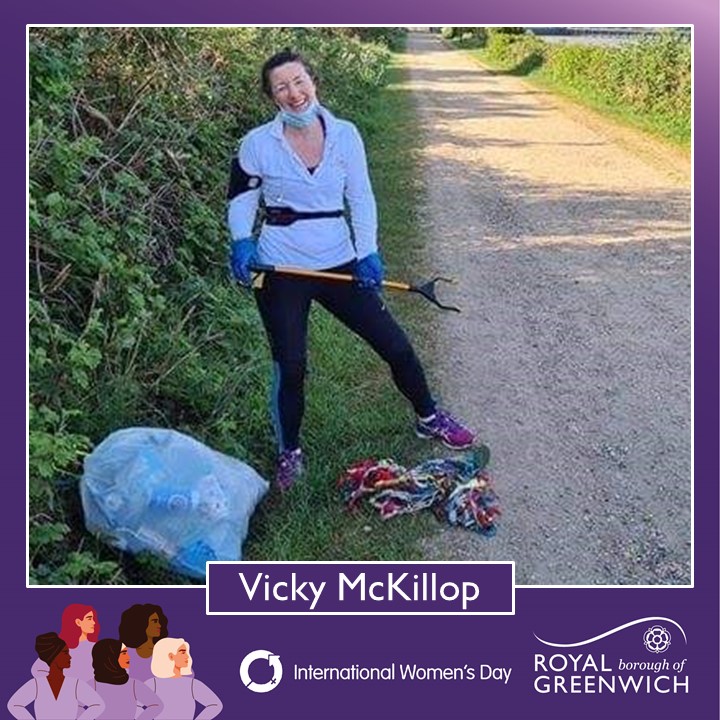 Vicky McKillop
"Fed up with seeing lots of litter on her daily walks during the first lockdown, Vicky decided to become an Environmental Champion. She set up the Royal Arsenal 5K Clean Up Facebook group to encourage others to get involved and organise group litter picks (following relevant social distance rules) which created a sense of community and connection. She has inspired many people to get involved and the Facebook group has grown to over 300 members."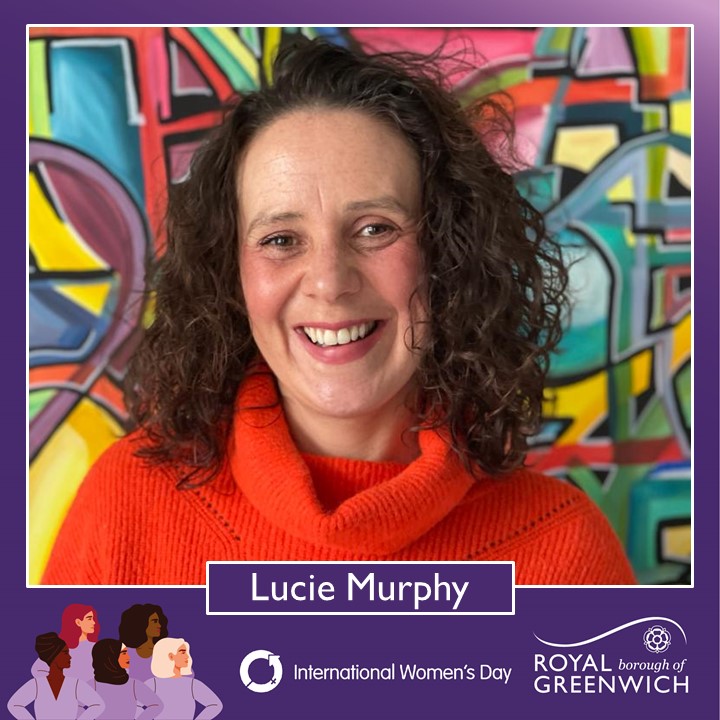 Lucie Murphy
"Not just during the pandemic but also prior to it, Lucie coordinated much needed food bank collections. She also organised a toy drive from our area to go to the Her Centre for families in crisis over the Christmas period. In the ongoing lockdown, she is supporting QE hospital, Her Centre, Mumsaid, Clockhouse food bank, and Grace with a contactless drop off donation drive at The Bridge. She's a busy working mum going above and beyond to help those in need in our borough and inspiring others to help where they can. She's great!"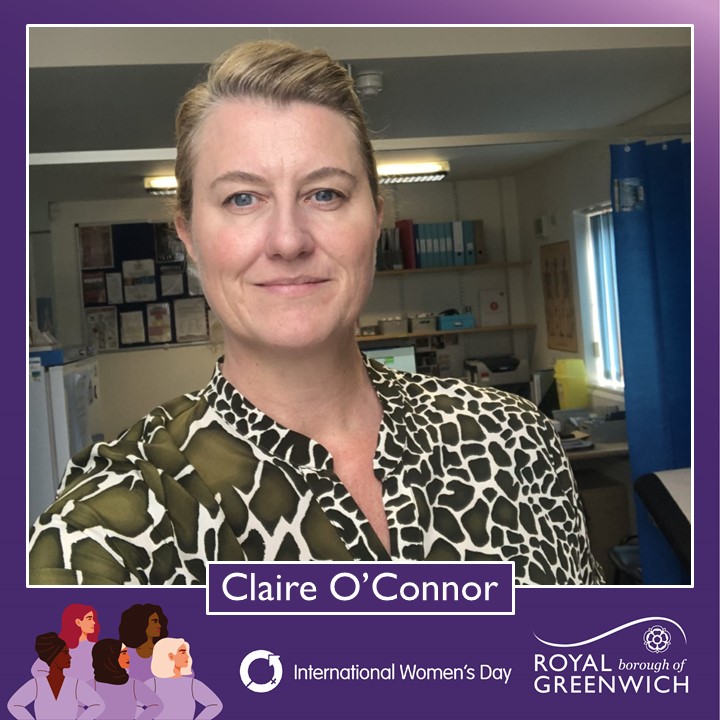 Claire O'Connor
"Claire is an advanced nurse practitioner and from the start of this pandemic she has risen to the challenge, initially taking on many more clinics at her GP practice to see patients who had suspected COVID, while also supporting the practice nurses who needed so much more during this uncertain time. Claire is a go to person and a font of knowledge. As a much respected and highly valued member of both her GP practice and Greenwich Health, we are very thankful to have Claire as part of the team."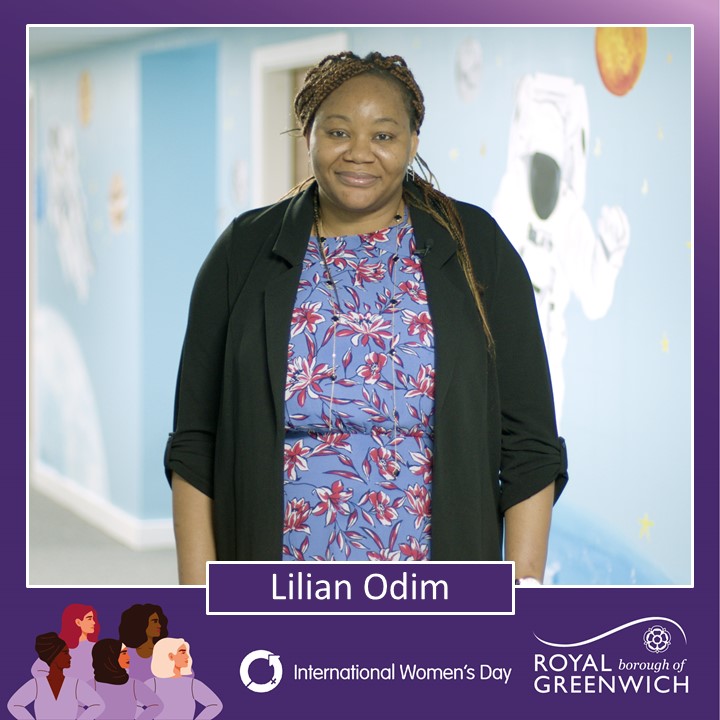 Lilian Odim
"I introduce to you this incredible, selfless, kind and amazing woman, Lilian Odim. She is a Mum to 7- year-old daughter Audrey. From day one of the COVID-19 lock down in March 2020, she single handedly supported over one hundred families with children and young people with disabilities. Lilian is the founder of the sendfriendly initiative. I have known Lilian for a while now and am just in awe of how she goes over and beyond to support families. Her desire for every family to be included regardless of their backgrounds and difference is borne out every day in the way she responds to requests. She works tirelessly to champion the needs of families, particularly those whose voices - if it weren't for her - would be drowned out. COVID has just increased her passion to improve families' lives, which never falters. Everyone needs a 'Lillian' in their lives."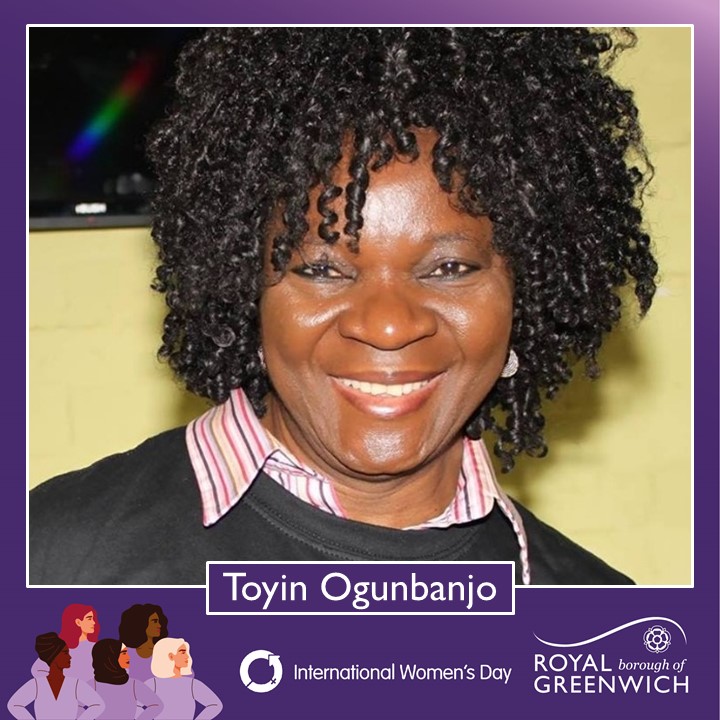 Toyin Ogunbanjo
"Toyin founded the Listening Ears charity to combat loneliness and isolation among the elderly. At the peak of the pandemic, she quickly transitioned their services to offer remote online support as well as medication and food bank delivery. Her growing membership of those aged 50+ now meet regularly on Zoom for gentle exercise classes, wellbeing workshops and joint celebration of major life events."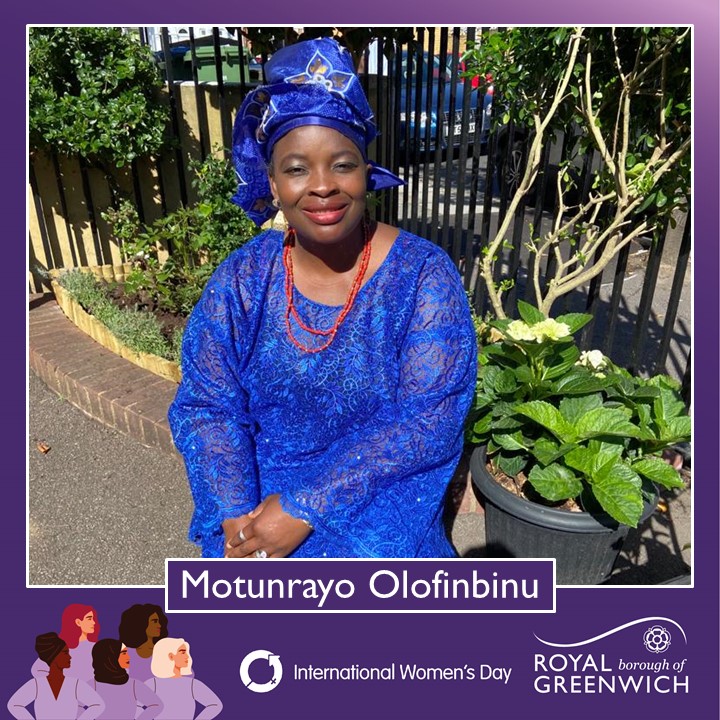 Motunrayo Olofinbinu
"Motunrayo goes extra mile by asking for food from organisations during the COVID-19 lockdown and then herself and the Thomas family add more valuable nutritious foods to the ones received and share them among unrecognised, desperate families in need. They've impacted in the lives of children and families that the government cannot reach and relieved them of the severe financial difficulties of the pandemic."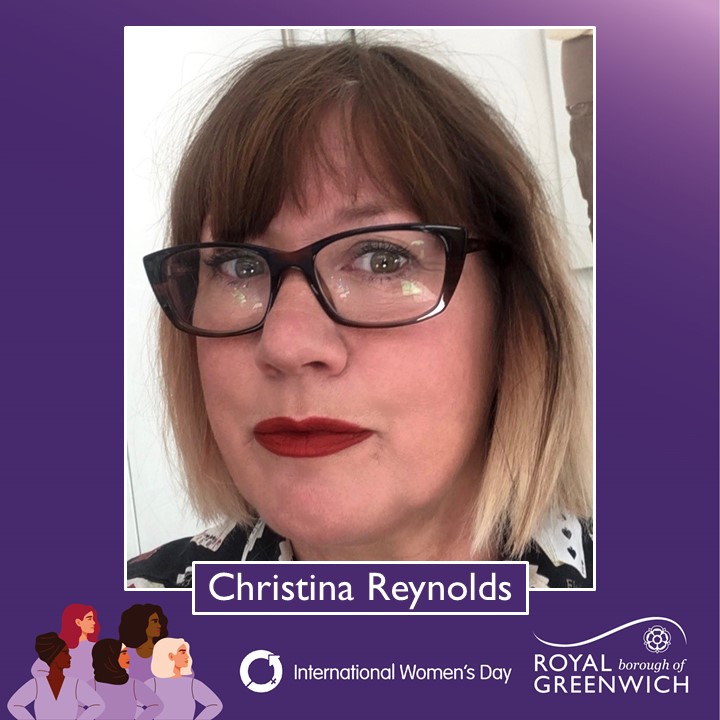 Christina Reynolds
"Christina runs the Royal Arsenal Farmers Market and has taken it from strength to strength. The market has always had a friendly feel and has not suffered due to COVID restrictions, in fact it is more popular than ever. It is clear a lot of thought has been going into spacing out the market and queue management for COVID restrictions and I always feel safe when in and around there. I love supporting local and it is a definite must visit."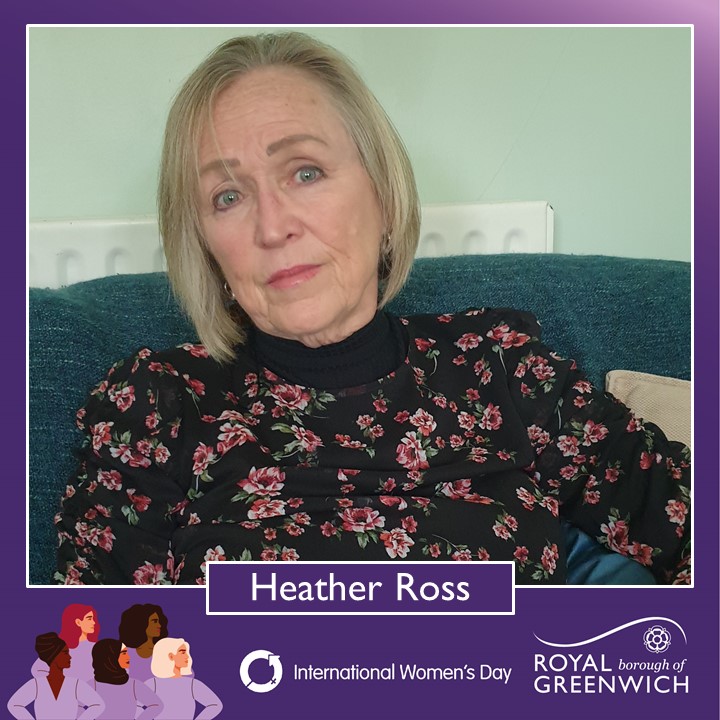 Heather Ross
"Heather has spent many hours voluntarily baking cakes and other delights and taking it to the hospital for nursing staff during the pandemic. Heather is one of the biggest hearted people I know and will always help anyone, never look for recognition and is absolutely one of the strong women in our society who help to hold it together in difficult times such as these."
Neelam Sawhney
"Neelam formed a group of local volunteers named 'Helping Hands' at the beginning of the pandemic. The group has been going stronger ever since and helps local housebound and isolating residents with their daily chores like shopping or supply of hot meals, etc."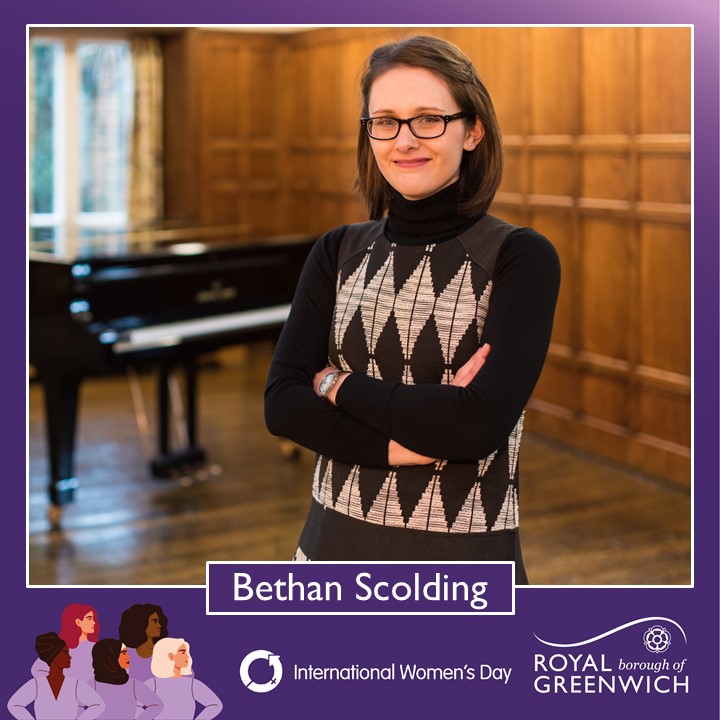 Bethan Scolding
"Bethan is co-founder of Greenwich Music School and mother to a three-year-old. During lockdown, Bethan has not only created numerous online courses and developed an online concert format for students to enjoy sharing their achievements but Bethan has also helped 41 students facing financial barriers to music education to access music lessons through a bursary programme."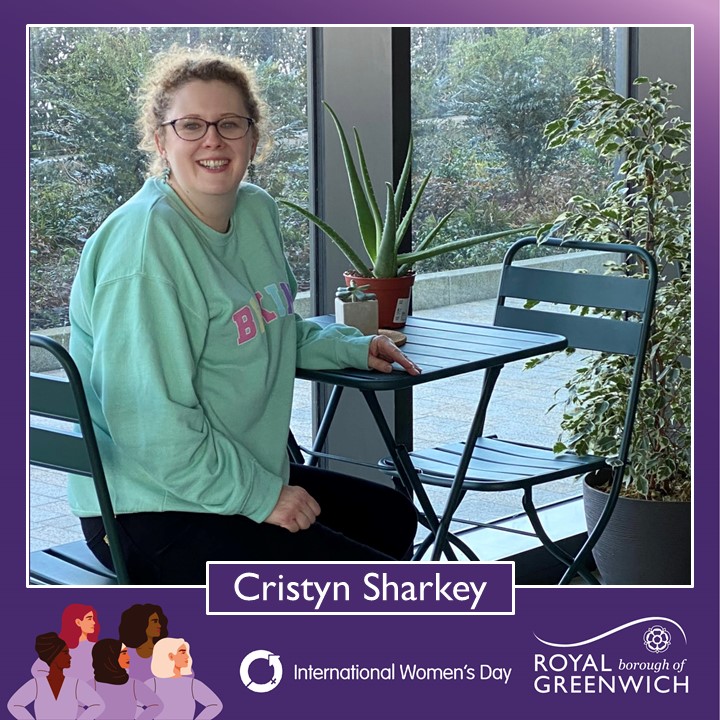 Cristyn Sharkey
"Cristyn Sharkey has been tirelessly collecting and delivering food, toiletries, other sundry items to front line workers at Queen Elizabeth Hospital, ambulance stations etc throughout the lockdown periods. Astonishingly resourceful and energetic, she arranges collection and deliveries."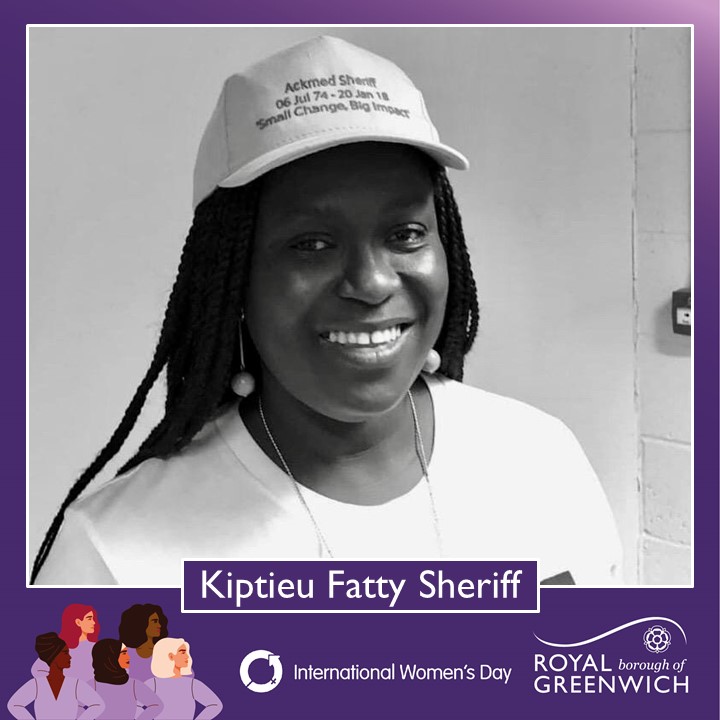 Kiptieu Fatty Sheriff
"Many years ago, Kiptieu fled war-torn Sierra Leone and is now a widow bringing up her three daughters in Abbey Wood. She established the Abbey Wood Tennis club several years ago to help local children to cost effectively access this sport and during 2020 contributed to the development of the Bostall Gardens Friends Group whilst busy with family life, work and uncertainty. Because of the Covid19 lockdown measures, Kiptieu lost her job a few months ago, but despite her tight family budget, she got inspired and successfully applied to appear on the series 'Rich House Poor House' and gained inspiration from an Essex Businessman and is now developing her own catering business from home. Kiptieu's struggles and support of her family and others in the community is an inspiration for many."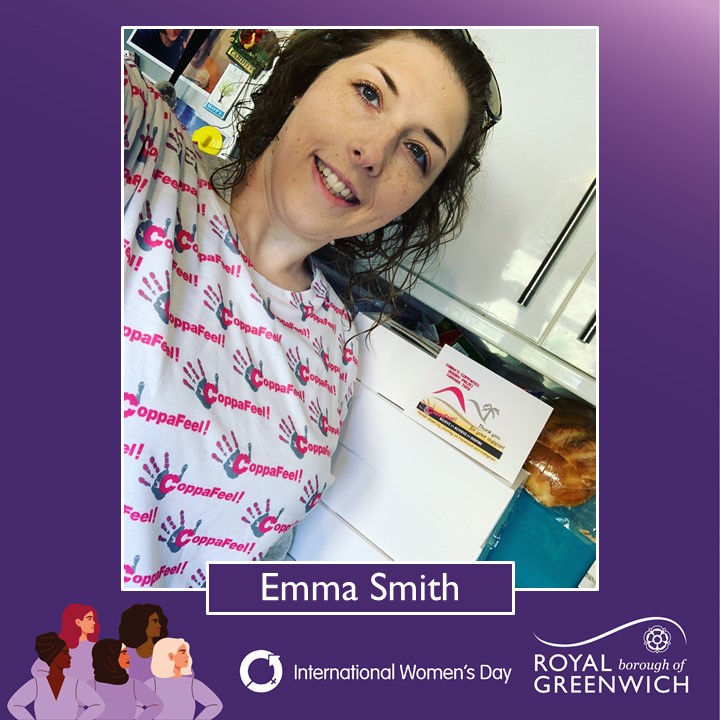 Emma Smith
"Emma has got a wonderful grasp on the local communities and their cultural needs. She goes above and beyond every day. She's delivered laptops, food parcels and love and a listening ear to the girls and their families. She has been teacher in Woolwich for over 13 years and over the time has really given Thamesmead families support way beyond her role. She's also raising money for CoppaFeel breast cancer charity and is taking part in their trek. She's an inspiration and a unsung hero."
Sharon Stacy
Sharon has worked on our estate since May 2019 and has built up a good rapport with residents. She went beyond the call of duty to ensure residents received essentials during the first lockdown. Always having a smile on her face. She arranged gifts to be given out to the children on the estate for Christmas and a social distanced carol service which made everyone feel special. Truly an asset to our community in times of stress and strain.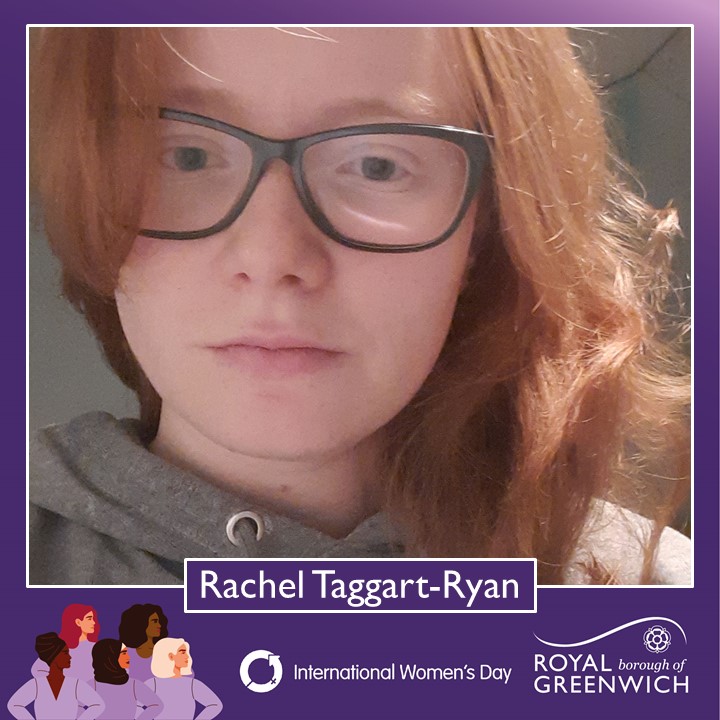 Rachel Taggart-Ryan
"During lockdown Rachel has cycled around Blackheath and Eltham delivering medication for a local pharmacy. She is also an active fundraiser for the Greenwich Food Bank and Homestart Greenwich and has helped raise over £12,000 as well as organising the weekly food shop and delivery of food for onward distribution. She also volunteers at several vaccination centres in the borough. Rachel truly has gone beyond the 'call of duty' in helping the people of Greenwich."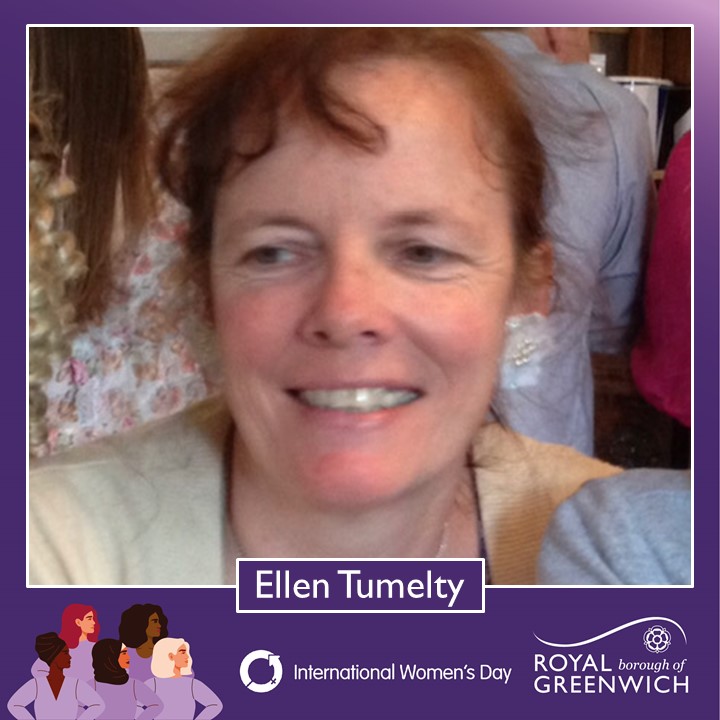 Ellen Tumelty
"Ellen works as Matron for inpatient services at Greenwich & Bexley Community Hospice, she is also our infection control lead. Ellen has worked flat out throughout the pandemic, leading our inpatient team through very difficult times. She took steps to protect patients and staff on our inpatient unit, advised our pandemic planning group about PPE and making the hospice COVID-19 secure, juggled staffing and communicated with our partners at LGT and public health to get staff testing in place. She is a strong advocate for patients and colleagues, helping to keep us safe throughout. Ellen has missed days off, worked many more hours than she should, cancelled leave, covered nights after a day shift - just been a phenomenal woman."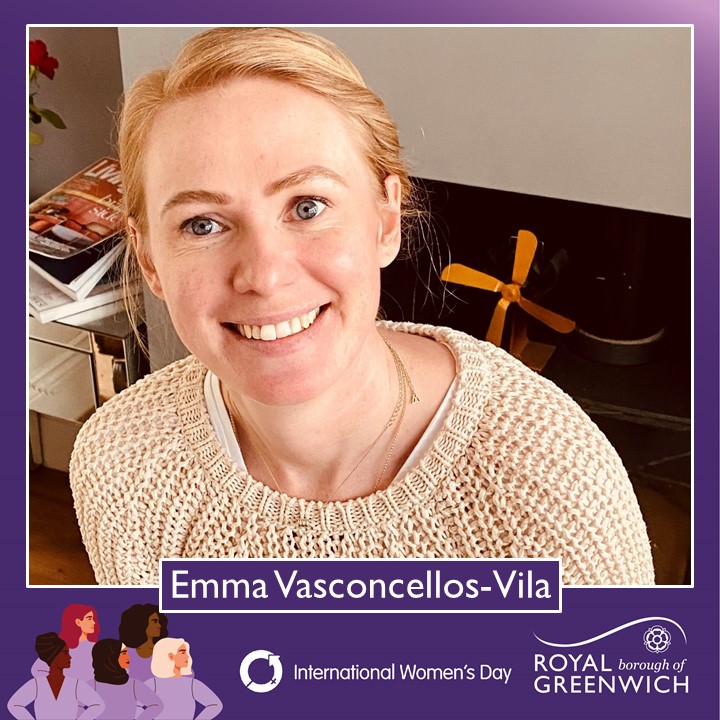 Emma Vasconcellos-Vila
"Emma is the diabetes specialist nurse at Greenwich Health. During this pandemic Emma has assisted with the set up at the Grabadoc Hot Hub site, created to manage the high influx people needing to be seen quickly. Emma has stepped up again during the vaccination roll out and is now acting as the lead nurse on site for the vaccine programme. We feel very lucky to have Emma, her wealth of knowledge and can-do attitude at a time when it is needed the most."