The borough's coat of arms
Greenwich's royal coat of arms was designed to celebrate the borough becoming the Royal Borough of Greenwich on 3 February 2012. Below is a guide to the different features: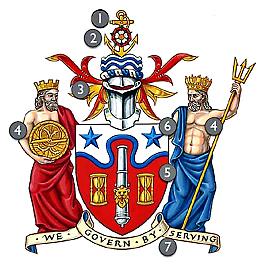 The Tudor Rose

This represents the borough's long association with royalty. Special dispensation has been granted for its use. It has been combined with the anchor to allude to Greenwich's significant role in shipbuilding during Tudor times.

The anchor and sea

This motif represents the strong maritime traditions of the borough.

The armorial helmet

Special dispensation has been given to used a forward-facing helmet, as this is usually reserved for the royal household.

The supporters

These represent two Roman gods - Jupiter, god of the sky and thunder, and Neptune, the god of water and the sea. Jupiter on the left carries an astrolabe while Neptune carries a trident. The two gods have been chosen because of the borough's unique association with astronomy and maritime history.

Each of the gods also wears a crown. Jupiter wears the crown of an army general and Neptune an admiral's crown in order to represent the borough's proud association with the Army and Royal Navy.

The shield

The new shield retains a number of elements of the current borough shield, but a symbolic representation of the River Thames has been added to divide the upper and lower parts. This is a rare concession in heraldry granted personally by the Garter King of Arms and unique to Greenwich.

The stars, hourglass and cannon

The stars represent astronomy, the hourglass symbolises the unique status of Greenwich as the home of time and the Royal Cannon represents the Royal Arsenal.

The motto

Although the motto remains unchanged, it has been made larger to provide a base and support to the coat of arms as a whole.