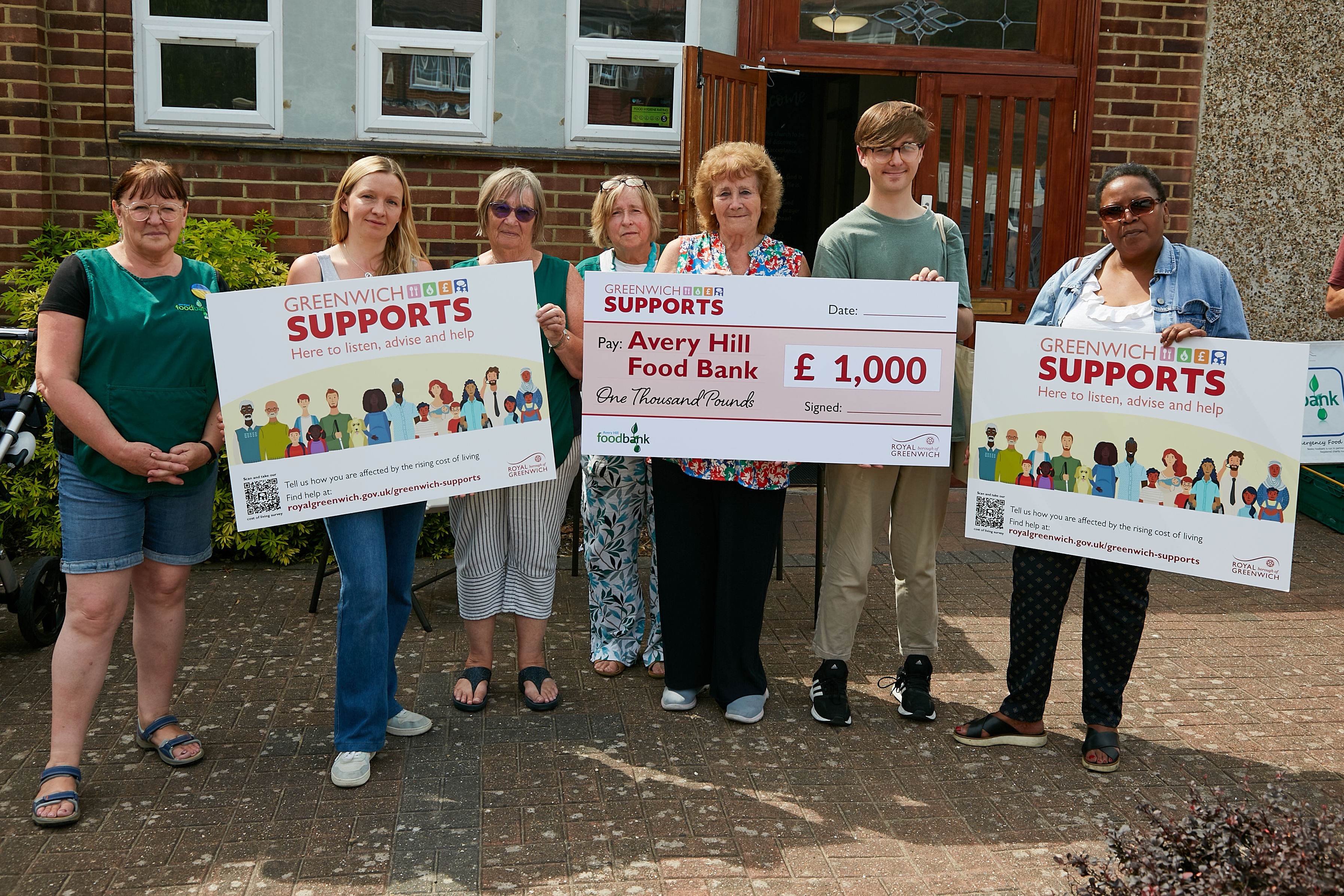 Published: Friday, 5th August 2022
The Royal Borough of Greenwich has donated £1,000 to Avery Hill Foodbank, which it secured from a production company who are filming in the borough.
As part of the Greenwich Supports campaign, the Council chose to pass these funds on to the foodbank to support their vital work in helping residents affected by the rising cost of living.
Councillor Anthony Okereke, Leader of the Council, and Deputy Leader Councillor Averil Lekau, Cabinet Member for Climate Change, Environment and Transport, delivered a cheque to staff and volunteers at the foodbank to mark the donation. They were joined by local ward councillors Lauren Dingsdale, Sammy Backon and Pat Greenwell.
Cllr Anthony Okereke, Leader of the Council, said: "We're thrilled to be able to support the vital work of the Avery Hill Foodbank with this donation.
"In an ideal world, we wouldn't need foodbanks, but we are grateful for services like these that offer a valuable resource to those most affected by the rising cost of living. I'd like to thank all the staff and volunteers that give up their time to help those in need within their communities.
"If you're struggling with living costs, you can find out about services you can access on the Greenwich Supports section of our website. You can also complete our Greenwich Supports survey, where we're asking residents to tell us how we can best support them."
Gill Bates, Project Manager of Avery Hill Foodbank said: "We would like to thank the Royal Borough of Greenwich and their film unit for their very generous donation of £1,000. Since 1 April this year we have already served 4,350 people across our four sites.
"From April 2019 to 2020 we served 1,275 residents in the SE9 area and last year we served 1,587. The need continues to rise and we predict we will feed 2,458 by the end of the year. The money donated will be spent on purchasing food we are short of at this time."
For more information on services available to residents to help tackle the rising cost of living, visit royalgreenwich.gov.uk/greenwich-supports.