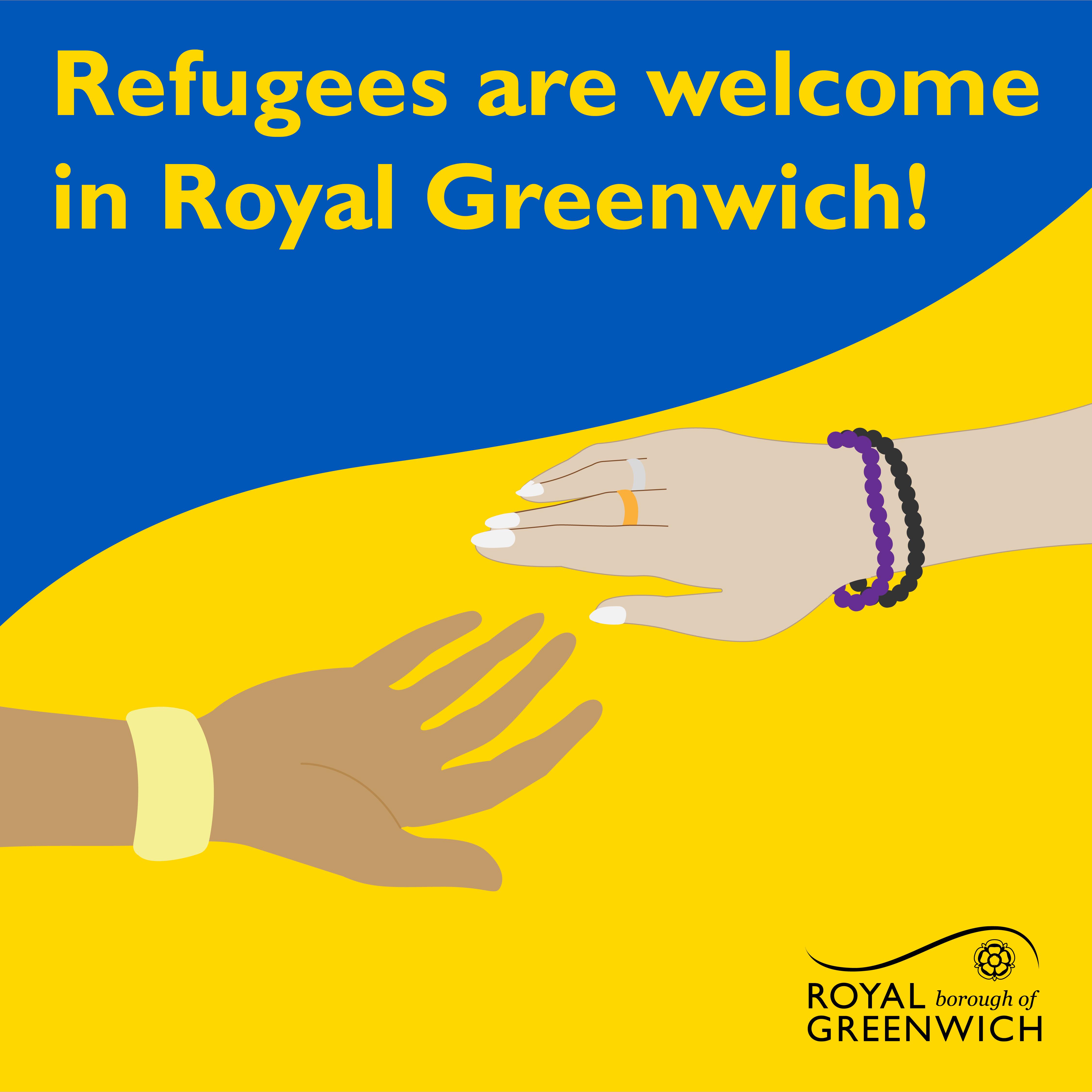 Published: Wednesday, 23rd March 2022
As the devastating situation in Ukraine continues to unfold, we are looking for ways in which we can work to support the Ukrainian people
The Council stands in solidarity with the people of Ukraine, and we expect Ukrainian families to start arriving over the coming weeks and months. We would like to thank the many people across the borough who have applied to become sponsors or who have offered other types of support.
I've applied to the Homes for Ukraine Scheme
Launched in March by the Government, the scheme invites UK citizens to apply to become "Sponsors" and where possible provide accommodation to people arriving from Ukraine for a period of up to 12 months.
The route to sponsorship
All those involved, must meet security and safeguarding standards and where necessary will be DBS checked.

We are starting to receive details of residents from the Government, who have kindly offered to act as sponsors through the Homes for Refugees Scheme.

The next step is for us to make contact with you to undertake some safeguarding and property checks before confirming your suitability to sponsor guests from Ukraine.

Don't worry if you miss our call, we will leave a number for you to call us back. It's important we speak to all potential sponsors so we can make sure that your guests are supported and your sponsorship is a success.

We will also schedule a home visit to check that your property is suitable.

If you have applied to be a sponsor and you live in our borough but you have yet to hear from us, the government will notify us about your application as soon as they have undertaken their initial checks and we will be in touch.

It would help us if you could email us at ukraine@royalgreenwich.gov.uk to let us know that you have applied so that we can keep an eye out for details of your application and, where appropriate, start to carry out preliminary checks.
Once you've been approved
Please be aware that the Home Office is responsible for issuing visas to people who need to leave Ukraine as part of the Homes for Ukraine programme. The role of the council is to check the suitability of sponsors by coordinating safeguarding checks (including DBS checks) and visits to ensure the suitability of accommodation.
Once hosting guests, sponsors will be eligible for payments under the scheme. Hosts will be paid £350 per month in recognition of the contribution they have made.
I'm part of an organisation that wants to help
The council has received a lot of generous offers of help and support from the voluntary sector, schools and businesses across the borough. We will be following up all of these offers.
We expect a government announcement very soon in relation to the Homes for Ukraine scheme which will cover organisations who are offering sponsorship.
Offers of support or queries from organisations should be directed to the following contact - Ukraine@royalgreenwich.gov.uk
I'm still looking for a way to help
The Royal Borough of Greenwich has a proud history of supporting those fleeing war and persecution in Syria, Afghanistan, and now Ukraine, and there are many ways in which you can still help.
Could you be a sponsor? The Homes for Ukraine government scheme is still open to applications, you can find more information here homesforukraine.campaign.gov.uk
Are you a Ukrainian or Russian speaker? We are looking for Ukrainian and Russian speakers in Royal Greenwich to help newly arrived Ukrainians with translation and support. If you think you can help, please email ukraine@royalgreenwich.gov.uk
Can you donate to a charity? It's more useful to donate money to front line charities who can buy items that they know are needed, rather than donating items. Please consider donating to a recognised organisation working in the region, some of which are listed below:
I have recently arrived in the UK from Ukraine
Have you arrived in the borough under the family visa programme? – if you have and want to let us know so we can share a welcome pack of information that will help you understand and make use of local facilities and networks please email ukraine@royalgreenwich.gov.uk
If you have children follow this link to find out more about Big Red Bus, a weekly Ukrainian playgroup. This is a great place for people from Ukraine to meet up and get childcare. We'll be working with the staff at the Big Red Bus to point families in the direction of any other support they might need.
If you are a refugee who needs support, you'll find more detail on how to access local services and assistance here royalgreenwich.gov.uk/refugeeswelcome