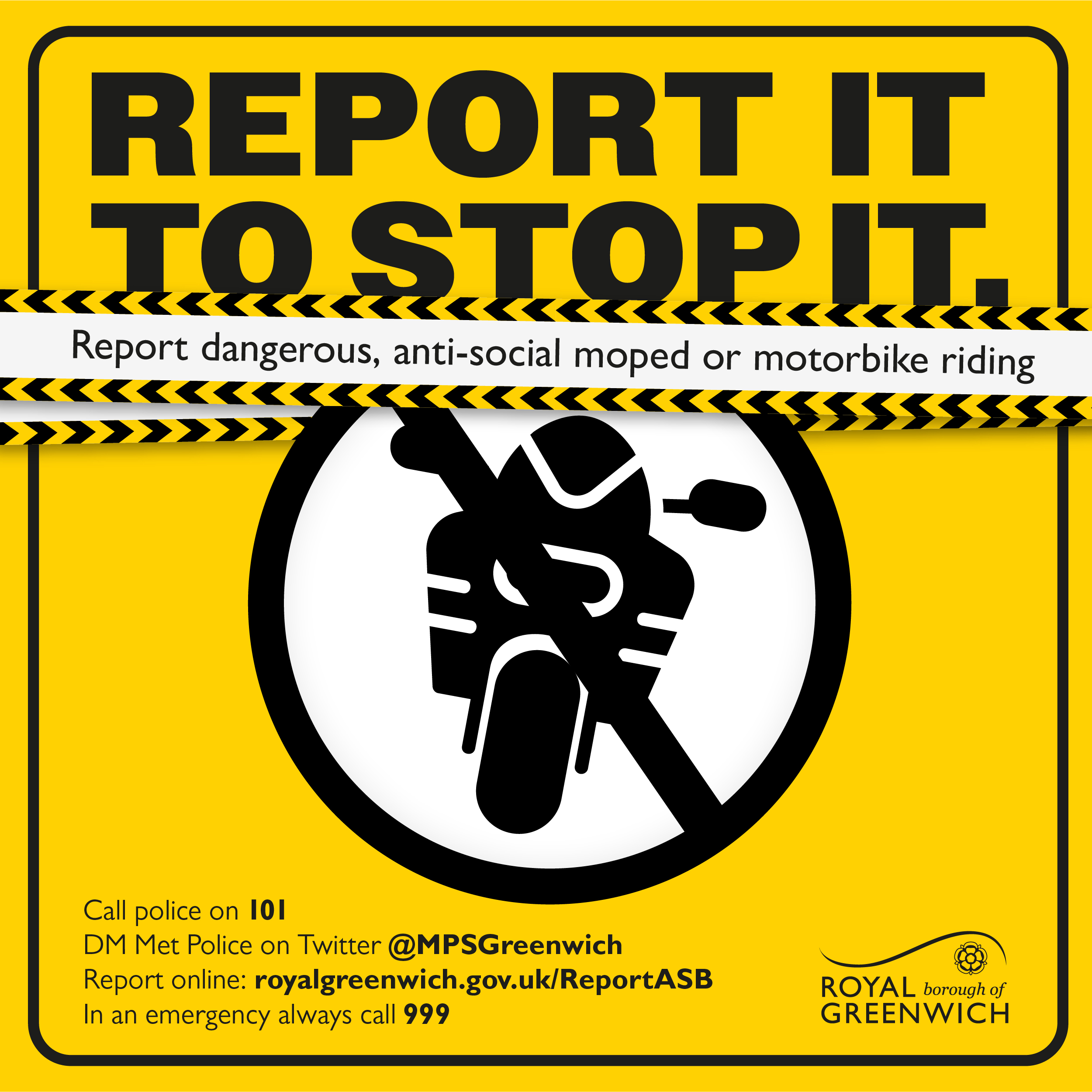 Published: Thursday, 13th January 2022
The Royal Borough of Greenwich has launched a campaign to tackle the rising problem of anti-social motorbike and moped riding in council parks and open spaces.
Anti-social vehicles pose a significant risk to the public and can seriously injure park users, which often include older people and very young children. Working in cooperation with the Metropolitan Police, the council is encouraging members of the public to report dangerous or anti-social riding in parks.
Using a moped or motorbike in a park is illegal and riders face being convicted of dangerous driving offences and fined £1,000. Cabinet Member for Community Safety and Enforcement, Councillor Jackie Smith said:
"The council and police have come together to address the problem of nuisance moped and motorbike riders in parks across the borough. We are encouraging members of the public to share information that can help identify riders and nuisance vehicles."
"Our parks and open space teams will be tracking illegal vehicles and passing on relevant information to police. We urge parents to check their children's mopeds or motorbikes are secure when parked, as we know criminals use stolen vehicles to aid their crimes."
"Our parks are for residents' enjoyment and leisure. I would urge anyone who takes a shortcut through a park on their vehicle to think twice as we have our parks under surveillance. My message to moped and motorbike riders is – keep your wheels for the roads and allow people to enjoy their time in our parks without risk of threatening or frightening riding."
Residents who witness anti-social riding can report what they see to the police by direct messaging @MPSGreenwich on Twitter, calling 101 or calling 999 in an emergency. The council can be contacted about nuisance riding by emailing parks@royalgreenwich.gov.uk
For more information on reporting anti-social behaviour click here.