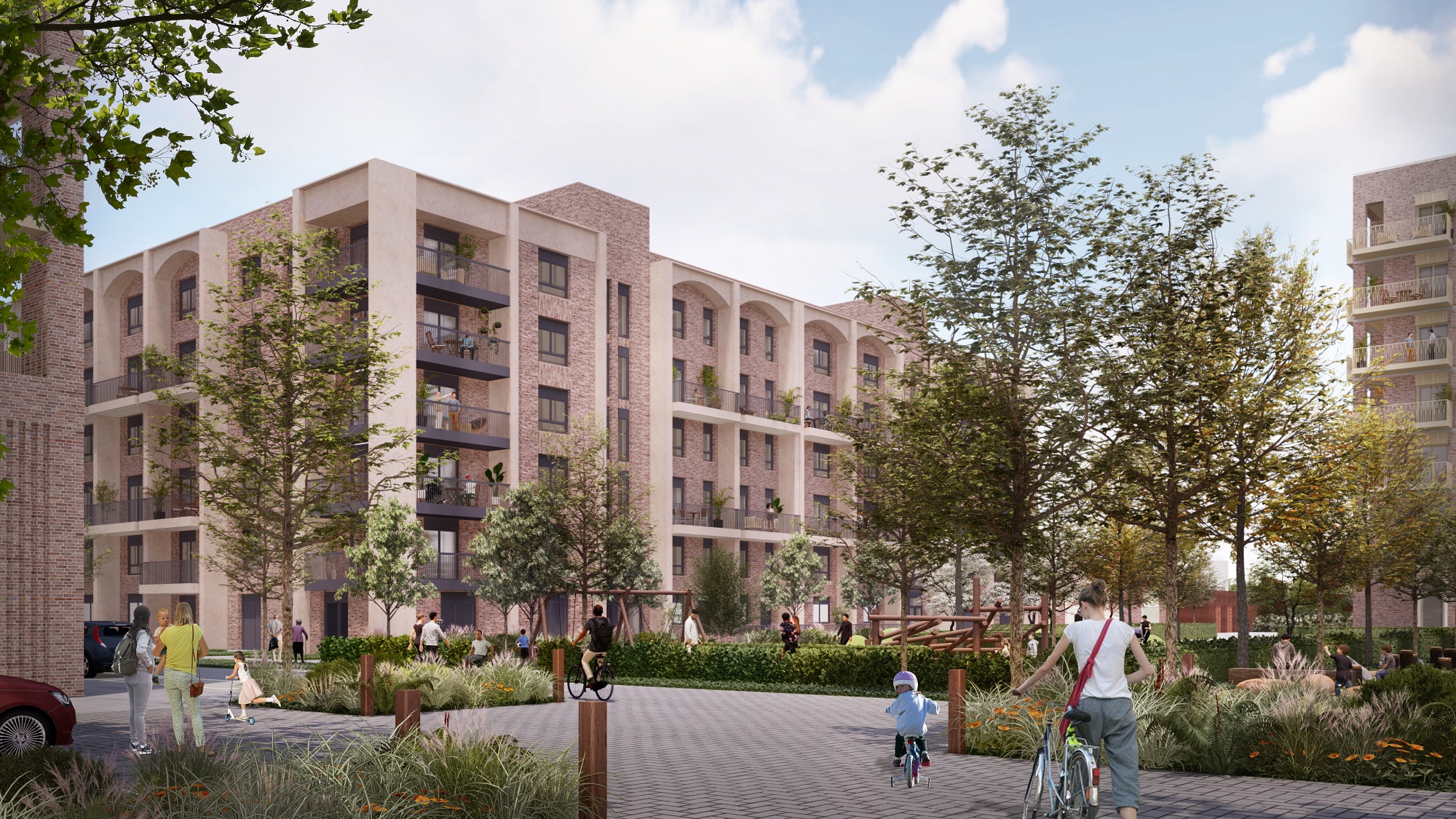 Published: Thursday, 16th December 2021
Royal Borough of Greenwich has launched a planning exhibition to gather resident feedback on plans for 322 new low carbon council homes in Kidbrooke, part of its Greenwich Builds programme.
The homes will be made available at truly affordable rents to Royal Greenwich residents on housing waiting lists. Plans for the site at Kidbrooke Park Road South will create 322 new homes ranging from one-bedroom apartments to four-bedroom family maisonettes, with 33 wheelchair-accessible homes.
A commercial space is included as part of the scheme, which also features play spaces for children, communal courtyards and a new community garden with space to grow plants and vegetables.
The design will achieve low carbon through its energy strategy, with heating and hot water provided by air source heat pumps, extremely efficient insulation, MVHR ventilation and solar panels across the roofs of the buildings.
Measures to increase biodiversity, climate resilience and drainage include green roofs, raingardens, meadows, and native hedges as well as the planting of 100 new trees and a hedgerow along the boundary with Old Post Office Lane.
If it is approved this development will join our neighbouring Greenwich Builds scheme to the north of the site, which was approved earlier this year and will offer a further 117 homes for affordable rent to local people on housing waiting lists.
Residents can view the plans and share their views between 16 and 20 December via our online planning exhibition.
Royal Borough of Greenwich Cabinet Member for Housing, Councillor Anthony Okereke, said:
"This sustainable, modern and sympathetic design represents the pinnacle of what we are achieving with our Greenwich Builds council home building programme.
If approved, Kidbrooke Park Road South will create 322 much needed homes for local people on our housing waiting lists, with 10% of those homes being wheelchair accessible. The proposed development joins 117 Greenwich Builds homes already approved for the north of the site.
We look forward to hearing what residents think of our plans, and to being able to deliver yet again on our commitment to building sustainable, truly affordable housing across the borough to tackle the housing crisis".