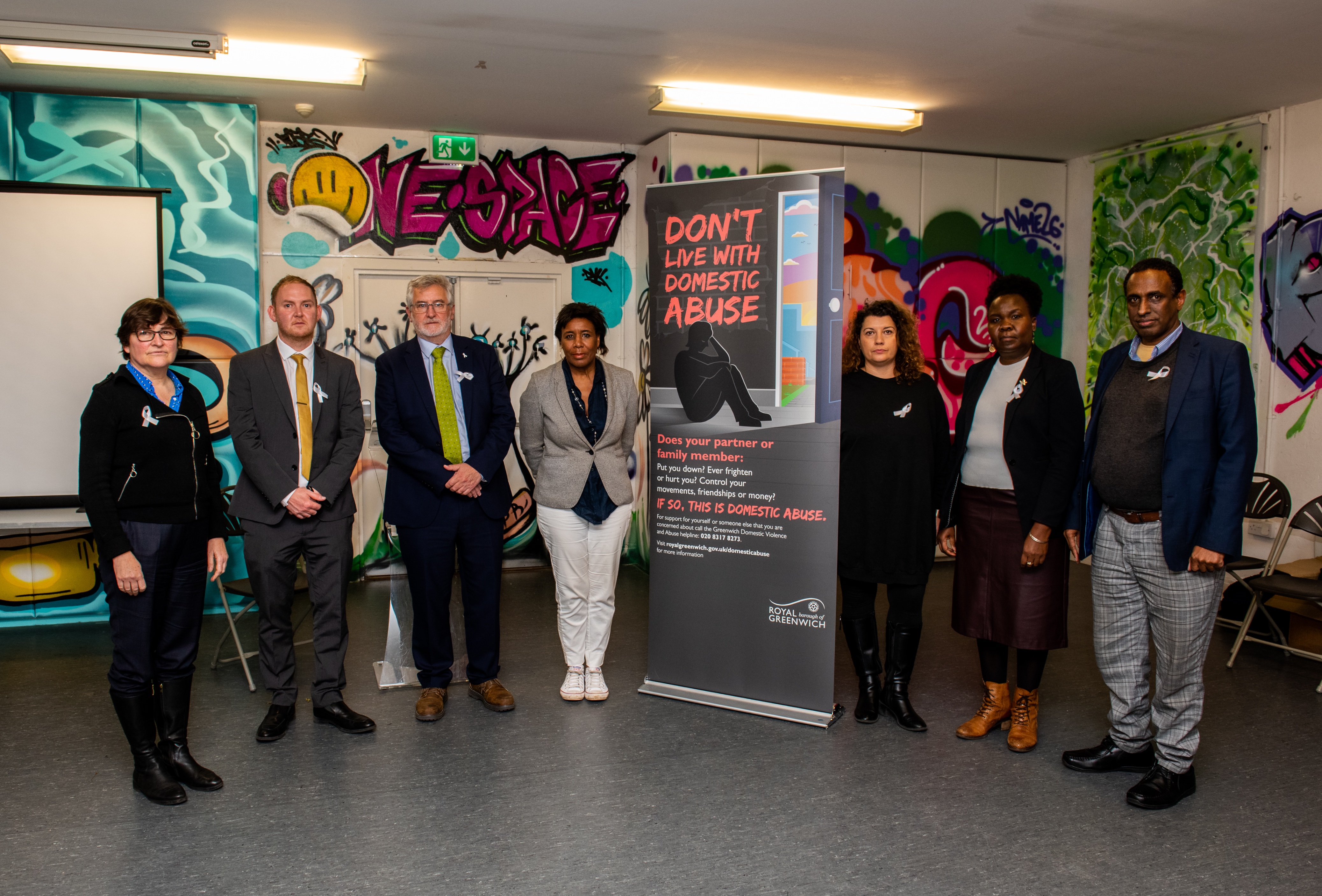 Published: Monday, 29th November 2021
Last night, Royal Greenwich councillors, residents, local organisations and businesses came together to stand against gender-based violence for White Ribbon Day 2021.
Local people wore the White Ribbon and made the promise not to commit, excuse or remain silent about violence against women.
Royal Greenwich was rocked earlier this year by a despicable act of violence towards an innocent woman on our streets with the horrific murder of Sabina Nessa, as well as the murder of Khloemae Loy by her partner in our borough late last year.
In a powerful speech to residents, Councillor Danny Thorpe, Leader of the Council, called on men specifically to take action and pledge to help end violence against women.
Cllr Thorpe said: "I'm asking my fellow men to step up and have the courage to call out sexism and misogyny when we see it - our dads, our brothers, our friends, and our colleagues."
The evening also saw Deputy Leader Cllr Denise Scott-McDonald lead a moving two-minute silence to remember the at least 124 women killed by men this year, along with powerful talks from Stacy Smith, Director of the Her Centre, Suha Al-Khayyat, the Co-Artistic Director of Little Fish Theatre Company, and Mary Otuko, Programme Manager at Forward UK.
Between March 2020 and March 2021, 6,141 domestic abuse incidents and 3,905 offenses for domestic abuse were recorded within Royal Greenwich. Ninety-two percent of the victims were women. A women's safety survey ran by the council in April this year found that 52% of respondents had experienced gender-based harassment or abuse in the borough alone.
In response, the council has been developing a targeted plan which covers both the practical changes the council can make in response to violence against women, but also the cultural and societal changes needed to address the root causes of gender-based violence. This includes specialised education programmes aimed at men and boys in schools and the workplace, research into the high levels of domestic abuse in the borough and targeted perpetrator programmes, as well as a £3.7m investment into the digitalisation of CCTV.
Cllr Jackie Smith, Cabinet Member for Community Safety and Enforcement, said: "As ever, we will continue to invest in resources and support services for the victims of gender-based violence. However, now is the time for real and radical investment in preventive programmes which address the core issues of violence against women and girls, including specialised perpetrator programmes and education in schools and the workplace."
Cllr Thorpe added: "It's time we changed that narrative and recognised the central role that men have to play in ending gender-based violence. Violence against women is not just a women's issue. It is a men's issue, and we have a central role in affecting change.
"We need to stop asking questions like; why didn't she leave, why was she out alone so late at night and what clothes was she wearing? And started asking ourselves one uncomfortable question – why do men kill women?"
More information about White Ribbon Day and the 16 days of action that follow