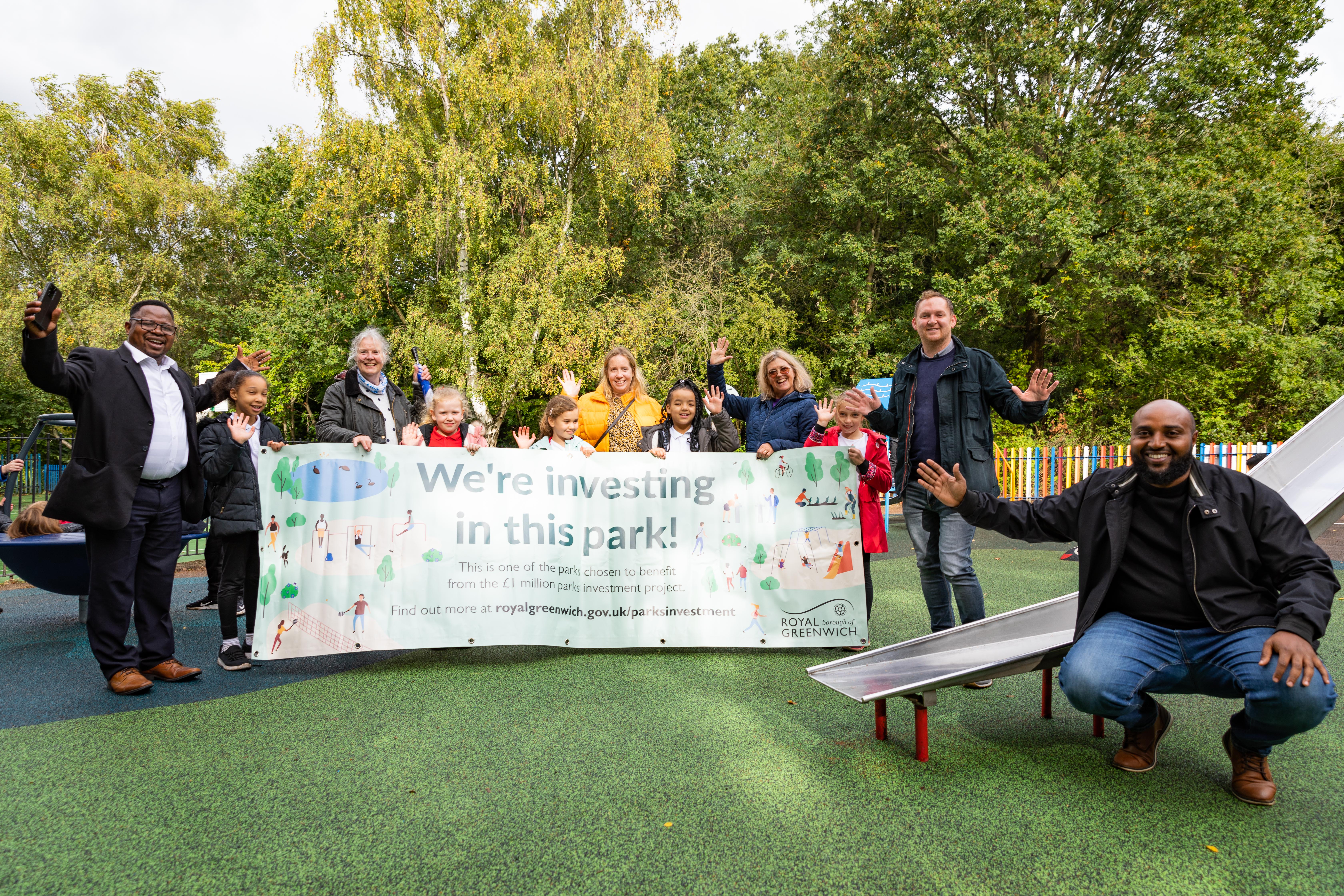 Published: Wednesday, 13th October 2021
The gates to the newly refurbished Maryon Park Playground swung open last week to welcome some very excited local children.
The refurbishment was funded by the council's £1 million parks investment programme, which has contributed to improvements in green spaces right across the borough. The Maryon Park Playground works took four weeks to complete and include a huge range of new play equipment for all ages and abilities. There is a ride-on hen, a four-way water lily seesaw, a tipi carousel and colourful markings to play games such as Duck Duck Goose. For younger children there is a 3D lady bird to sit and climb on and sensory panels.
It wasn't just the playground that was given a new look, the markings in both the tennis and basketball courts were repainted too, making them more than match-ready.
Children from the local Thorntree Primary School had a great time testing out the new play equipment, and firmly gave it their seal of approval.
Cllr Adel Khaireh, Cabinet Member for Culture, Communities and Equalities, said:
'Seeing the kids from Thorntree Primary enjoy the playground so much, just confirms why these improvement works are so important. Spaces for children to play and explore and run around in are vital, which is why they are a priority when it comes to distributing the £1 million investment project funding.'
Cllr Adel Khaireh, Leader of the Council Cllr Danny Thorpe, Deputy Leader of the Council Cllr Denise Scott-McDonald and Ward Councillor Dominic Mbang, were also joined by the Friends Group, who helped advise on the improvements. A granddaughter of one of the Friends, eight-year-old Akirah Anthony-Watfa, was especially helpful and shared her opinions on what she felt the playground needed. She joined every Friends' group meeting with her grandmother and was a great help throughout. Her feedback was possibly the most valuable of all!
Find out more about the £1 million parks investment programme.