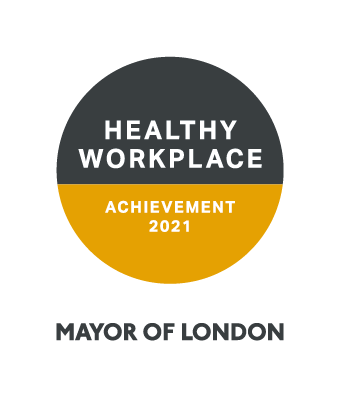 Published: Thursday, 23rd September 2021
The Royal Borough of Greenwich is very proud to have received a London Healthy Workplace Award (LHWA), an award led by the London Mayor's Office and supported by Public Health England.
Earlier this summer, we were awarded an LHWA, which rewards the work London-based employers are doing to make their workplaces healthier, happier and more productive.
We received an 'Achievement' award – a higher-level award for organisations with a more advanced, well-rounded approach to the health and wellbeing of their employees. This was awarded following a rigorous application process, during which the commitment of the council to its employees' mental health and physical health and wellbeing was thoroughly assessed.
The awarding body gave us very positive feedback, praising the level of health and wellbeing support available to our staff, as well as the ways staff are engaged with and informed about what's on offer.
Councillor Linda Perks, Cabinet Member for Finance and Resources, said: "We're absolutely thrilled that the council has been awarded an LHWA. Having a happy and healthy workforce is an absolute priority, and nurturing this relies on the council having a great range of support, services and processes in place to support staff wellbeing. That's why it's fantastic news that what's on offer to staff has been recognised and rewarded.
"This achievement is a testament to the hard work of our HR, Public Health and Health and Safety teams, who make sure that Royal Borough of Greenwich employees have the right support and information available to them – at work and in their personal lives.
"This has been more important than ever during the pandemic, when people have faced new challenges, changing circumstances, and sadly – for many – illness and loss. I'd like to personally thank these teams for their dedication to our workforce, and thank our workforce overall, for everything they do to help make Royal Greenwich an amazing place to work and live."
We take our staff's health and wellbeing very seriously. All the workforce has access to several free and confidential support options through our Employee Assistance Programme, Wellbeing Champions scheme and regularly updated, tailored information available via bulletins and staff webpages. Staff can also take advantage of discounted gym and swimming membership, savings on bikes and accessories, e-bike loans, cycle skills training, health checks and free flu vaccinations.
For more information about working for Royal Greenwich and to explore our current vacancies, visit our careers site.