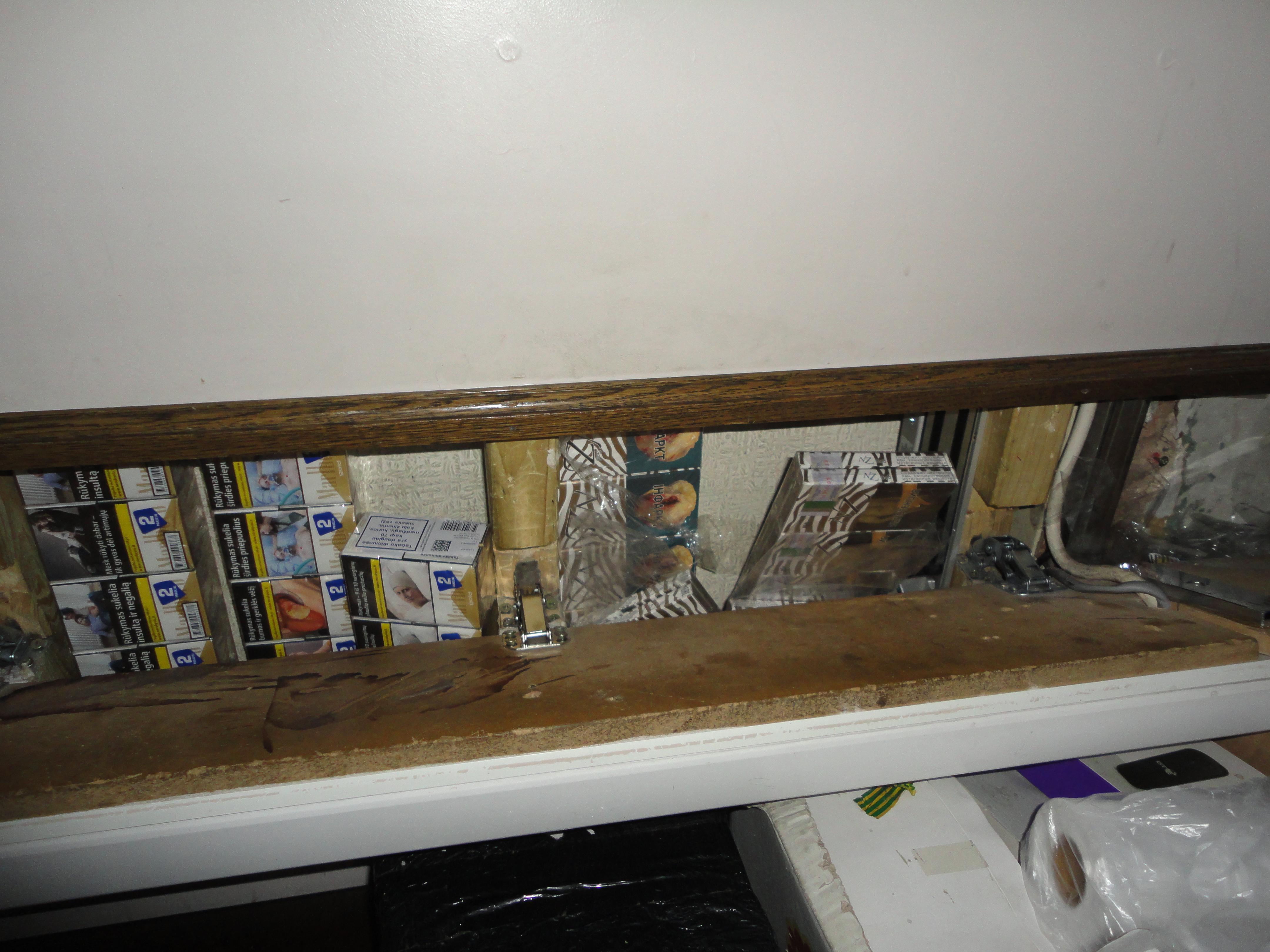 Published: Wednesday, 25th August 2021
A man has been prosecuted after council officers seized 126 packets of illegal tobacco products, believed to have been smuggled into the country from Lithuania and Russia.
Assisted by a tobacco detection dog and its handler, 2,520 cigarettes were found concealed behind a wall in a storeroom at a local shop, Maistas & Gerimai in Woolwich, after the Royal Borough of Greenwich's Trading Standards team received a tip-off from a suspicious resident.

The packets of cigarettes were contrary to the Tobacco Related Products Regulations 2016 and the Standardisation Packaging of Tobacco Product Regulations 2015, which means they were not in plain packaging and were without the appropriate health warnings in English. They were also imported without payment of duty.
Mandris Ltd and Mr. Mantas Andris, the shop's proprietor, were previously convicted in April 2018 for similar offences, yet had continued to import, store and sell illegal tobacco from the premises.
Facing Bexley Magistrates Court on Friday 19 August, Mr. Andris pled guilty to the charges and was fined a total £14,877.50, which he will pay back in 21 monthly instalments. The council has also revoked the shop's alcohol license and the seized cigarettes have been destroyed.
Lord Toby Harris, Chair of National Trading Standards, said: "The trade in illegal tobacco harms local communities and affects honest businesses operating within the law. The National Trading Standards initiative in partnership with HRMC is playing a significant role in disrupting this illicit trade and is helping to take illegal tobacco products off the streets."

The supply of illicit, cheap, and counterfeit cigarettes has serious consequences for health and crime. Illegal tobacco is unregulated, so there is no way of knowing what harmful ingredients they contain. The availability of cheap cigarettes also encourages smoking prevalence amongst young people and goes against the council's tobacco control agenda and the government's Tobacco Plan, which is aiming to reduce smoking to under 12% of the population by 2022, and 5% by 2030.

Cllr Jackie Smith, Cabinet Member for Enforcement and Community Safety, said: "We take matters like this very seriously and our enforcement officers will always follow up on complaints from the general public. Information given by local people helps Trading Standards and other enforcement partners to take more illegal tobacco off the streets, so please share your concerns with our team if you think illegal or fake cigarettes are being sold in our borough."

Contact Citizens Advice on 0808 223 1133 to report the sale of illegal goods – all calls will be treated in confidence.