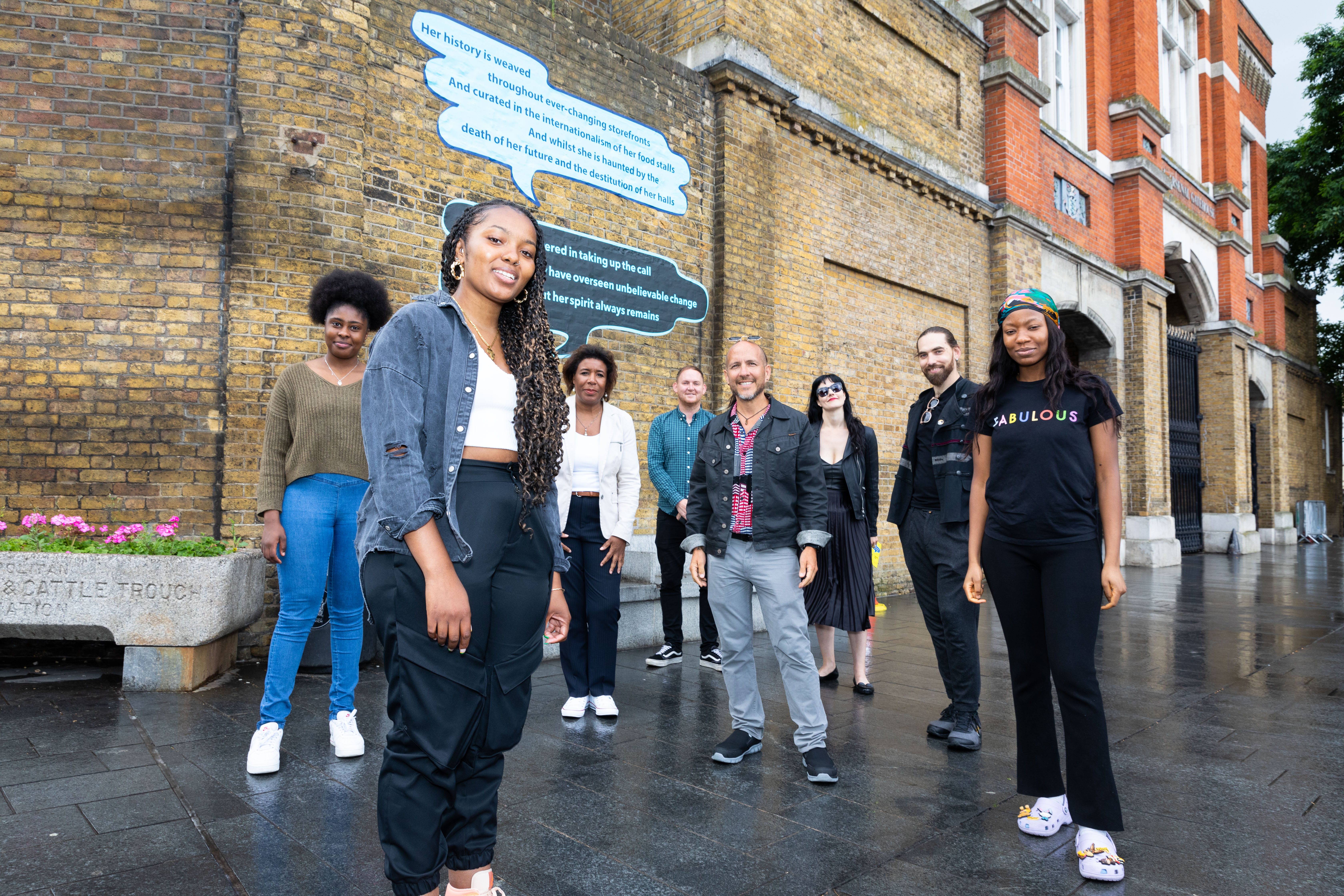 Published: Wednesday, 11th August 2021
Specially commissioned poem celebrating Woolwich unveiled in a street trail and film.
Launching today, Friday 6 August, Woolwich Speaks brings poetry to the streets and squares of Woolwich in the form of a brightly coloured trail of verse adorning a dozen buildings including the Royal Arsenal Gatehouse, Woolwich Arsenal Station and the Woolwich Centre Library.
Woolwich Speaks is a community-led project celebrating the area's street life and exploring its past, present and future through poetry. Rasheeda Page-Muir wrote the Woolwich Epic poem after conducting life story interviews with Woolwich residents ranging from community leaders and young people to business owners, who shared their thoughts and stories about the town and what it means to them. A film of the poem, starring Woolwich secondary school students, and featuring local landmarks as well as archive footage, will be shown on the Woolwich Big Screen throughout August. It has been created by Woolwich-based writer and director Joe Watkins working with two young local film makers.
The Woolwich Epic poem personifies the town as a woman who has seen the many diverse stories, experiences, and lives that have contributed to the area's identity. It is a creative response to the high street that acknowledges the importance of the public spaces we all share, communicating pride and hope but not shying away from challenges and struggle. Residents and visitors are invited to take part by picking up a map of the trail from locations around town including Woolwich Centre Library. They can watch the film, follow the trail and share their photos and thoughts about the future of Woolwich's streets using #WoolwichSpeaks.
The street trail has been created by Applied Live Art Studios (ALAS), a social practice art studio that works in collaboration with local participants. It takes the form of speech bubbles featuring fragments of the poem, their bright colours contrasting with the brick, stone and concrete of the urban environment. Up to three metres long and installed at different heights and scales, the speech bubbles suggest that the surrounding buildings are sharing their secrets, while also reflecting the intimacy of smart phone text conversations.
Woolwich Speaks connected artists with the community during the Covid-19 pandemic – a time when restrictions on movement highlighted for many the importance of local high streets, drawing attention to their potential as sites of shared culture and civic pride. It launches the Woolwich High Streets Heritage Action Zone programme, supported by Historic England, which will transform and restore disused and dilapidated buildings, restoring local historic character and improving public realm. Woolwich Speaks is a community-led project commissioned by Royal Borough of Greenwich and produced by Poet in the City and RevolYOUtion. It launches the Woolwich High Streets Heritage Action Zone programme, supported by Historic England.
Cllr Denise Scott-Mcdonald, Deputy Leader and Cabinet Member for Regeneration and Good Growth, Royal Borough of Greenwich said:
"Woolwich Speaks is just one project which contributes to our ongoing multi-million-pound investment in Woolwich town centre. We're restoring empty buildings, building a new leisure centre, refurbishing the Tramshed theatre and getting ready for Woolwich Works, our new creative district, which opens in September. It's really important that projects like this are community-led, so I'm glad that the poem and film showcase local talent."
Poet in the City Chief Executive Isobel Colchester said:
"We're very grateful to the people of Woolwich for sharing their stories with us and hope they see themselves and their town reflected in Rasheeda's poem and the film. We know that poetry can be powerful and has the ability to create unexpected connections – I look forward to finding out where this poem will take people."
Clare Charlesworth, Head of Region, Historic England in London and the South East, said:
"I hope that by following the Woolwich Epic woven through the streets, people will discover new corners of this historic part of London. This is just the beginning of an exciting three-year programme which will see the physical transformation of some of Woolwich's much-loved heritage, alongside further cultural activities based around the high street. By putting heritage at the heart of Woolwich we hope to bolster a sense of pride in the local character and strength of community in the area."