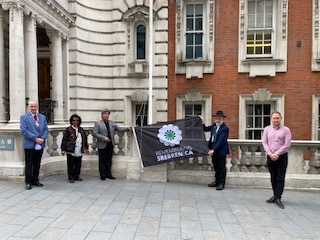 Published: Friday, 9th July 2021
Remembering Srebrenica
Yesterday, Leader of the Council, Cllr Danny Thorpe raised a commemorative flag to remember the many victims of the horrific genocide that took place in Srebrenica, Bosnia-Herzegovina.
More than twenty-five years ago, men and boys were systematically murdered and buried in mass graves on the basis of their Muslim identity.
The leader stood together with Deputy Mayor, Cllr Leo Fletcher and faith leaders from across the borough, to hold firm the utter rejection of terrorism, oppression and victimisation of others.
Cllr Adel Khaireh said: "The theme this year is Never Again. Not only do we remember the victims of this awful genocide, but we use today to educate future generations about prejudice and ensure events like this never happen again. Everyone should feel safe and protected in their home, which they are in Royal Greenwich "
For more information on the Srebrenica genocide visit www.srebrenica.org.uk.