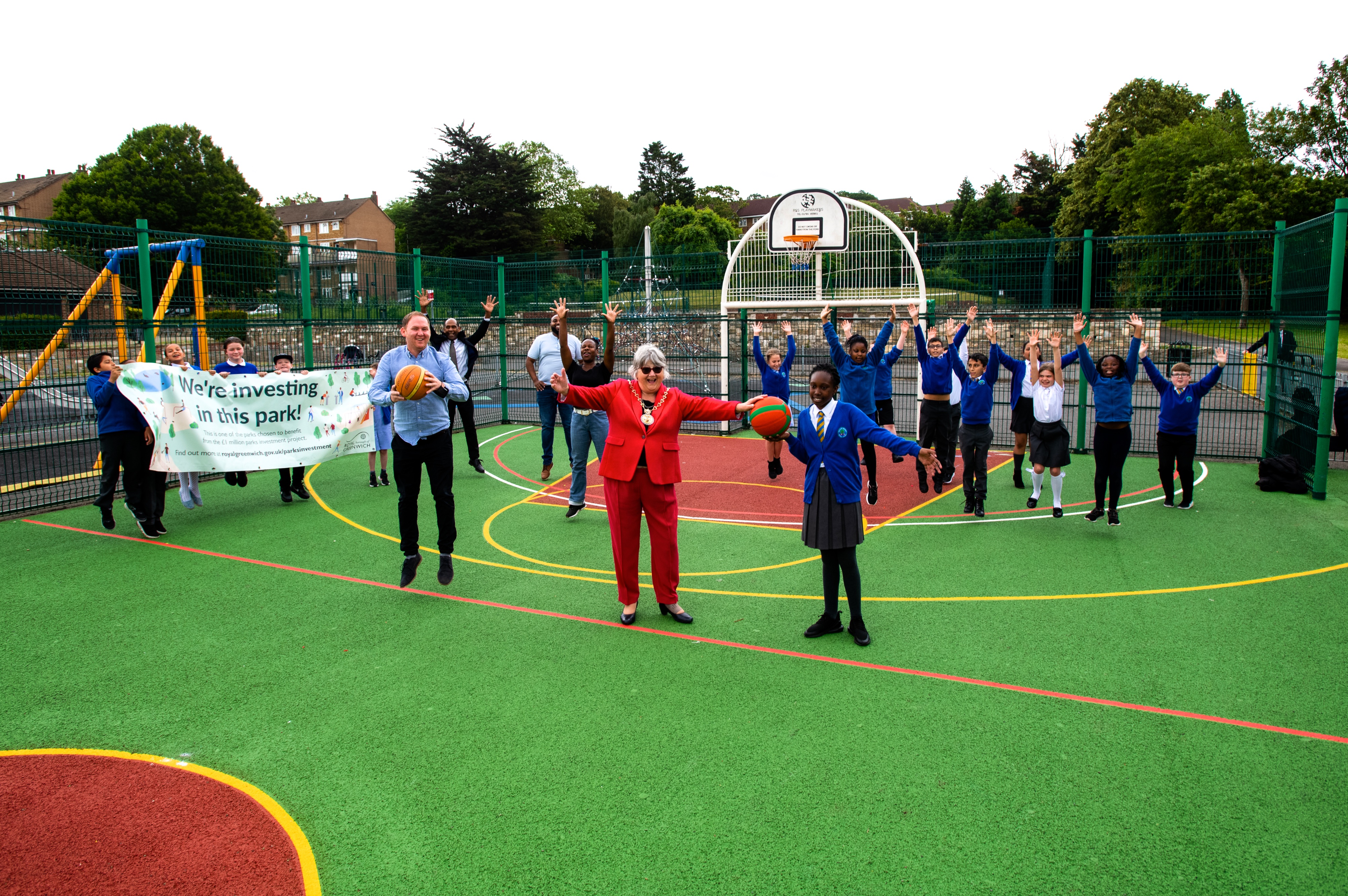 Published: Thursday, 1st July 2021
Our parks investment works are well underway across the borough, and some have even been completed!
Last summer, we announced we were investing £1 million on bringing a new lease of life to several of the borough's parks, following a borough-wide consultation. Eleven sites were chosen and among those were Bostall Gardens and Eaglesfield Park.
On Friday 25 June, pupils from Alexander McLeod Primary School were joined by Leader of the Council Cllr Danny Thorpe, Cabinet Member for Culture and Communities Cllr Adel Khaireh, local ward councillors and Mayor, Cllr Denise Hyland, to try out the newly marked basketball court in Bostall Gardens. The pupils also did a great job of planting flowers in the newly-laid flower beds.
Cllr Adel Khaireh, Cabinet Member for Culture and Communities said:
'Bostall Gardens in Abbey Wood is a vital space for the community, but over time areas of the park became run down due to everyday wear and tear. That's where the parks investment has stepped in! The funding has gone towards re-surfacing the uneven steps, re-building some of the internal walls and installing new entrance signs. The money also went towards re-marking the basketball court, which is now vibrant and colourful place to shoot hoops! It's great to see pupils from Alexander McLeod enjoying the new facilities so much.'
Another site which has received some of the investment money is the playground in Eaglesfield Park; it's looking like it's going to be an amazing transformation! The play equipment is being replaced by large wooden structures, perfect for playing on and exploring.
Make sure you watch this space for more updates on Eaglesfield playground and the other parks getting an investment!
Head here to find out which other parks are being invested in.