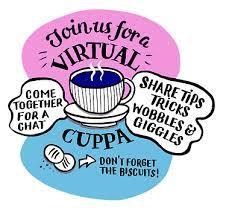 Published: Tuesday, 4th May 2021
Residents who look after a family member, a friend or a neighbour are now able to connect with others and access support online.
Since the introduction of lockdown, many residents have started looking after somebody who is shielding or have seen an increase in their caring role. The council responded by agreeing a new partnership with the online support service, Mobilise.
Now anybody looking after a family member, friend or neighbour can join the Mobilise community to connect with other carers in the same situation, share practical advice and access support. Many residents are often isolated at home and can't attend face to face support at a time that suits them. Mobilise, which proudly describes itself as 'by carers, for carers' offers a range of online support, from regular contact through emails, a new to caring e-course to 'virtual cuppas' and even 1-2-1 support calls.
Lee, 55, a family carer who supports his sister who is a stroke survivor and her son who has psychosis, said: "Mobilise is unique, real people with real experience are there to help make a real difference in how I support my loved ones who have health challenges. Everyone who cares for a loved one in the Royal Borough would do well to connect with Mobilise."
Councillor Miranda Williams, Cabinet Member for Health and Adults' Social Care at Royal Greenwich, said: "We are always looking to improve and enhance our carers offer in Royal Greenwich and increase connectivity of people to services. Mobilise is a great way for people to connect and grow their own networks, helping people to both give and receive support from others who can relate to their similar and shared experiences."
Suzanne Bourne, Co-founder and Head of Carer Support at Mobilise, stated: "There are many thousands of carers out there who may need advice. Creating a Mobilise carer peer support network in Greenwich will see an improvement in their wellbeing. Carers are less likely to reach breakdown and require emergency assistance."
"Our ambition is to identify thousands of carers in the Greenwich and provide relevant, timely support to people with caring responsibilities" concluded James Townsend, CEO of Mobilise."
Find out more about this new service at Mobilise