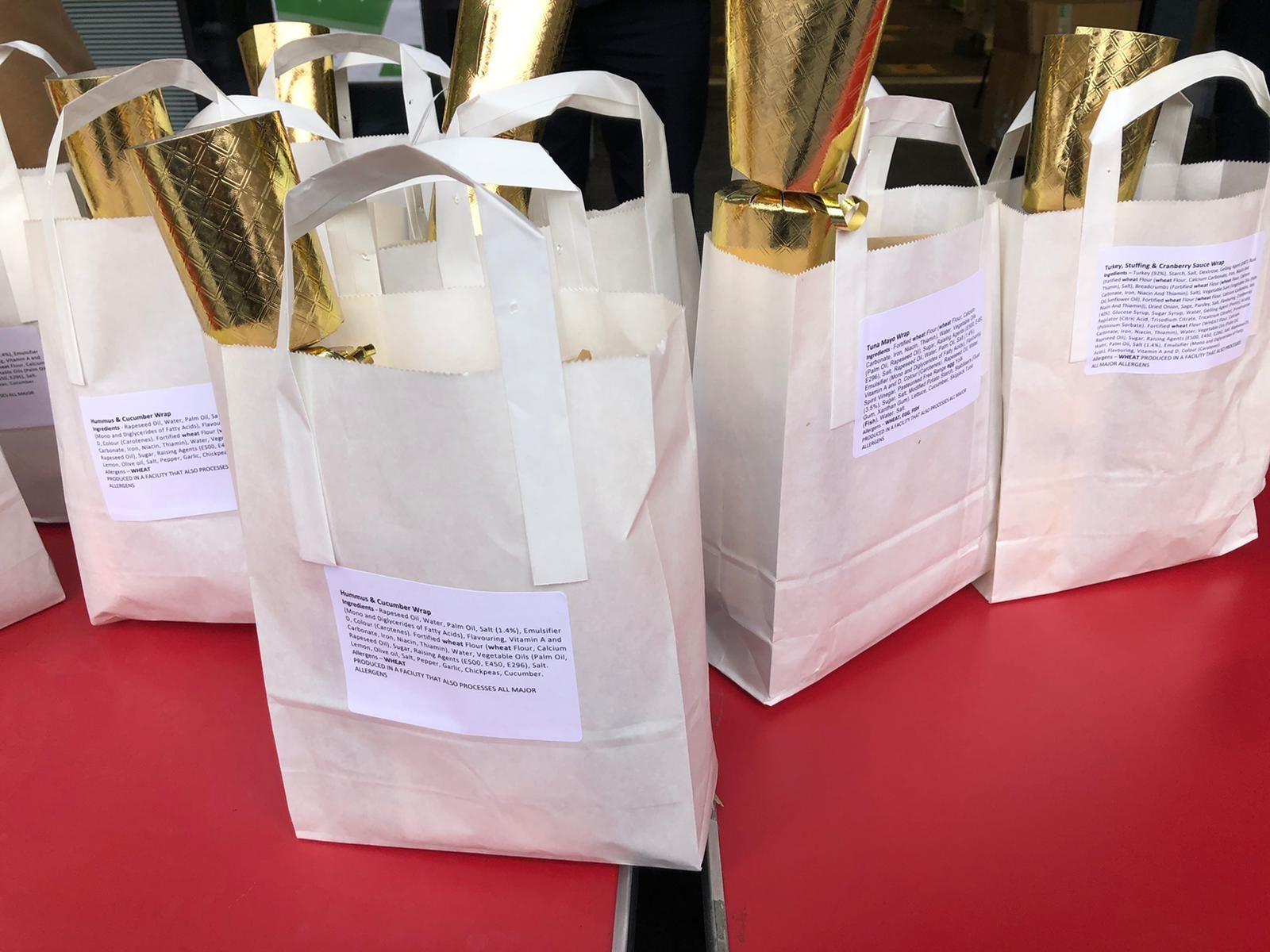 Published: Thursday, 7th January 2021
Ensuring our children receive a healthy meal at this difficult time when so many have been impacted by COVID with loss of income and security for families, has been a key element of the Royal Borough
The campaign has brought together the Council, businesses, community groups, faith groups, schools, and volunteers from across the borough to provide food boxes and meals for households and people across the borough:
Before Christmas, an army of volunteers packed 8,367 Christmas breakfast bags which were sent to 170 locations across the borough, to be given out to children going to Royal Greenwich primary schools, early years settings and children's centres receiving free school meals - with healthy breakfast every day for the Christmas holiday break
Between 21 and 31 December 2,660 holiday lunch meals were prepared and given out to children and families at leisure centres and libraries
Over 9,000 families on free school meals and low incomes received an additional food and utilities payment ahead of Christmas
Faith and community organisations across the borough have been delivering food hampers to older and isolated residents
Wonderful, free, langar meals were handed out by GND Street Seva
WSP Woolwich and the Panas Gurkha Restaurant gave out free food and presents
Cllr Danny Thorpe, Leader of the Council, said: I am absolutely blown away by the herculean effort of everyone involved in getting our breakfast bags together, and out to where they needed to be just before Christmas. We have truly amazing partners, and I cannot thank them enough as well as our amazing staff from across the Council for their planning of this initiative.
"We have such an amazing community spirit in the Royal Borough of Greenwich, from people just doing their own thing and checking on their neighbours, to faith and community groups supporting their communities, and local businesses getting into the community spirit with fundraising for our breakfast bags. It's been truly phenomenal."
Cllr Matt Morrow, Cabinet Member for Children and Young People, said: "My grateful thanks go to our brilliant schools, childcare providers and children's centres who have gone above and beyond this year to ensure our children and young people have been supported and safe. Thanks also to our partners, Charlton Athletic Community Trust (CACT), GLL, GCDA, GSPlus Oxleas and our local food businesses who have all given so much of themselves."
Diana Edmonds, MBE, National Libraries Director for GLL, said: "At a time of countrywide challenges, GLL has supported the national campaign to combat food poverty by providing reading activities together with a nutritional meal during school holidays. We are delighted to be working with the Royal Borough of Greenwich to support the Council's Greenwich Together for Winter campaign."
"As librarians, we are also aware that many children do not have access to the digital resources they need to learn effectively while they are at home - in the New Year we will be lending tablets to families and to mentors working with children to combat, in a small way, this digital divide."
Also joining the campaign were Calabash, Infinite Catering, Caribbean Hut, Crafty Wizards, Guru Nanak Seva and Ardmore Construction.
Find out more about the Greenwich Together for Winter campaign.