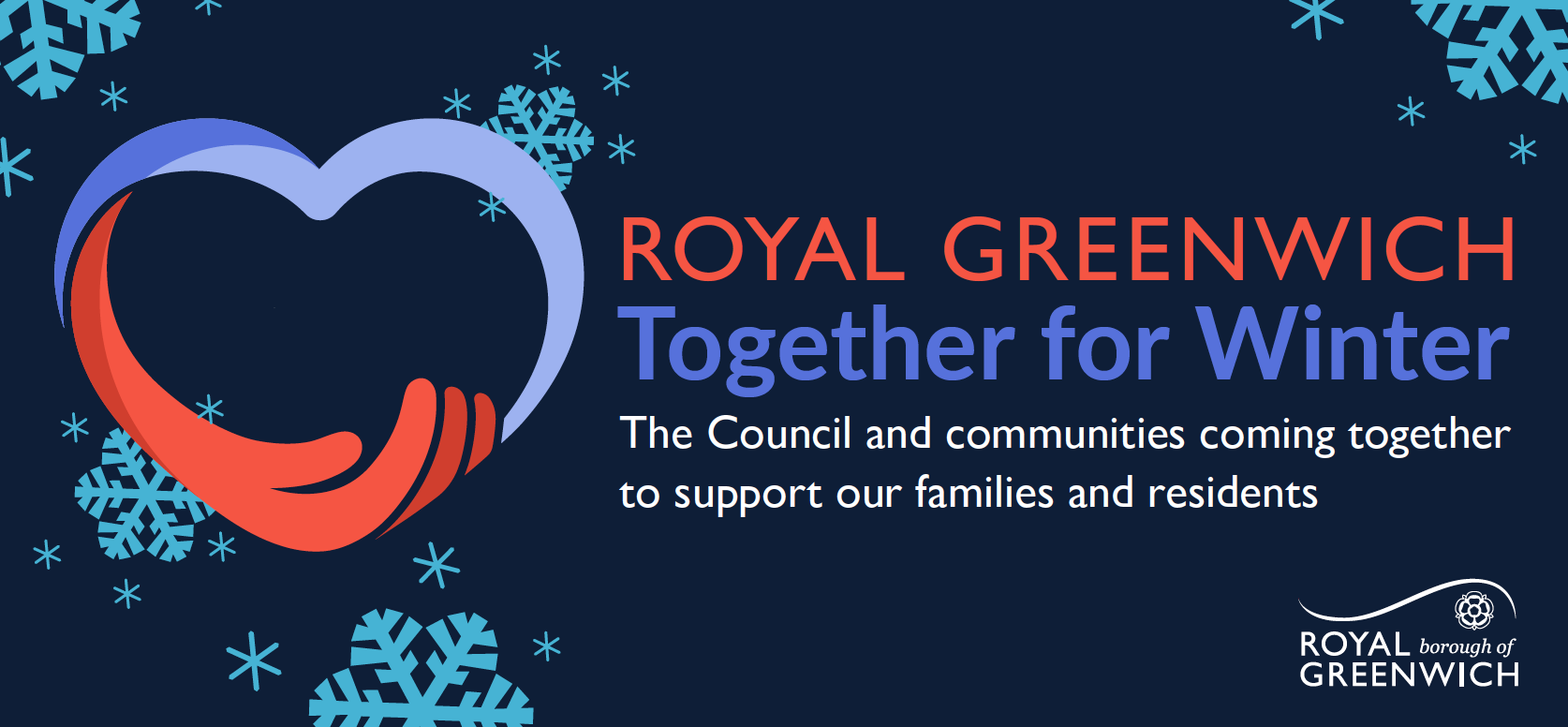 Published: Friday, 4th December 2020
Local community groups, businesses and the Council are working together to provide support for people who might be struggling over the Christmas holiday period (and beyond).
The Royal Greenwich Together for Winter campaign brings together hundreds of businesses, community groups, faith groups, schools and volunteers from across the borough to provide food boxes and meals for people and families on low incomes, and company for those who might be on their own this Christmas.
Many local businesses are making donations to help pay for food and meals provided or supplying Christmas breakfast boxes.
What's going on?
Breakfast and activity bags for over 8,000 children going to Royal Greenwich primary schools, early years settings and children's centres who are receving free school meals, with breakfast every day for the Christmas holiday break

A food and utilities payment at Christmas and February 2021 half-term to families who are receiving free school meals

Take and make meal kits for over 8,000 children who are receiving free schools meals, over February half-term

Community groups, faith groups and community centres providing hampers for vulnerable people and great, freshly cooked food and company for people who might be isolated and needing some Christmas company
Holiday meals throughout Christmas holidays at six locations across the borough, quadrupling our normal holiday meals provision
Breakfast bags
Children who are educated and supported at early years' and primary schools in Royal Greenwich and are on Free School Meals (FSM), receive 2 year old entitlement funding and/or have been identified through settings for support.
If your household has been identified as being in one of the eligible groups above, you do not need to do anything and will be contacted by your school or early years setting.
If your household does qualify, your child/children will be given their Christmas breakfast bag during the last week of term before their school breaks for the holidays.
Breakfast bags will contain a selection of healthy breakfast options that meet the School Food Standards. Items will include fresh fruit, cereal, milk, whole meal bread and baked beans. Each bag will supply 10 breakfasts and include a fun activity.
Free School Meals payment
All children currently claiming free school meals in Greenwich Schools will qualify for a food and utilities payment. You will be contacted by text message from the Council letting you know how you will receive the payment.
Two payments will be made: one of £30 per child in December, and one of £15 paid during February half-term.
The Council will also be paying this to anybody attending a Royal Greenwich school that is eligible and signs up for Free School Meals before March 2021.
Sign up for free school meals or contact your school.
Take and Make boxes
Our Take and Make boxes will be available for the February half-term break.
The meal kit boxes will be packed full of fantastic ingredients and a recipe card for the family to create a great new, healthy meal together.
If your household is eligible, you do not need to do anything and more details will be released nearer the time.
Holiday meals
Holiday meals will be provided at venues across the borough.
See the holiday meals dates, times and venues
Healthy food advice
If you are pregnant or have a child under 4, you may qualify for free vouchers to spend on healthy food and vitamins. Find out how to apply by visiting Livewell Greenwich.
Fuel bills help
The Royal Borough of Greenwich is providing extra services and support for residents who may be at risk during the cold weather. Residents who are over 60, caring for a young or vulnerable person or having problems paying their winter fuel bills could benefit from Stay Warm Stay Safe.
Community hub
The Greenwich Community Hub links thousands of volunteers with opportunities to help people who are most in need of support. If you cannot go out and do not have any family, friends or neighbours around to talk to or help you, then contact the Greenwich Community Hub.