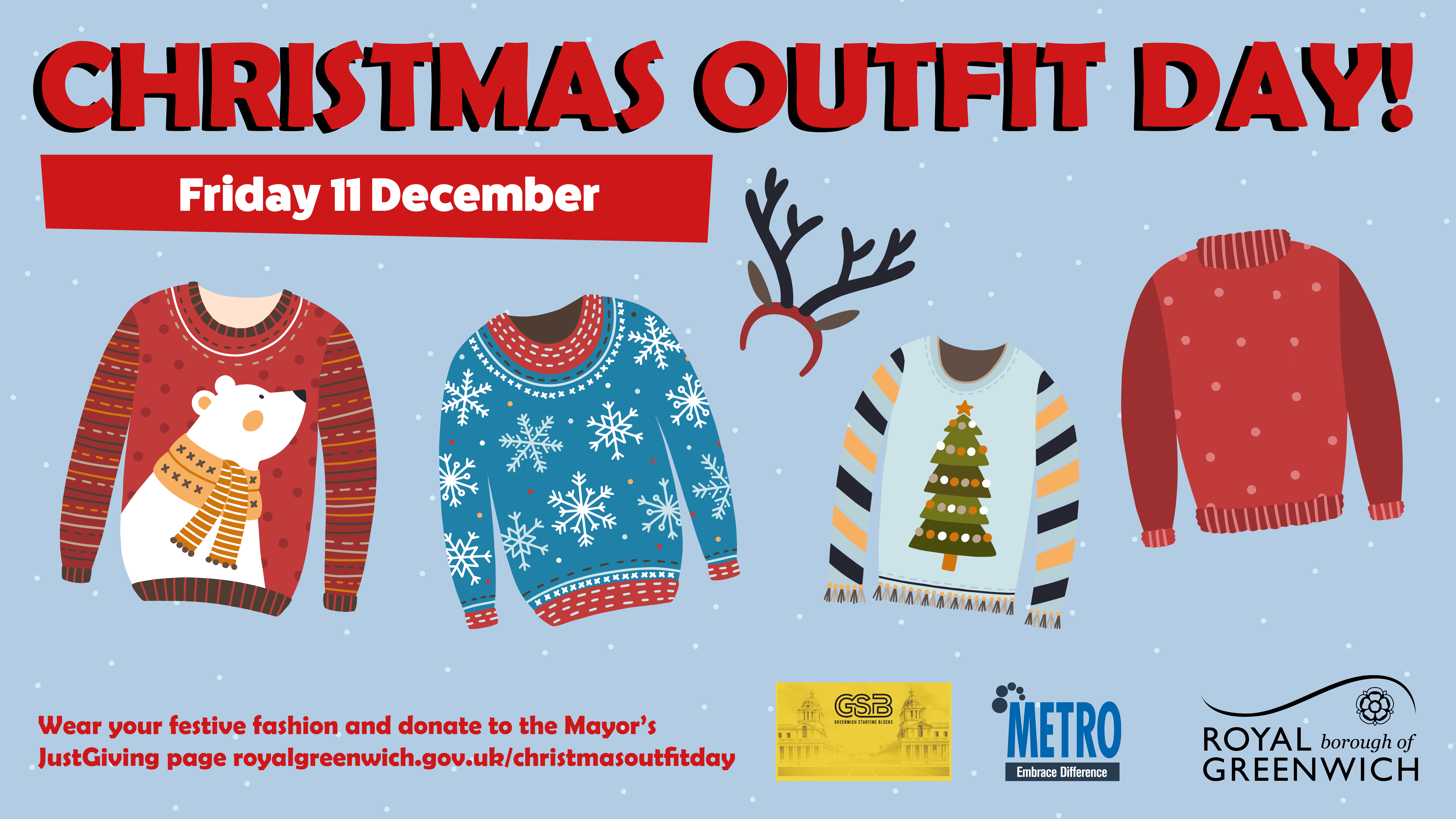 Published: Tuesday, 17th November 2020
Join Cllr Linda Bird, the Mayor of Royal Greenwich and wear festive fashion on Friday 11 December, whether you are at school, work or staying at home.
Wear anything from a red top to a full Rudolph the Reindeer costume to raise money for the Mayor's chosen charities - METRO Charity and Greenwich Starting Blocks (GSB).
Cllr Linda Bird, The Mayor of Royal Greenwich has said: "We're all determined to sparkle this Christmas. Sharing our festive wardrobe is another way to bring us all together, as well as raising money for Metro Charity and Greenwich Starting Blocks. So, join me in raising a smile or two as well as some funds."
Usually, money would be raised through the London Marathon or charity dinners, however both have been unable to go ahead due to the current restrictions. So, the Royal Borough of Greenwich needs your help more than ever to support local charities. You can show your support by taking on this initiative personally or within your organisation and wear a Christmas outfit on 11 December. To aid even further, you can donate a minimum of 50p to the Mayor's charity fund via our Just Giving page: www.justgiving.com/crowdfunding/mayor-christmas. As JustGiving have a minimum donation of £2, you will need to join forces with a few other people in your household, organisation or school and donate!
Dr Greg Ussher, CEO of METRO Charity said: "The support and contributions are vital to keeping our services running. These include providing welfare advice for deaf and disabled residents, counselling online for the LGBTQ+ community with mental health issues and a 'drop in' group. We also continue to support individuals and families affected by HIV, run a sexual health advice helpline and deliver our LGBTQ+ youth groups online."
John Anderson, Chairman of Greenwich Starting Blocks said: ''Greenwich Starting Blocks Trust (GSB) ensures that young Greenwich-based athletes have the financial and personal support they need to achieve their sporting dreams. Being a small but successful charity – 6 of our GSB athletes have amassed a total of 8 Olympic and Paralympic medals - our primary fundraising focus is our annual Gala Dinner which this year, sadly, has not been possible. On behalf of GSB I would like to wish the Mayor's Christmas Campaign every success and to thank the Greenwich residents for helping us to inspire and support the current and next generation of young sportspeople in the borough.''
We would love to see the Christmas outfits you pull together, so send them to us via email at: media.desk@royalgreenwich.gov.uk or tag us in pictures on social media @Royal_Greenwich.