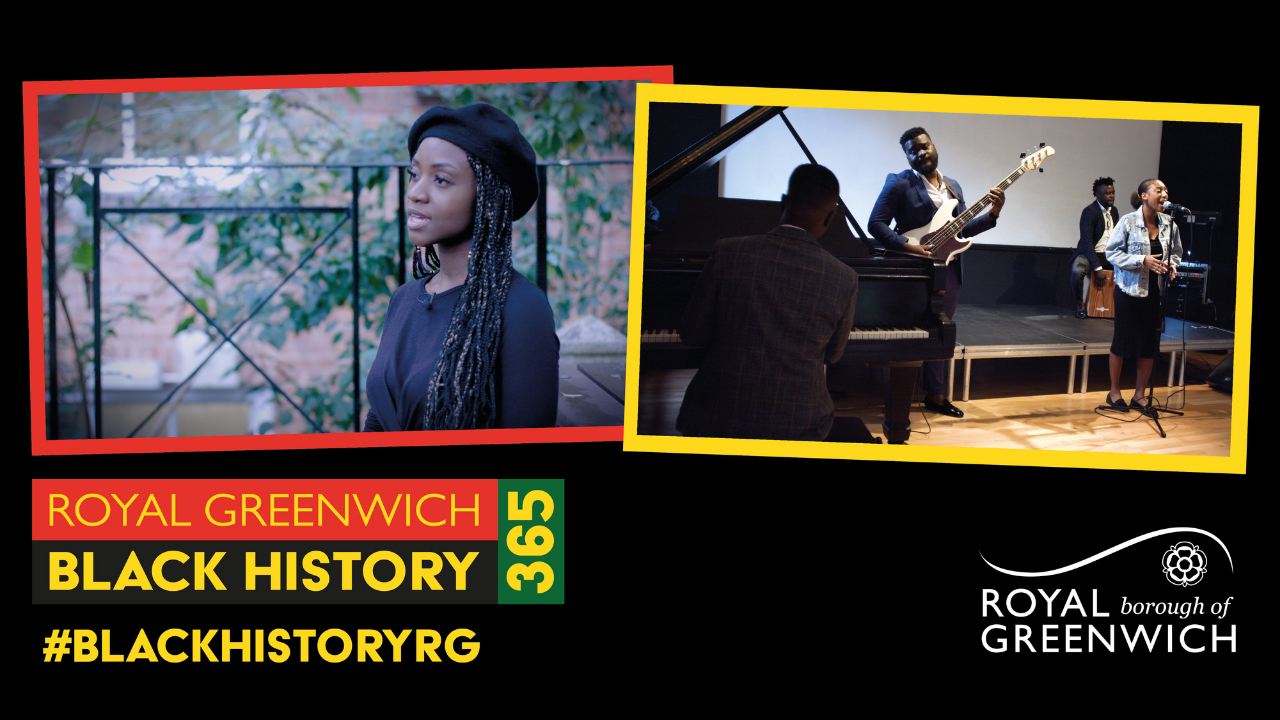 Published: Friday, 2nd October 2020
We're excited to present our Royal Greenwich Black History 365 season.
An online Black Lives Matter poetry and spoken word night, a Black women's health symposium and eclectic mix of music, dance, storytelling and fashion events will bring a taste of African and Caribbean heritage to your doorstep this October.
This year's specially curated Black History Month season, kicked off last night with a lively launch video featuring music, dance and poetry and showcasing the variety of socially distanced live events alongside online activities which make up the jam-packed programme. The launch video is available to watch on our YouTube channel.
Cllr Adel Khaireh, Cabinet Member for Culture, Communities and Equalities, said: "It's important that everyone in the community has the opportunity to learn about the experiences and histories of fellow residents and so, despite the challenging circumstances of COVID-19, we're excited to present our biggest-ever Black History Month celebrations yet.
"Black History Month is essential for educating and celebrating how people from the African and Caribbean diaspora have shaped our borough and the UK as a whole, but we should not limit this education, appreciation and recognition to just one month. Royal Greenwich Black History 365 is our commitment to celebrating the contribution of our Black and minority ethnic residents every day of the year."
This year, the Council has funded nine local organisations to produce events and activities as part of its Black History Month season and beyond, aiming to connect communities and celebrate this pivotal point in our history as we begin to reunite with our families, friends and neighbours.
The programme will look at the past and to the future, share the stories of Black young people and older people, Black residents with disabilities and cultural icons. From celebrating the brilliance of black writing from around the world to promoting discussions about Black women's bodies, the season has something for everyone.
Our Black History Month season
Here is a snapshot of the successful organisations and their plans for Black History Month:
All Souls Gathering – Black Kaleidoscope Project
Workshops and activities for young people featuring dance, drama, spoken word, music and craft skills.
Black Female Entrepreneur – African Cultural Heritage
A series of music, food, fashion, dance, drumming, history and artefact workshops and lectures exploring African cultural heritage.
Blackheath Halls – Celebrating BAME cultural icons
Celebrating the achievements of BAME cultural icons in shaping local and wider history, specifically around the history of music and the performing arts.
Culture Access – Black Disabled Lives Matter
A project curating and recording the stories of some Black Disabled People of African and Caribbean origin in the Royal Borough of Greenwich.
Global Fusion Music & Arts – Black History Month Celebration
A mixture of live and online events featuring music, crafts, poetry and spoken word.
Healthwatch Greenwich – Our bodies, our health, our history
An exhibition and event celebrating Black women, the impact of structural racism on BAME women's health, and raising awareness of cancer screening for Black women.
National Maritime Museum – Global Greenwich: Reframing Black Histories
An intergenerational celebration of Black contributions to British society historically and today drawing on the museum's collections and themes to explore Black History and Black futures.
Woolwich Common Community Centre – Black Authors Library
The launch of a free library containing books written by black authors worldwide.
World Heart Beat Music Academy – Masks for Seeing
Musical compositions inspired by African artworks brought to three primary schools in Royal Greenwich.