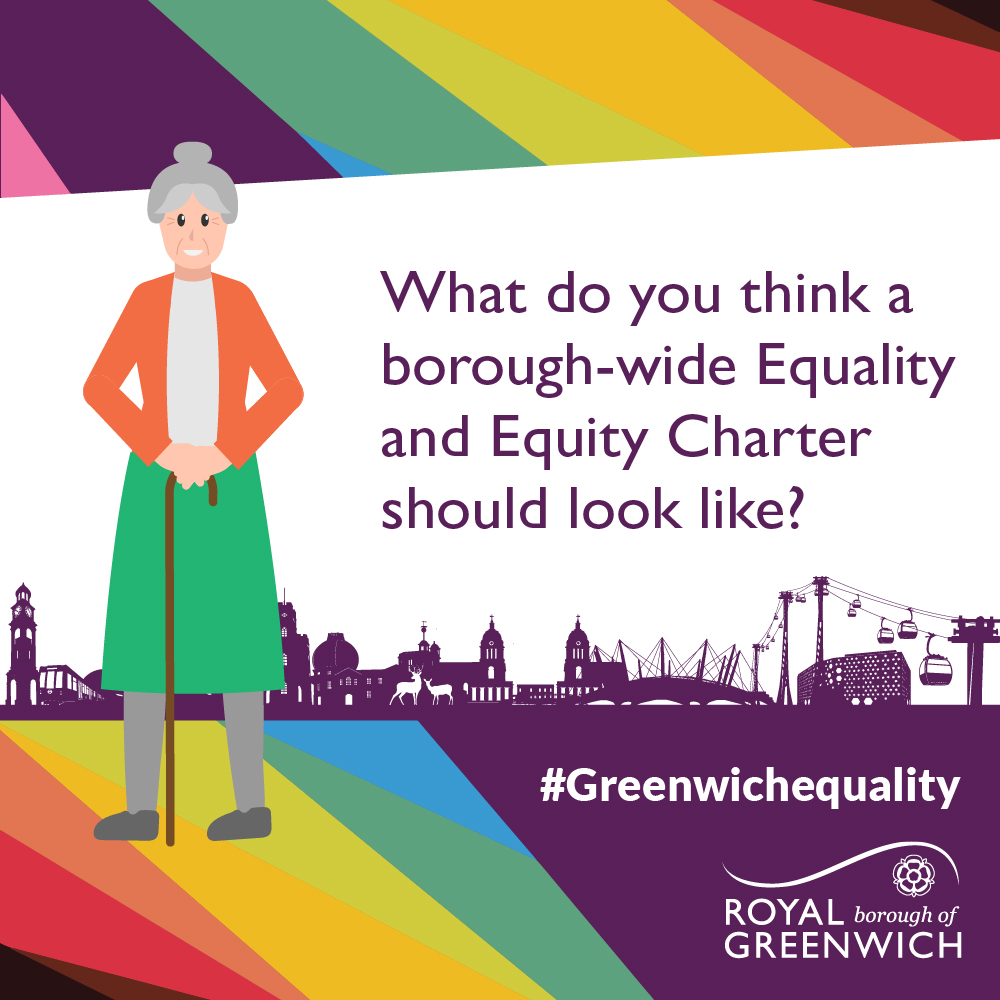 Published: Monday, 10th August 2020
​​​​​​​ More than 600 people have already had their say on what they think a Royal Greenwich Equality and Equity Charter should look like, but we want even more people to take part.
We have been consulting with private, public and voluntary sector organisations as well as individuals since June on a new borough-wide Equality and Equity Charter. The consultation period is due to end this Sunday (16 August).
We are aiming to create a fairer, safer, accessible and inclusive borough where everyone feels they belong. For this to happen, everybody needs to be part of the change.
The charter seeks  collective agreement to promote the values of equality, diversity and inclusion. Once a final charter is launched,we will be encouraging organisations and individuals to sign up to the charter and commit to its principles within their own company culture and everyday lives.
Cllr Adel Khaireh, Cabinet Member for Culture, Communities and Equalities, said: "Royal Greenwich is my home, I've grown up, gone to school and worked here over the last 30 years. We have a vibrant and dynamic borough, home to many diverse communities, and this is part of what makes it so special. However, this diversity also presents challenges and inequalities which I have witnessed first-hand in my community work and as a councillor. I believe that change is possible and Royal Greenwich can be a place where everyone can succeed and prosper, no matter what their background.
"That's why one of my first acts as Cabinet Member has been to launch a consultation on a new borough-wide Equality and Equity Charter which sets out pledges to promote the values of equality, diversity and inclusion. I'm asking for you all to be part of the change by adding your voice. There is still time to take part. Encourage your family, friends and colleagues to also have their say – we want to make sure we hear from all sections of our borough and all communities."
View the Royal Greenwich  Equality and Equity Charter and complete the consultation survey
An easy-read version of the consultation is available to download at the link above, and a printed version is available at libraries across the borough.
If you are not able to complete the consultation online, you can request a printed copy of the consultation (including the easy-read version) by getting in touch with our Contact Centre on 020 8854 8888 or emailing contact.centre@royalgreenwich.gov.uk