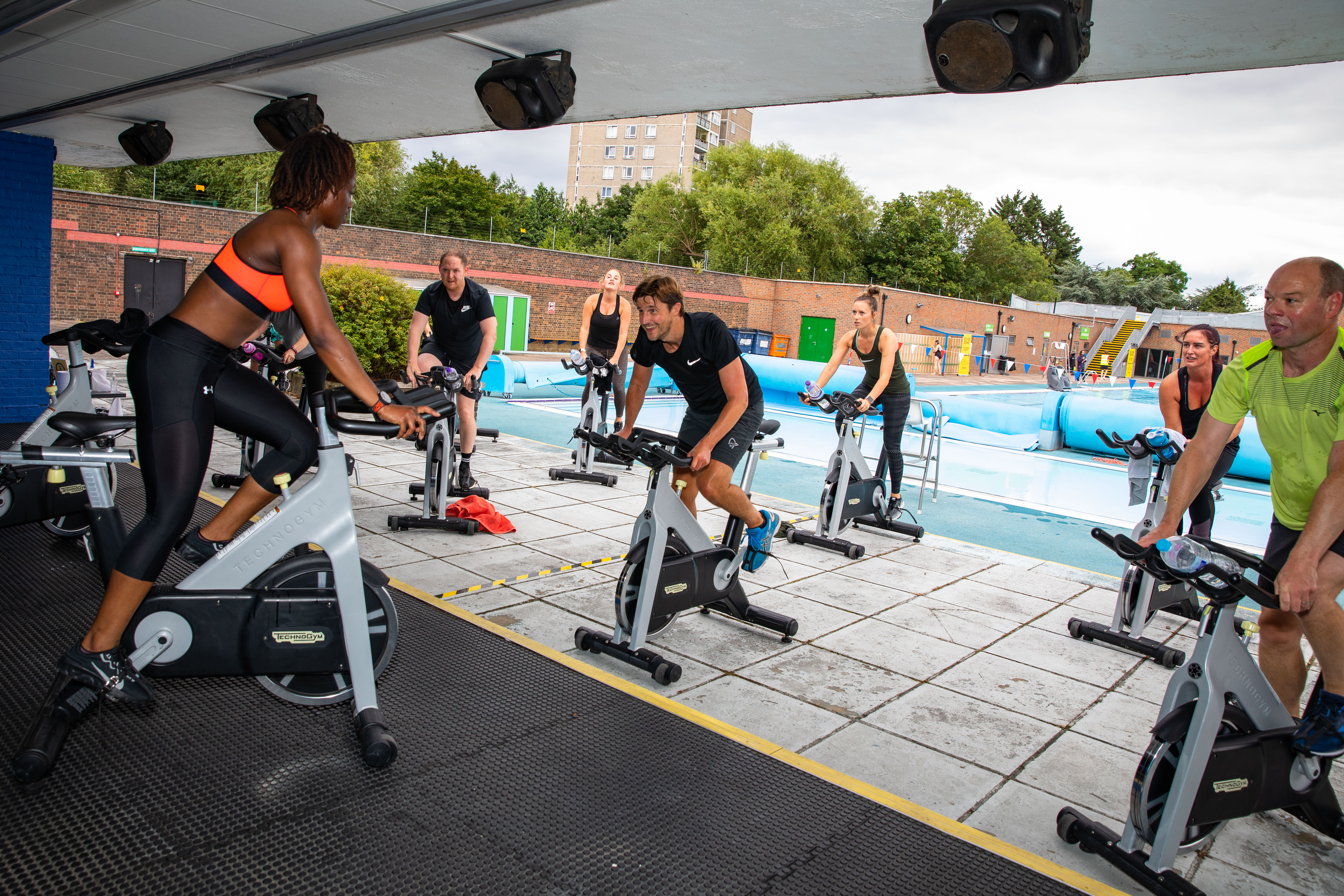 Published: Friday, 17th July 2020
The government has announced that from Saturday 25 July, leisure centres and gyms can re-open.
We know our leisure centres are valuable community assets and will play a central role in supporting the wellbeing of our residents after a prolonged period at home.
We have been working with Better, the social enterprise which operates leisure facilities on behalf of the Council, to plan the safe reopening of our leisure centres.
Outdoor gym classes
Charlton Lido is already offering outdoor fitness classes and workout space for people to get active. Enjoy cardio equipment, free weights and functional equipment with plenty of space. Fitness classes include group cycle and yoga by the pool side.
Speaking at an inaugural socially distanced outdoor group cycle class at Charlton Lido, Cllr Danny Thorpe, Leader of the Council said: "As someone who was a regular participant of group cycle classes pre Covid, it was so good to be back on the bike and get the endorphins flowing! Group exercises sessions are great motivation for getting active, so bringing these back for our residents by embracing the great outdoors is amazing news. It will also give Better leisure members a chance to get back on the exercise saddle before our indoor gyms start to reopen on 25 July."
A phased reopening
The phased reopening of leisure centres will see our gyms, studio space and pools re-open where social distancing is possible. Anyone wishing to use the facilities will need to pre-book a time slot via the Better app or website.
Equipment within gym areas will be reduced to ensure that social distancing between users is maintained, while some fitness classes will be relocated to sports halls or even, weather permitting, the open air. Staff will be adopting a new, enhanced cleaning regime, and customers will be asked to wipe down the equipment that they have used. Hand sanitiser will be available throughout leisure centre buildings.
The leisure centres that will be open from 25 July include:
Charlton Lido
Greenwich Centre
Eltham Centre
Waterfront Leisure Centre
Thamesmere Leisure Centre
Plumstead Centre
Coldharbour Leisure Centre
To save time and help to reduce pressure on change areas, swim customers are requested to arrive 'beach ready' with their costume on under their clothes and gym and studio customers are encouraged to shower and change at home.
Adventure play centres are open
All five adventure play centres in Royal Greenwich have now opened, operating at a reduced capacity. Only outdoor facilities are available at the moment, on a first-come-first-served basis.
The five adventure play centres in the borough are at:
Coldharbour
Glyndon
Meridian
Plumstead
Woolwich
Hand sanitiser will be available and staff will be at the playgrounds throughout to welcome back children and carry out an enhanced cleaning regime. For more information, including opening times, visit the Better website.
Free or low cost physical activities
Sport and physical activity play a vital role in supporting people's physical and mental health. In addition to reopening leisure centres, we have worked with Better to develop an exciting range of free and low-cost activities for residents over the summer holidays, giving everyone the opportunity to take part in physical activity.
Find out more information including leisure centres opening times