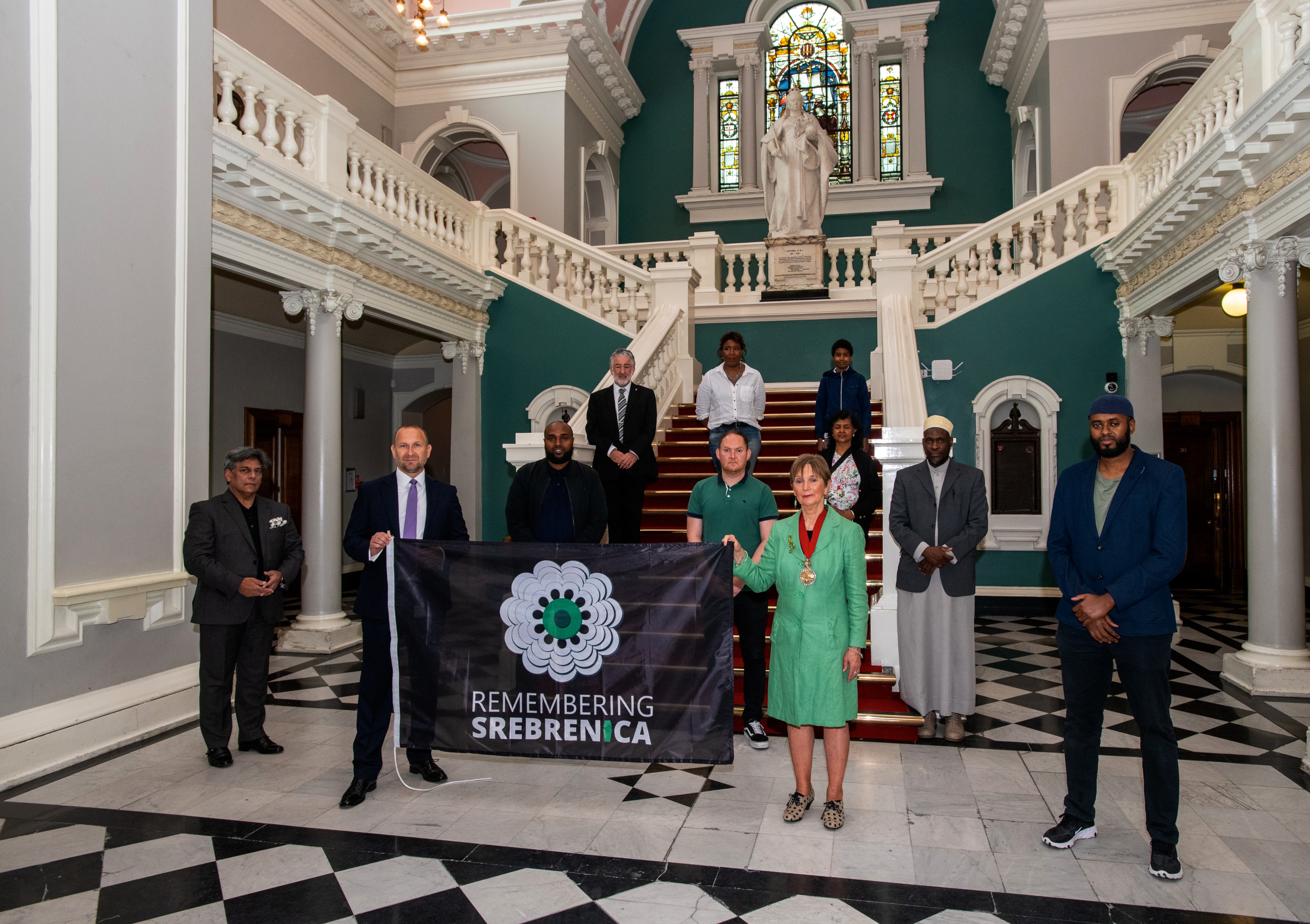 Published: Friday, 10th July 2020
This morning at 11am, the Mayor of Royal Greenwich Cllr Linda Bird raised a commemorative flag to remember the many victims of the horrific genocide that took place in Srebrenica, Bosnia-Herzegovina.
Twenty-five years ago, more than 8,000 Muslim men and boys were murdered in the worst atrocity on European soil since the Second World War.
The Mayor stood together with Leader of the Council Danny Thorpe, Cllr Adel Khaireh, Cabinet Member for Culture, Communities and Equalities and faith leaders from across the borough, to hold firm the utter rejection of terrorism, oppression and victimisation of others.
Cllr Linda Bird said: "This morning we joined together in the spirit of remembrance to demonstrate that we are one human race and should never seek to promote divisions in our communities, regardless of religion or faith.
"Words can be just as powerful as actions, inciting hatred and intolerance which, if left unchallenged, can have a devastating impact on people's lives. It is important that we remember and teach our children about the past so that future generations continue to stand up against hatred and prejudice in all its forms – whether targeting groups based on their religion, ethnicity, gender, sexuality or any other type of difference.
"Royal Greenwich has made a commitment to tackling prejudice in all forms. We are committed to eradicating racism and discrimination in our society and celebrating our diversity, as this is what makes our borough strong."
The mayor and representatives from Greenwich Islamic Centre, Greenwich Hindu Temple, St. Paul's Thamesmead and Catford and Bromley Synagogue also lit candles to commemorate the victims. For more information on the Srebrenica genocide visit www.srebrenica.org.uk.