Published: Monday, 29th June 2020
Even with social distancing measures starting to be relaxed by the government, public transport capacity is likely to be greatly reduced for the foreseeable future.
We need to create a transport network which continues to provide safe travel options for all our residents.
To do this we need to avoid a car-led recovery and many of our streets should change to support the significant uptake in cycling and walking that has occurred during lockdown. This will help tackle the current health emergency but longer term will bring benefits in terms of public health, improved air quality and reduced carbon emissions.
The Mayor of London's Streetspace plan aims to transform London's streets to accommodate a potential ten-fold increase in cycling and five-fold increase in walking as lockdown restrictions are gradually eased.
What we're up to so far
Our plans have developed very rapidly, with some already implemented, and our proposed programme comprises:
widening footpaths in Greenwich, Eltham and Woolwich town centres to create space for social distancing
safe, protected cycle routes to enable many more journeys by bike
school streets to create a safe environment around the school gate
filtering more residential streets to create low traffic cycle routes and neighbourhoods
How much of this programme we can deliver will depend on funding allocations from Transport for London (TfL) under the London Streetspace Programme.
What we're doing
We've formed a Streetspace Taskforce to identify, develop, bid for, and implement the measures that can be put in place quickly, focusing on areas of highest need and demand.
Town Centres
We prioritised the three major town centres and rapidly created more space for social distancing, in light of increasing footfall, as lockdown has been gradually eased. We are monitoring their operation, listening to feedback, and amending the measures as appropriate.
Greenwich Town Centre
Greenwich has narrow footways and we have widened these by using barriers to reduce the road width. We are looking to further modify this scheme in coordination with TfL's plans for Cycleway 4, which will connect Greenwich with Tower Bridge and Greenwich with Woolwich.
Woolwich Town Centre
Our plans for Woolwich are mainly focussed on tackling pinch points on Calderwood St, Thomas St, Wellington St, Woolwich New Road, Vincent Road and Wilmount St.
Eltham Town Centre
In Eltham town centre, our priority was to suspend footway parking to make wider footways for queuing at shops and walking along the street. We've closed off footway parking with barriers, except for disabled bays and necessary loading bays. Protection for cyclists has been added to the cycle lanes on the high street. If you need to drive to Eltham, there are several car parks in the town centre.
In addition to the major town centres, we have submitted two further funding bids to create more space for social distancing.
Plumstead High Street
This busy bus route and high street is narrow so it is more challenging to create wider footways, however, we have asked for funding to make changes where possible and reduce footway clutter.
Queen Elizabeth Hospital
The borough's major hospital is served by seven bus routes. This means there are often many people waiting at bus stops so we have bid for funding to create extra space for waiting passengers on Stadium Road.
Strategic Cycle Routes
The majority of Greenwich residents do not own a car, and public transport capacity will be limited for the foreseeable future, so people need to get around by bike more than ever. To enable this, based on TfL's Temporary Strategic Cycling Analysis, combined with our own analysis, existing plans and local knowledge, we have requested funding to deliver three strategic cycle routes.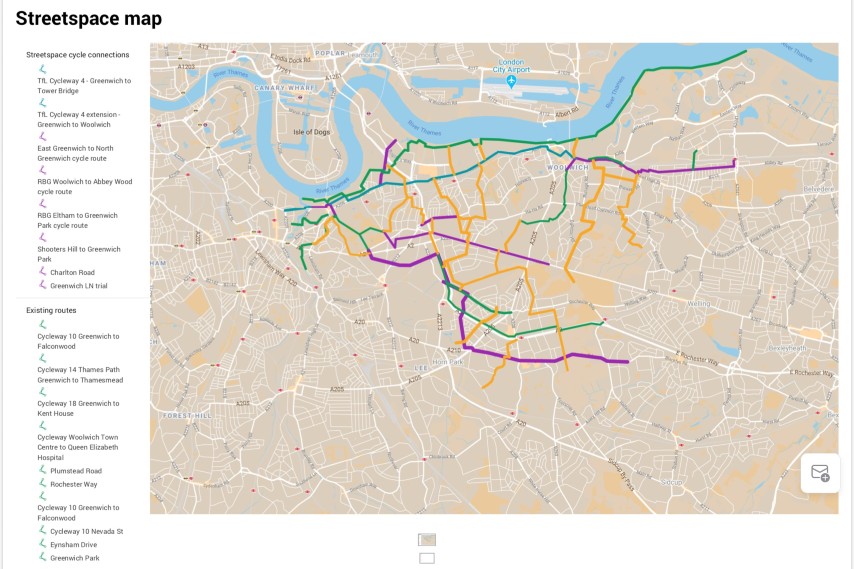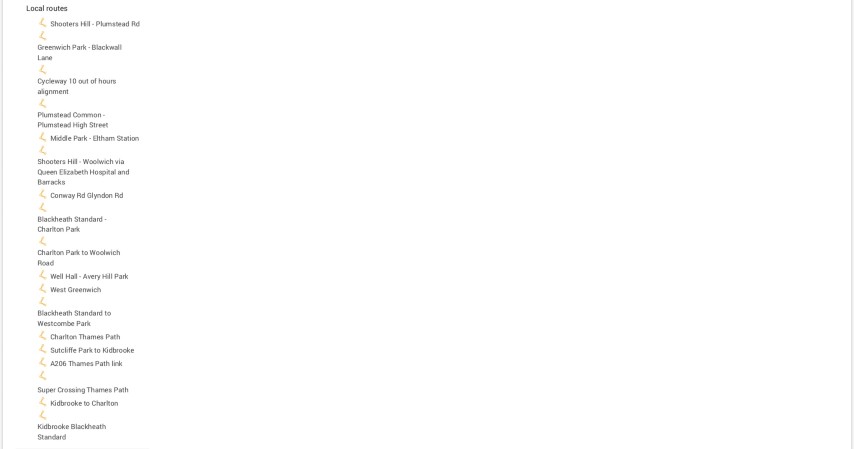 You can also download a copy of the Streetspace Strategic Cycle Routes map.
Eltham to Greenwich Park
Protection for cyclists would be added on the A210 corridor, then the route would pass through Kidbrooke, across Blackheath to Greenwich Park. This route would potentiallyserve five secondary schools, andprovide an alternative to the bus for pupils of those schools.
Woolwich to Abbey Wood
Our proposals between Woolwich and Abbey Wood would create a cycle route across our entire borough, by connecting to TfL's planned Cycleway 4 extension between Greenwich and Woolwich. Protection for cyclists would be added to the A206 by the Royal Arsenal to connect to the cycle tracks on Plumstead Road, and then quiet back streets parallel to Plumstead High Street would lead to Abbey Wood station.
North Greenwich to East Greenwich
This route would create a protected cycle lane on Blackwall Lane to connect the Peninsula and its community to East Greenwich and the rest of the borough. It would also include upgraded crossings on major roads in the Peninsula and a connection to the Thames Path.
Greenwich Park to Shooters Hill
This route would connect Greenwich Park and Shooters Hill via Old Dover Road and Shooters Hill Road. We want to deliver safe, protected cycling space along Shooters Hill Road and create a better environment along Old Dover Road for walking and cycling. There are four secondary schools and one sixth form college on or close to this proposed route.
Charlton Road
We want to upgrade the existing cycle route along Charlton Road between Blackheath Standard and Marlborough Lane to add light segregation to improve protection for cyclists.
Cycling connections towards central London
We are working closely with TfL who will be delivering the Cycleway 4 route between Tower Bridge and Greenwich and early temporary delivery of Cycleway 4 extension route from Greenwich to Woolwich. Three of our proposed strategic cycle routes should connect to Cycleway 4 to give residents good access to central London.
School Streets
Three new School Streets (Invicta, Charlton Manor and Wyborne) began on Monday 15 June. We are continuing to engage with schools to deliver temporary School Streets in the borough using Streetspace funding. We have also asked for funding for a school travel support package.
Modal Filters
Modal filters allow walking and cycling through a certain street or area, but restrict access to through traffic, this normally involves the use of planters or bollards. If you need to drive, your neighbourhood is still accessible by car but it makes it harder for through-traffic to drive through a residential area.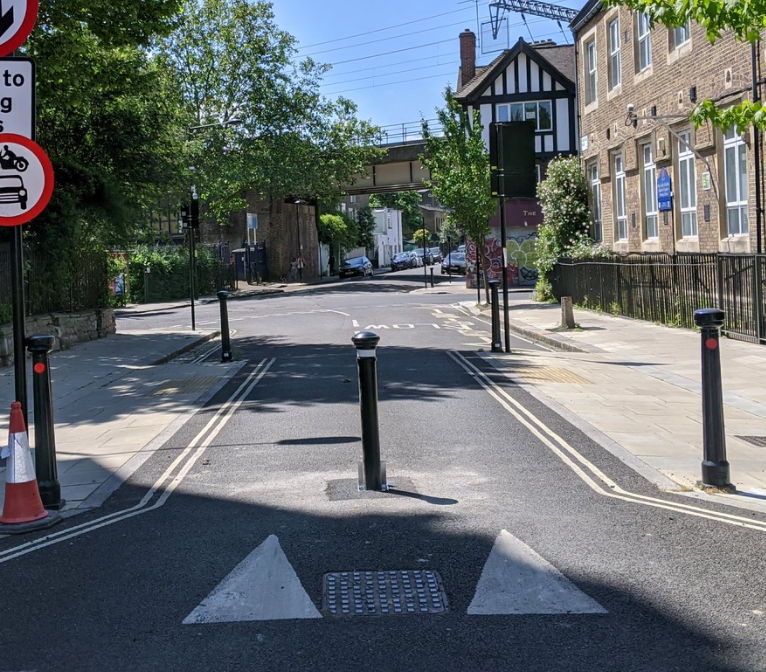 Modal filters can be combined to create Low Traffic Neighbourhoods with the sort of quiet streets that led to a huge increase in walking and cycling during lockdown. We are reviewing how we can apply them in the borough to create quiet routes which enable active travel and help improve local air quality - which is especially important because COVID-19 is a respiratory disease. We want these quiet routes to link up to our proposed strategic cycle routes where possible, to form a borough-wide network of safe walking and cycling routes. Subject to funding, we will try to ensure a good spread of traffic filtering across the borough so no one is too far from our proposed walking and cycling network.These quiet routes would fill in gaps between strategic cycle routes.
Funding
We have already submitted funding bids to TfL for all of the above schemes and are expecting to hear what we have been awarded by mid-July.
It is unlikely that TfL will be able to provide all of the funding we have requested. Once our funding has been confirmed we will be able to provide more clarity on exactly which measures we can deliver.
We have also applied for an initial fixed allocation of £100k from the Department for Transport's Emergency Active Travel Fund, to be used for modal filters.
Future engagement
You have been making some great suggestions on social media for things we could do and we have built these into our proposals where possible. Once we know how much funding we will receive, we will develop plans which we will share publicly, with a focus on implementing schemes as quickly as possible. All London Streetspace schemes need to be complete by end of September but we want to deliver the benefits as soon as possible.