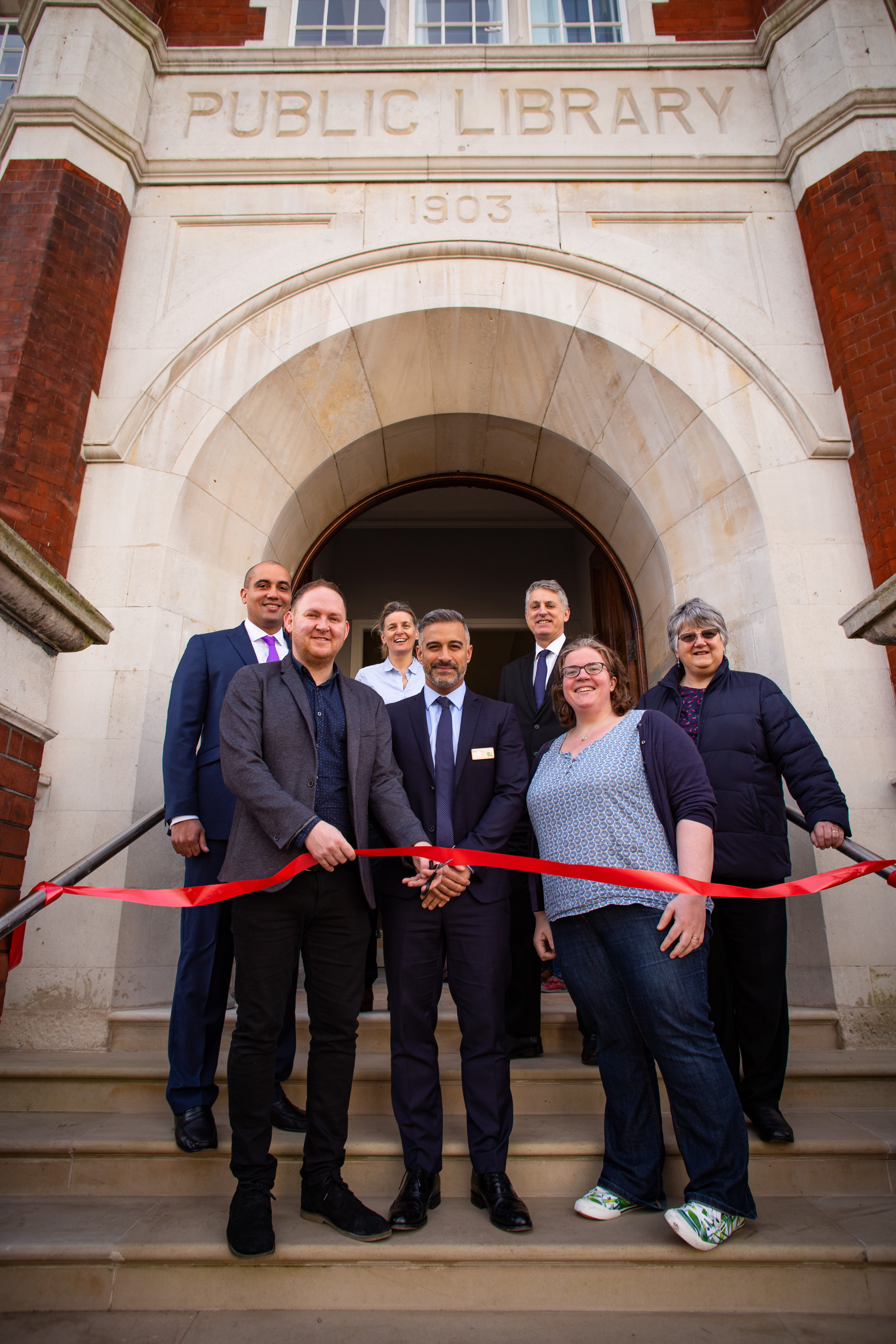 Published: Tuesday, 11th February 2020
Cllr Danny Thorpe, Leader of the Royal Borough of Greenwich, this morning declared the Plumstead Centre library now open.
Pupils from Bannockburn Primary School in Plumstead joined the Leader of the Council and Cllr Miranda Williams, Cabinet Member for Culture, Leisure and the Third Sector, for a first look at the all-new centre. After being read a story in the children's library, the school children took part in a P.E. lesson to test out the new dance studio and sports hall. Some of the pupils had previously written poems and stories about Plumstead which have been etched into one of the walls at the Plumstead Centre for residents to enjoy.
The centre represents a fantastic a multi-million-pound investment by the Royal Borough of Greenwich in a state-of-the-art community hub in the heart of Plumstead.
Over the last 15 months, the Royal Borough of Greenwich has refurbished the Grade II listed building on Plumstead High Street, which housed the original Plumstead library, and has created the new library in a manner befitting the historic status of the building as well as providing modern facilities and expanding the centre to include a leisure centre, community rooms and a café.
Cllr Danny Thorpe said: "I am incredibly proud of this centre and the new year-round opportunities it will offer residents of Plumstead and beyond. Residents and community groups will have access to a wide range of enhanced leisure facilities, including a dance studio, a book wall and a multi-use space suitable for a range of activities. Seeing the children's stories about Plumstead etched into its walls is a welcomed touch that reiterates that this a centre for the whole community and will no doubt become the heart of community activity in Plumstead.
"There will be a grand opening of the Plumstead Centre on Saturday 29 February which will include demonstrations, a tour of the facility and opportunities to try out free taster activities. I hope you will come and join in to see what this new facility can offer you, your family and your community groups."
To accommodate the necessary safety checks on the leisure equipment and to ensure everything is working correctly, the rest of the Plumstead Centre including the leisure centre will open to the public from Monday 17 February.
Activities at the grand opening of the Plumstead Centre (10am-5pm) will include free taster sessions in performing arts, mini tennis, badminton, children's football, and soft play. Free gym trials will be available throughout the day, along with fitness class taster sessions. A full timetable will be available online nearer the time. Find out more about the grand opening.
Please note, the temporary library on Abery Street car park closed on Friday 7 February.
Visit the Plumstead Centre at 232 Plumstead High Street, Plumstead, London, SE18 1JL.
Find out more about the Plumstead Centre