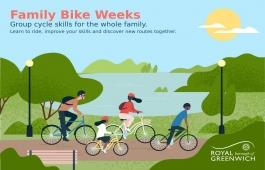 Published: Tuesday, 11th February 2020
Looking for an activity for the whole family this half-term? Come to one of our Family Bike Weeks!
If you live, work or study in Royal Greenwich, why not come to one of our Family Bike Weeks, where the whole family can learn to ride!
For adults and children over 7, off-road and on-road skills training is available with Cycle Confident instructors. For children under 7 and those learning to ride, there is a balance bike creche in a safe off-road space.
Bikes, helmets and balance bikes are available on request, subject to availability. If you've got your own roadworthy bike, please bring it along. If your child has a bike with stabilisers, bring it along and the instructors will take the stabilisers off and teach your child to ride independently.
Where and when?
17 to 20 February 10:00am to 12:00pm, Quaggy Children's Centre, SE13 7QZ
12:30pm to 2:30pm, Hornfair Park behind Charlton Lido, SE18 4LX
How much? FREE
Booking: Book online at Cycle Confident
Contact Cycle Confident: contact@cycleconfident.com, 020 3031 6730
Contact Royal Borough of Greenwich cycling team: cycle-training@royalgreenwich.gov.uk, 020 8921 2102