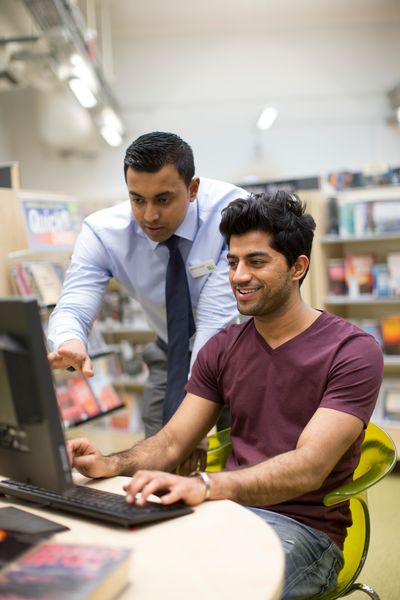 Published: Wednesday, 29th January 2020
The Plumstead Centre will open to library customers for the first time on Monday 10 February.
Over the last 15 months, the Royal Borough of Greenwich has refurbished the Grade II listed building, which housed the original Plumstead library, and has created the new library in a manner befitting the historic status of the building as well as providing modern facilities and expanding the centre to include a leisure centre, community rooms and a café.
Since August 2018, Plumstead Library has been temporarily located on part of the Abery Street car park, ensuring that local children and residents had access to all their library services during while the renovation took place.
The temporary library will close at the end of the working day Friday 7 February.
Its store of books and computer terminals will be boxed and transported across to the Plumstead Centre, which will open to library customers on Monday 10 February.
Cllr Miranda Williams, Cabinet Member for Culture, Leisure and the Third Sector, said: "We are very excited to move the library back to the original building, and with minimal break in operation. The new Plumstead Centre looks amazing and there are a wide range of enhanced facilities for people of all ages. I'm confident it's going to be a hit with residents."
Cllr Sizwe James, Cabinet Member for Regeneration and Growth, said: "The Plumstead Centre represents a fantastic a multi-million-pound investment by the Royal Borough of Greenwich in a state-of-the-art community hub. I can't wait for residents to come and see the new facility and check out what's on offer in Plumstead."
Any library items due back on these moving days will be carried over until Monday, so there will be no fines for not returning items due back on Saturday 8 and Sunday 9 February.
The leisure centre and other areas of the Plumstead Centre will be open to the public from Monday 17 February. There will be a grand opening of the Plumstead Centre on Saturday 29 February which will include demonstrations, a tour of the facility, opportunities to try out free taster activities.
Find out more about the Plumstead Centre