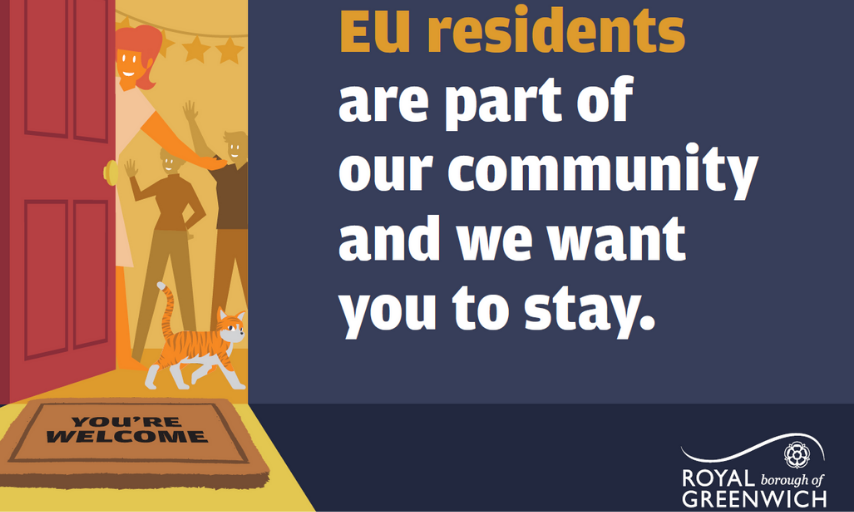 Published: Tuesday, 28th January 2020
You are welcome! With Brexit confirmed for 31 January 2020, we want to ensure that our community of around 32,000 residents from the EU know they are welcome to stay, live and work within the borough.
We will be holding events to help you start your EU settled status application.
The first set of events are:
Saturday 1 February, Greenwich Centre, 10am to 2pm
Saturday 8 February, Eltham Centre, 10am to 2pm
Saturday 15 February, Woolwich Centre, 10am to 2pm.
More events will be held soon.
Postcards have been sent out to EU residents across the borough to raise awareness of the Council's support.
Cllr Danny Thorpe, Leader of the Royal Borough of Greenwich, said:
"There is a lot of uncertainty around Brexit and we are not sure what will happen. I want all our EU residents to know that we are here for them and we will support them as much as we can. We value all that they bring and contribute to the borough; their hard work and dedication, cultures, diversity, and love of our community. We celebrate all of the vibrant and rich communities that make up our borough and we want them to stay."
The EU Settlement Scheme
At present, as a non-UK EU citizen, you can live, work and access services, healthcare and benefits. As we approach Brexit, you will have to apply for new residence status, under the EU Settlement Scheme, which confirms that you live in the UK and have the right to do so. The scheme will allow you to apply to continue living in the UK after Wednesday 30 June 2021. There will be no change to your current rights under EU law until the end of the planned implementation period on Thursday 31 December 2020.
For more information on our EU settled status events, the EU Settlement Scheme and to check if you are eligible to apply visit: royalgreenwich.gov.uk/brexit