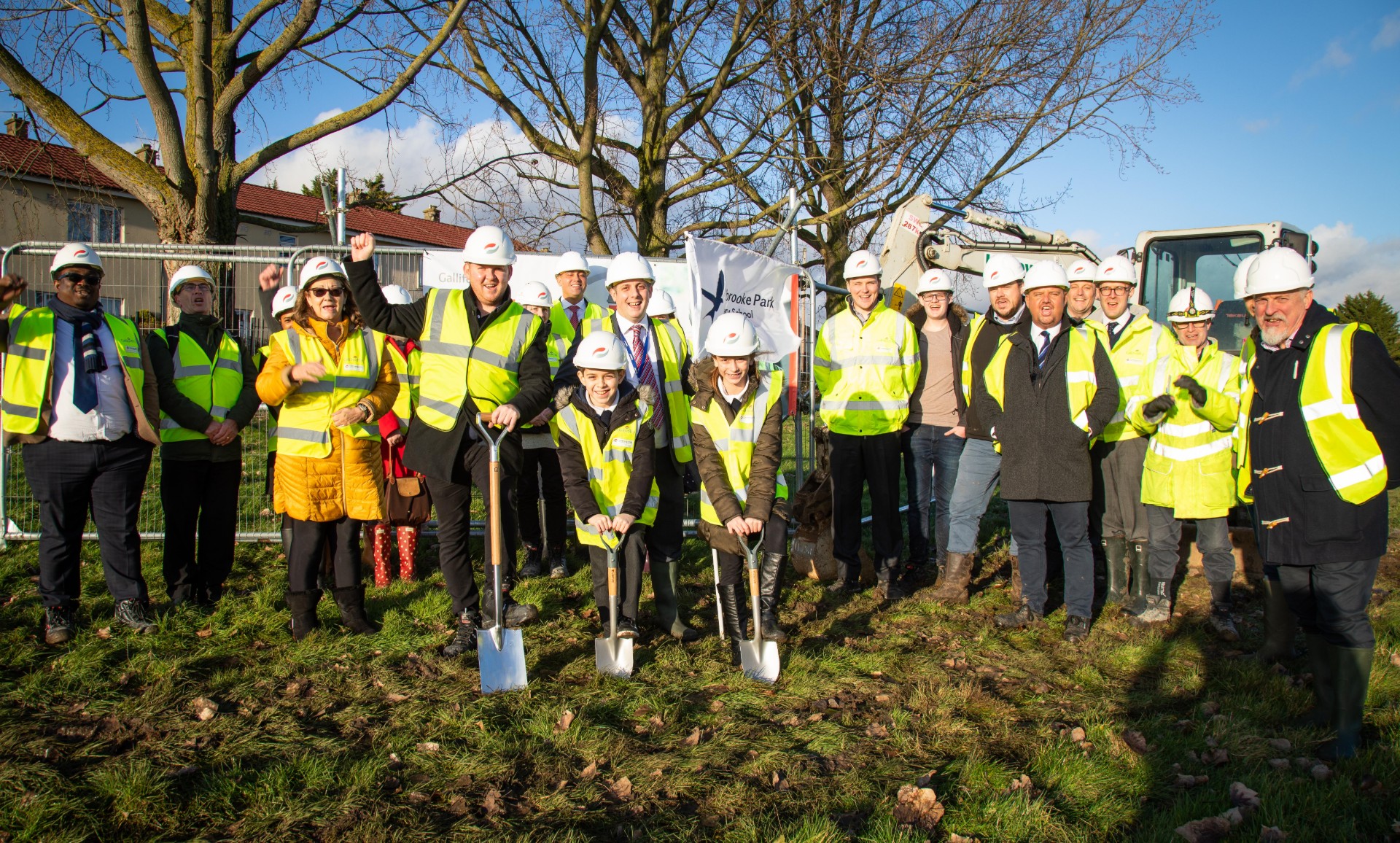 Published: Thursday, 16th January 2020
Construction of a new state-of-the-art school building has commenced at Kidbrooke Park primary school, which will replace the current facilities in September 2021.
On 15 January, the Leader of the Royal Borough of Greenwich, Danny Thorpe, was joined by the head boy Mohamed, and head girl Bobbie, from Kidbrooke Park Primary school, as they plunged special spades into the ground to mark the start of construction work at a celebratory ground-breaking event.
Cllr Danny Thorpe, Leader of the Royal Borough of Greenwich, said: "Making sure children and young people in our borough have the best education and recreation facilities available to them is key and we're all delighted to see this improved school building and grounds becoming a reality for residents in Kidbrooke."
Once complete, the new school site will cater for 420 primary and 26 nursery pupils, with a Behaviour Support Unit that can host up to 18 children. The landscaped surroundings will incorporate a multi-use games area (MUGA) and changing block, to ensure pupils are provided with the tools and inspiration to reach their full potential.
Holly Broughton, CEO of Kidbrooke Park Primary and Boxgrove, said: "Everyone at Kidbrooke Park is so pleased that our new school is underway. We look forward to showing our families and pupils more, as the building progresses and can't wait to move in. What a fabulous start to 2020!"
Royal Greenwich agreed to invest £15 million to build a new building at Kellaway Road after it became clear that the current school building is no longer fit for purpose and upgrading it was not a cost-effective option.
Attendees at the ceremony included:
Cllr Jackie Smith, Cabinet Member for Children's Services and Community Safety
Cllr Sizwe James, Cabinet Member for Regeneration and Growth
Cllr Christine Grice, Cabinet Member for Finance and Resources and Ward Member for Kidbrooke and Hornfair
Holly Broughton, CEO of Kidbrooke Parke Primary and Boxgrove
Roger Trevena, Headteacher of Kidbrooke Park Primary
Key figures from the Royal Borough of Greenwich, Kidbrooke Park primary school, Galliford Try and Arcadis.
As part of the event, Royal Greenwich's Councillors were put through their paces by the head boy and head girl of the school, who interviewed them to find out more about what it is like to work at the top of the Council, how involved pupils will be in the construction of the school and what will be different in the new school.
Over the next 18 months, Royal Greenwich's approved contractor Galliford Try will be working closely with our consultant teams, the school and neighbouring residents to ensure that the new school is delivered to the highest standard, with minimal disruption.