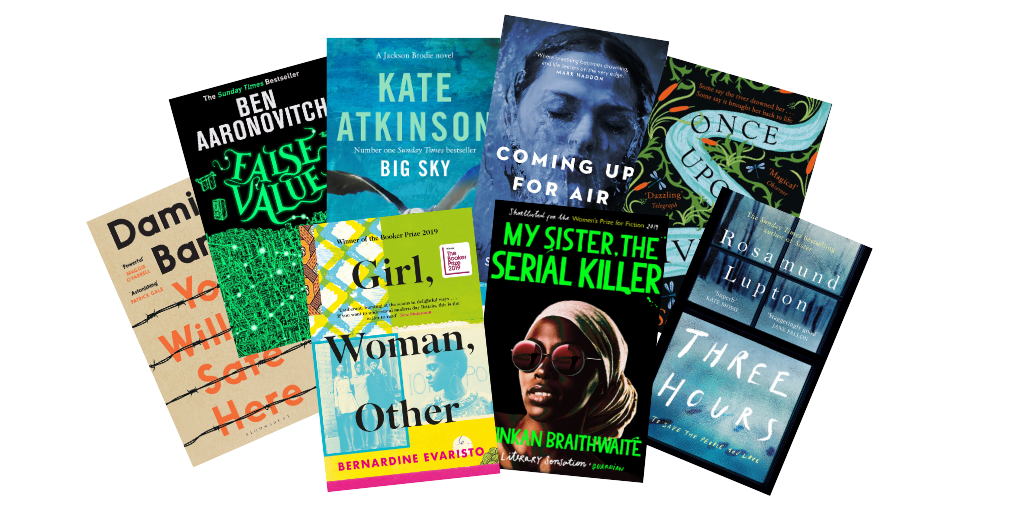 Published: Monday, 6th January 2020
We have 12 libraries across the borough with 28 book clubs and more than 270,000 books, so you'll never be short of a new title to read.
But to get you started, here's 10 top picks from our library staff bookworms that should definitely be on your list.
Girl, Woman, Other by Bernardine Evaristo
The join winner of the 2019 Man Booker prize is a sensitive and beautiful novel that explores the lives of 12 black women in modern society. The book explores identity, heritage, feminism and race through a compelling multi-layered timeframe. The writing is raw and emotive yet delivers a readable and remarkable book that will stay with you long after you have finished it.
My Sister the Serial Killer by Oyinkan Braithwaite
This is the book that had everyone talking last year. Hilarious black humour that is also sensitive, sardonic, wise and astute. The book explores relationships within the family unit focusing on the story of female siblings and asking the reader to consider whether blood really is thicker than water. A satisfying read that manages to be an addictive page-turner.
Once Upon a River by Diane Setterfield
A delightful and spellbinding gothic tale that begins with a miracle on a winter's solstice evening. This event at the Swan inn changes the lives of the inhabitant of the small Oxfordshire village. Setterfield's pure descriptive writing emanates the traditions of great storytelling, making this the perfect book for cold winter evenings.
Big Sky by Kate Atkinson
The latest instalment of the Jackson Brodie series. Jackson is a private investigator with a difference – his sensitive and caring nature often leads him into serious trouble. Through an interesting cast of characters, each with a secret past linked to a seedy part of history they thought they'd left behind, Atkinson skilfully unfolds a plot that will keep you guessing until the end in this witty and poignant novel.
False Value by Ben Aaronovitch
An urban fantasy novel set in an alternative version of London where magic and mystery are common place. The book continues the adventure of psychic detective and apprentice wizard Peter Grant. Peter's life is about to change as he becomes a father and takes a new job where there is, of course, a mystery to be solved. A funny, enjoyable light read that will keep you entertained.
Bonus: Ben Aaronovitch will be delivering a talk at Woolwich Library on 12 March, 7pm-8.30pm.
The Mirror and The Light by Hilary Mantel
The hotly anticipated third part of Mantel's historical trilogy will be released in March. Mantel skilfully brings the past to life and paints a convincing and compelling picture of life during harsh and dangerous times. This is the final chapter of the story and which revisits Thomas Cromwell.
Three Hours by Rosamund Lupton
Another exhilarating, fast-paced thriller from a Sunday Times bestselling author will be released later this month. Set at a school in rural Somerset, this is no ordinary day – there is a blizzard raging outside and a dramatic siege situation that changes everything. The atmosphere and tension will keep you on the edge of the seat in this tale told through the eyes of multiple main characters.
The Year Without Summer by Guinevere Glasfurd
A powerful and beautifully written novel based on a true story, released in March. In 1815, on an Indonesian Island a volcano erupts that covers the sun leading to the loss of lives and worldwide climate change that culminates in abnormal weather conditions. The story is related by six different characters including a traumatised ship doctor and a poor farm labourer, each living their lives in challenging times.
You Will Be Safe Here by Damian Barr
Set in South Africa across multiple time frames, this novel tells the story of a woman and her young son buried in a concentration camp during the Boer war. We then experience South Africa's turbulent history during apartheid and finally arrive in 2010. Beautifully written, powerful, poignant and moving, you won't see the surprising end coming which reveals the link between the characters.
Coming Up for Air by Sarah Leipcigar
Inspired by a true story, this book begins in Paris 1899 where a random act leads to a chain of events taking the reader on a journey to Norway in the 1950's and then on to current day Canada. Each strand of the novel is perfectly plotted as Leipcigar has the capacity to really enthral her readers with beautifully evocative and lyrical writing. Due to be released March.
If there isn't anything here which takes your fancy, or you want to encourage your children to read, pop into your local library and speak to our staff who can help you find something gripping. There is also an extensive range of books available from our online service. Find out more about our home library service or where your local library is at royalgreenwich.gov.uk/libraries