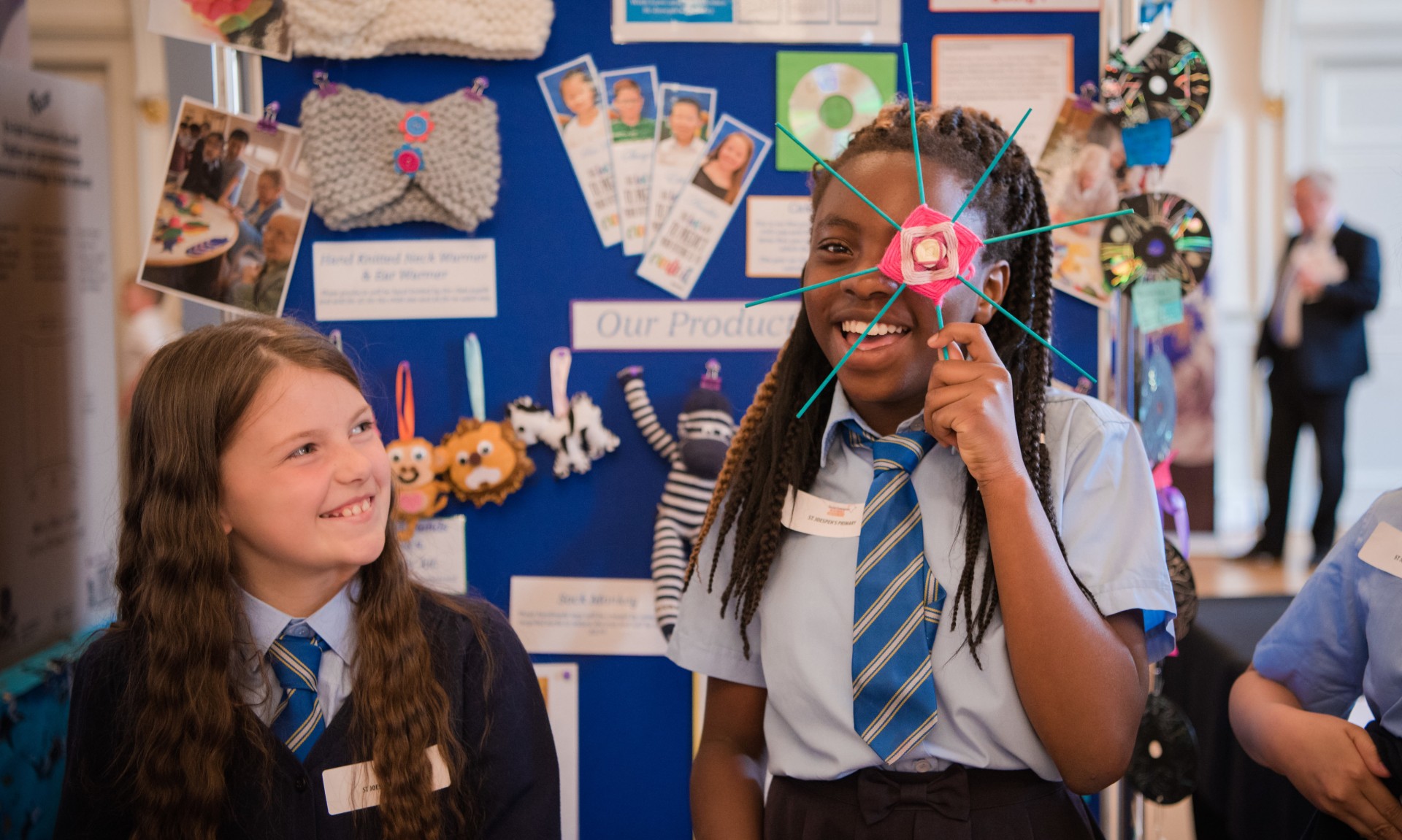 Published: Friday, 6th December 2019
Ten groups of young entrepreneurs from local primary and secondary schools have been put through their paces in the 'Dragon's Den'.
The pupils were invited to pitch their business ideas to the expert panel of 'Dragons' to win some funding towards their socially conscious projects. The special event, hosted at Woolwich Polytechnic school, was organised by the Social Enterprise Academy's School Enterprise Schools' programme.
Royal Greenwich is one of only two London boroughs awarded the opportunity to take part in the Social Enterprise Schools programme, following a rigorous application process. Teams from ten local schools will be working together over the next few months to deliver innovative, sustainable, pupil-led projects.
Cllr Denise Hyland, Cabinet Member for Economy Skills and Apprenticeships, said: "The Royal Borough of Greenwich is thrilled to be one of only two local authorities in London leading the way by making the Social Enterprise Academy's incredible educational scheme available to our pupils. This is a big opportunity for our young people to start their own businesses with a social mission to tackle issues that they care about and learn entrepreneurship skills too.
"By match funding the programme we are investing in the next generation - ensuring Royal Greenwich remains a great place to grow up and that future economic prosperity is delivered for all."
The programme is designed to support the development of enterprise, employability and entrepreneurial skills in young people and has been successfully running in Scotland since 2007. This is the first time it is being extended to English schools.
Neil McLean, Chief Executive at the Social Enterprise Academy, said: "All of the pupils who pitched their ideas today are assets to their communities here in Greenwich. They are doing amazing work running social enterprises to tackle the social and environmental issues they care about.
"We're delighted to be supporting these pupils through the Social Enterprise Schools programme and want to make sure other schools have the same opportunity to learn entrepreneurship and develop key employability skills by doing good in their community."
Some excellent ideas were pitched to the panel, including selling recycled crafts to fund work in retirement homes, selling snacks to fund an escape room experience for people suffering from stress and anxiety, selling cakes and books to fund manufacture of blankets for those in need, café and used clothes sales to support the homeless, and a fruit stall to raise money for endangered animals.
The two winning teams came from Thorntree Primary and Plumstead Manor – the former will be selling aromatherapy 'Bags of Happiness' to raise money for Climate Alliance and the latter are facilitating a blazer recycling scheme to remove stigma around second-hand uniforms.
The winning bids received £150 each, with all the runner-up schools receiving £50.
Schools who presented at the 'Social Enterprise Schools: Dragons' Den competition' were:
Boxgrove Primary School
Cherry Orchard Primary School
Eltham Hill School
Mary Magdalene School
Mulgrave Primary School
Plumstead Manor School
Shooters Hill Sixth Form College
Thorntree Primary School
Woolwich Polytechnic School for Boys
Wyborne Primary School
The panel of 'dragons' included:
Rupert O'Halloran - Vice President of Solution Engineering at SAP
Hekla Goodman - Early Stage Investment Manager at Big Issue Invest
Neil McLean - Chief Executive at the Social Enterprise Academy
Claire Pritchard – CEO at Greenwich Co-operative Development Agency
About Social Enterprise Schools
The programme was created as a partnership between the Social Enterprise Academy and the Scottish Government in 2007 to support the development of enterprise, employability and entrepreneurial skills in young people and to promote awareness of social enterprise as an exciting way of doing business in a changing world.
The aim of the programme is to:
Develop an understanding of the social enterprise business model and how it creates a positive impact.
Provide hands-on experience of setting up and running a social enterprise.
Support Curriculum for Excellence by providing practical opportunities that encourage participants to become successful learners, confident individuals, responsible citizens and effective contributors.
Develop teachers in their own understanding of social enterprise and how they can support their pupil.