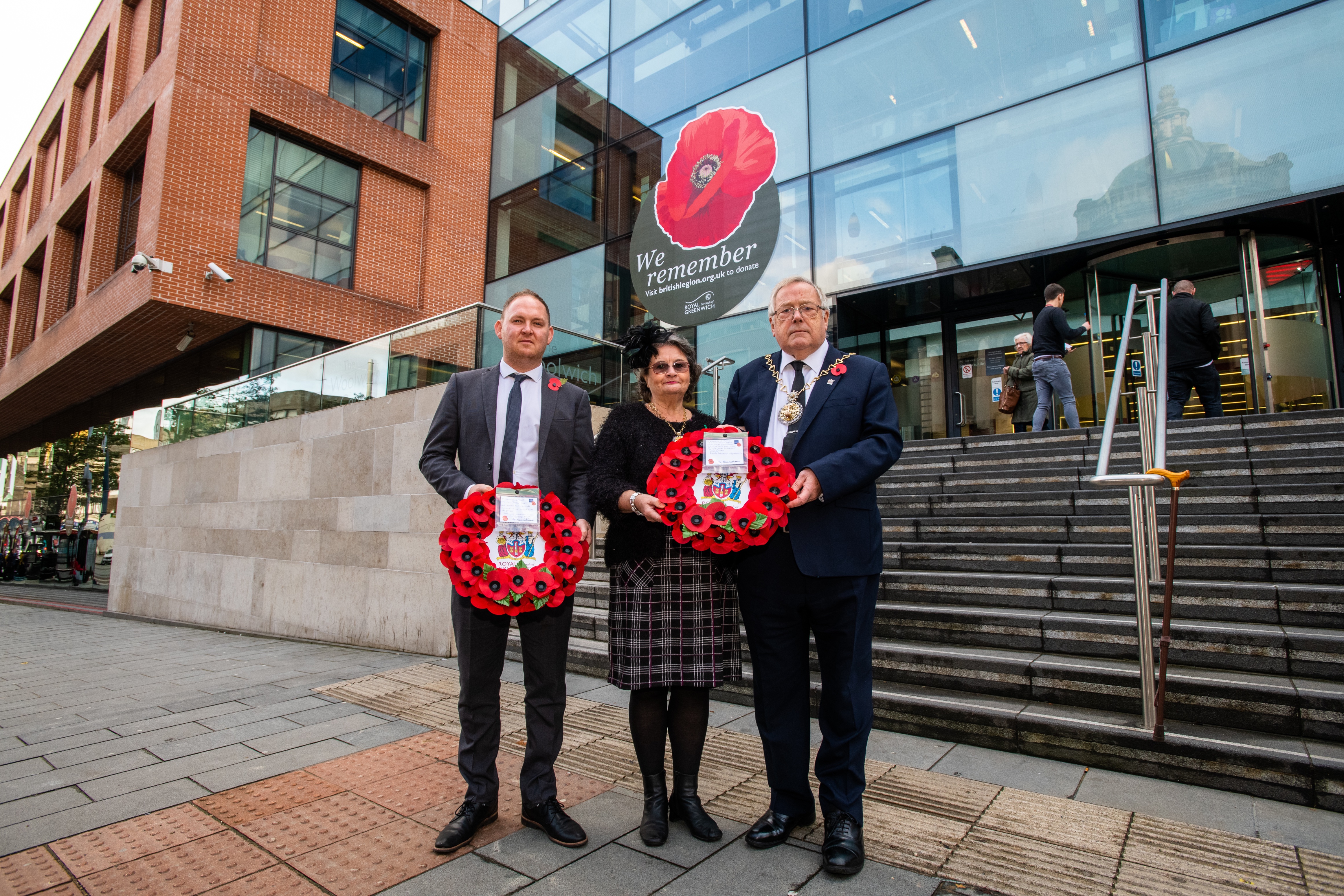 Published: Monday, 11th November 2019
Remembrance events took place across the borough last weekend in commemoration of Armistice Day.
Royal Greenwich has a strong historic tie with the military life of the nation and local people have played a crucial role in the struggle for peace. As well as the long-standing military presence in Woolwich since 1714, the Royal Arsenal employed up to 100,000 people in munitions during the First World War. This year also marks the 75th anniversary of the Normandy Landings, on 6 June 1944, also known as D-Day.
A two minutes silence was observed at 11.00am today in Woolwich Town Hall in memory of those who fought and died or were injured in the causes of peace and freedom. There were also a number of wreath-laying ceremonies, organised by the Royal British Legion, which took place on Saturday 9 and Sunday 10 November in Plumstead, Thamesmead, Charlton, Blackheath, Eltham, Abbey Wood and Woolwich.
The Leader of the Council, Cllr Danny Thorpe said: "The Royal Borough of Greenwich's relationship with the armed forces stretches back for centuries and the contribution the military has made to the community we are today cannot be ignored. We are glad to carry this bond into the future by supporting armed forces personnel and their families to take advantage of the opportunities our borough offers to all its residents.
"We all share a moral duty to care for those who have risked their physical and mental wellbeing to ensure our continued safety and security. I am therefore proud that we are renewing our Armed Forces Covenant, which commits us to taking action to mitigate the unique challenges faced by military personnel in key areas of health, housing, education and employment. As an employer we also encourage them to join our team as members of staff. We hope the positive impact of these measures will go some way to express the borough's gratitude for the sacrifices made by those in service.
"Whether our residents are serving in the armed forces, veterans, reservists or family members, we recognise the part they play in our community, the vital service they provide to our nation and the role we play in making Royal Greenwich a home for them. Each year we hold our community festival on Armed Forces Day and we hope this serves as symbol of how welcome our forces personnel and their families are in Royal Greenwich."
Today's service was attended by various Royal Greenwich representatives including the Mayor of the Royal borough of Greenwich, Cllr Mick Hayes, Leader of the Royal borough of Greenwich, Cllr Danny Thorpe, Ward Councillors and local faith leaders.