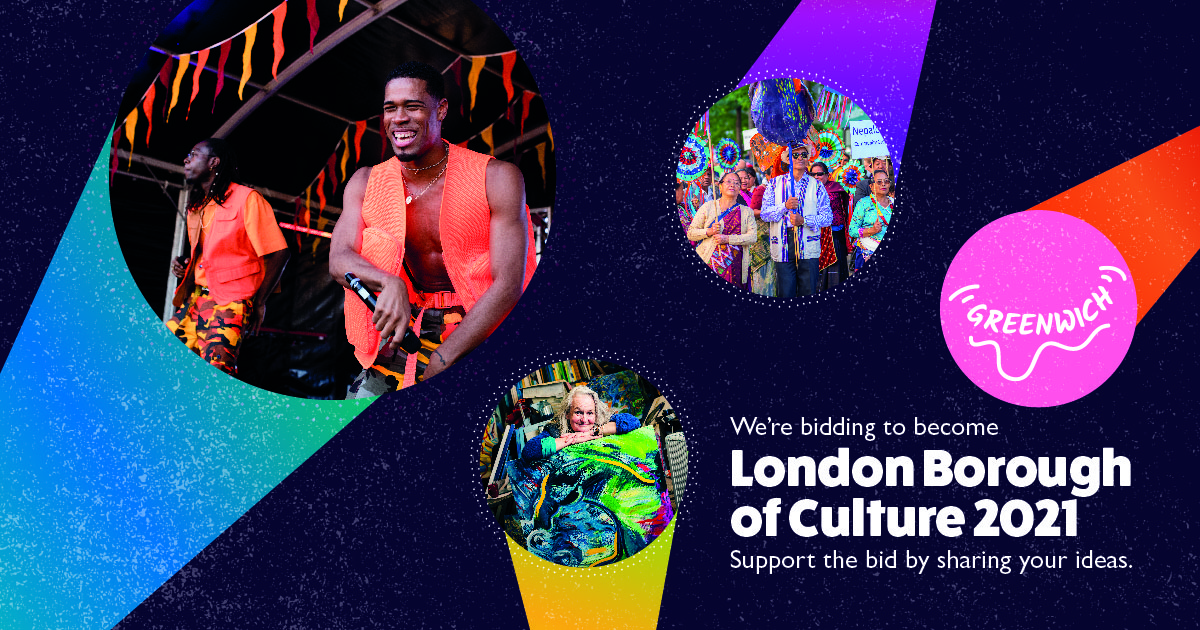 Published: Friday, 18th October 2019
The Royal Borough of Greenwich is bidding to become the London Borough of Culture 2021! It's a fantastic opportunity to celebrate our borough and everyone who lives and works in it.
The Mayor of London's scheme will provide the successful borough with funding to contribute towards a year-long celebration and we need your help to win the crown.
What would you like to see and do across the year of culture?
We are proposing a year-long programme of 12 themed months. Over 50 ideas were submitted from arts and community organisations across the borough, and a shortlist of 31 ideas is now out to public vote.
We need your help to choose the final 12 ideas – one for each month of a year of culture – which will be submitted in the bid.
The deadline to have your say is Friday 25 October.
Cllr Danny Thorpe, Leader of the Royal Borough of Greenwich said:
"Culture has always been high on our agenda. Two years ago we launched the Greenwich Cultural Forum, which has helped shape future collaborations and cultural plans. For this bid we're working with residents and community groups in every corner of the borough to reflect the rich diversity of this great cultural destination. It's underpinned by collaboration with residents, other public bodies and businesses to stimulate change, promote community cohesion and foster moments of joy in arts and culture. We are also developing routes into employment for underrepresented groups in our communities."
Cllr Miranda Williams, Cabinet Member for Culture, Leisure and Third Sector said:
"Once the beating industrial heart of pre-war London, the Woolwich Arsenal and the surrounding areas of Charlton and Thamesmead have changed beyond all recognition over the last 60 years. The challenges of deindustrialisation have also brought exciting opportunities with new communities moving into the borough making Royal Greenwich the culturally rich, vibrant, multi-cultural place it is today. Another reason why it's the ideal candidate for London Borough of Culture."
The results of the public vote will to help the Council decide which ideas will be included in the bid. If successful, these ideas will be the starting point for a year of culture.
As well as the title award of London Borough of Culture, there are Cultural Impact Awards up for grabs. These will be in the region of £200,000 for individual projects that take place between 2021 and 2023. If Royal Greenwich receives one of these awards, the results of the public engagement will help us decide which single idea to focus on.
The bid will be submitted to the Mayor of London on Monday 28 October and winning boroughs will be announced in January 2020.