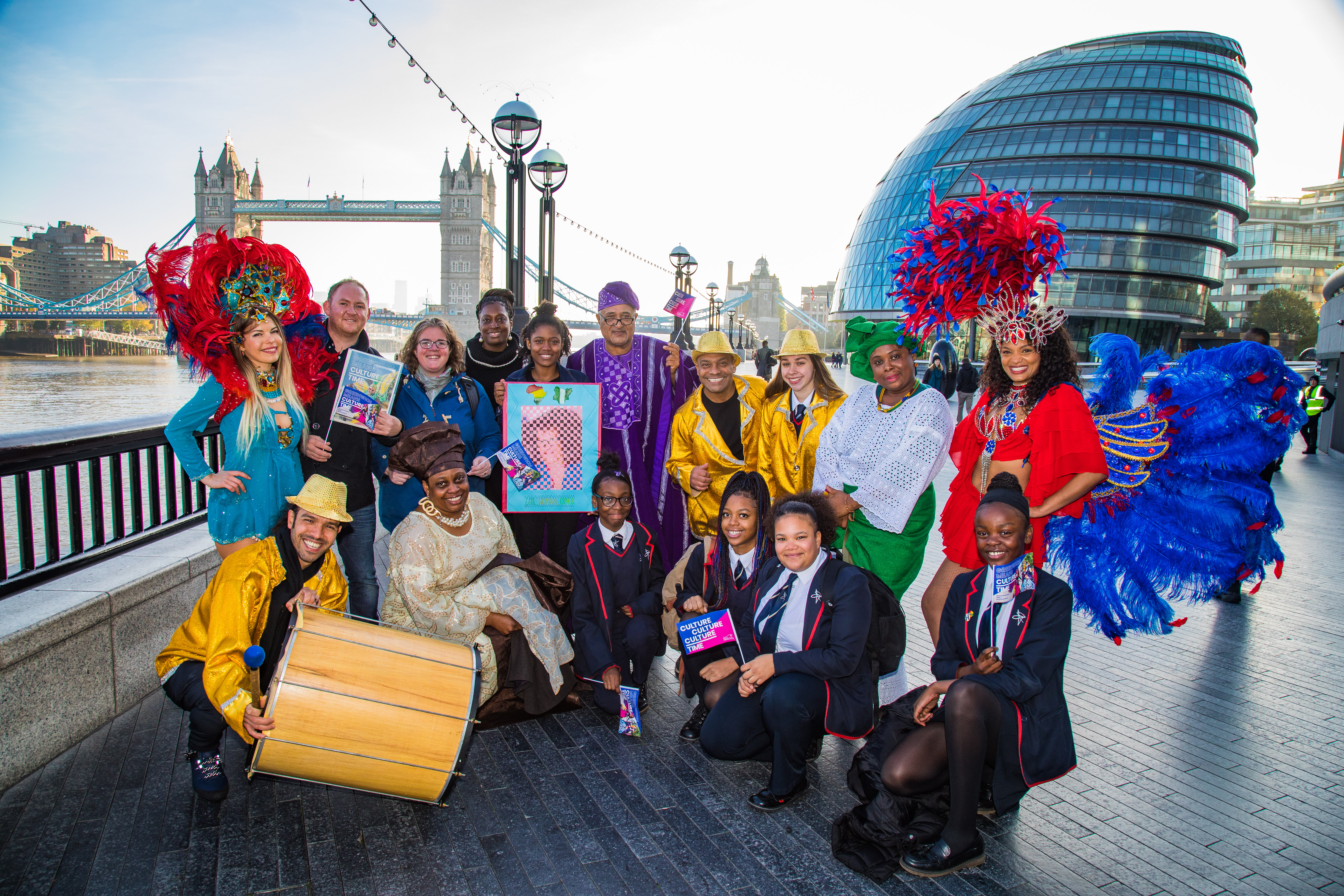 Published: Monday, 28th October 2019
The Royal Borough of Greenwich takes to the water to deliver Borough of Culture bid.
This morning, the Leader of the Royal Borough of Greenwich Cllr Danny Thorpe was joined by more than 120 local people to hand-deliver the Royal Greenwich bid for Borough of Culture 2021 to City Hall.
Boarding the Thames Clipper at Woolwich Pier, the group - made up of local performers, school children, arts, culture and community groups - travelled to London Bridge to make their way to the Mayor of London's office. It was a spectacular morning of performances where, in the spirit of the bid, school children and community groups performed alongside professional artists in an extravaganza of dance, music and song.
Cllr Danny Thorpe, Leader of the Royal Borough of Greenwich said: "Royal Greenwich is very lucky to be home to many world-renowned professional arts organisations. In our year of culture, we want to harness these expertise and work with these organisations to support grassroots arts and culture groups, inspiring the next generation of artists, leaders and Booker Prize winners.
"Culture has always been high on our agenda. Two years ago we launched the Greenwich Cultural Forum, which has helped shape future collaborations and cultural plans. Our bid will see us work with residents and community groups in every corner of the borough to reflect the rich diversity of this great cultural destination. It's underpinned by collaboration with residents, arts organisations, public bodies and businesses to stimulate change and promote community cohesion."
Carnival-style drummers from Taru and South London Samba led the procession from London Bridge Pier to City Hall where there were a cappella songs from Plumstead Manor School and performances from Greenwich Dances' over 55s group and Protein Dance's Nepalese Elders dance group as Cllr Danny Thorpe handed in the bid. Greenwich Music Hub rounded off the morning with musical entertainment on the Clipper back to Woolwich.
Cllr Miranda Williams, Cabinet Member for Culture, Leisure and Third Sector said: "There has been lots of support for Royal Greenwich bidding to become Borough of Culture 2021, shown this morning with more than 120 people eager to come with us to deliver the bid to the Mayor of London. There was a buzz aboard the Thames Clipper as we made our way to City Hall and seeing community and cultural groups come together to create a magical event, and foster moments of joy in arts and culture is what London Borough of Culture is all about."
As well as the title award of London Borough of Culture, there are Cultural Impact Awards up for grabs. These will be in the region of £200,000 for individual projects that take place between 2021 and 2023. Winning boroughs will be announced in January 2020.